Top 10 most innovative AI startups in healthcare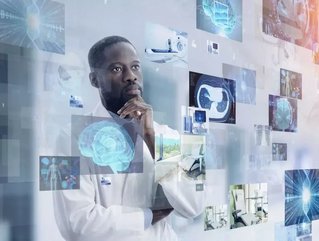 We round up the most innovative AI startups...
A new report by CB insights has compiled the 100 most innovative artificial intelligence startups in the world. Among the 18 industries on the list, which include climate risk and virus modelling, the most highly represented is healthcare. We take a look at the eight healthcare companies listed by the tech analysts, along with a further two emerging startups we predict big things for in in 2021. 
10: HelloSelf...
HelloSelf uses AI to provide individuals and companies with personalised digital therapy services, combining app-based automated reminders and encouragement with AI-enhanced video sessions with clinical psychologists. The UK startup is aiming to provide affordable mental health support at a time when the pandemic has prevented many from accessing the care they need.
09: Radiobotics...
Danish startup Radiobotics is a relative newbie having been created in 2017, however their use of AI - which they've branded 'augmented intelligence' - to analyse X-rays has won them the Danish Chamber of Commerce award, among others, and is in use in the USA as well as in Europe.
08: Owkin...
French-American startup Owkin aims to connect hospitals to pharmaceutical companies and research institutions, using AI to provide insights to healthcare researchers and scientists. Through their virtual hub called Owkin Studio, stakeholders and researchers can collaborate, using predictive models and analysis to ultimately improve patient outcomes.
07: Insitro...
Insitro's engineers and scientists use machine learning to analyse genetic material with the aim of creating new drugs. The San Francisco company (named after "in silico" and "in vitro") is the brainchild of Daphne Koller, a former professor of machine learning at Stanford University, and co-founder of Coursera, an online learning platform that lets people around the world take university classes for free.
06: Olive AI...
Olive AI provides AI and automation software to hospitals to help them make repetitive tasks to do with billing and supply chain more efficient. The company was founded in 2012 by former NSA agent Sean Lane. Last year the Cleveland-based startup raised $385 million, giving it a total valuation of $1.5 billion.
05: Overjet...
Overjet aims to help dentists determine what dental treatments a patient needs, aided by AI, computer vision and data science. A key diferentiator is that Overjet charges insurance companies per claim, rather than per X-ray. The startup was incubated at the Harvard Innovation Lab, and overjet's CEO is a Ph.D. graduate from the Massachusetts Institute of Technology in Electrical Engineering and Computer Science.
04: Theator...
Theator's surgical platform has been built by surgeons to address variability and disparity in surgical care. Using AI and computer vision, it captures video data and transforms it into actionable insights, helping surgeons enhance their performance. Since the company was founded in 2010, Theator has raised over $11.7 billion in equity funding. Over the past year Theator announced partnerships with reknowned medical institutions including McGill University Health Centre.
03: Unlearn.AI...
Unlearn.AI is pioneering the use of 'digital twins' in clinical studies - virtual replicas of devices or individuals that can be used to run simulations. By creating virtual patients developed from real data, the time it takes to carry out clinical trials can be reduced. The San Francisco startup is currently using machine learning to forecast the progression of Alzheimer's Disease.
02: Recursion...
Recursion is a biotech company that combines biology, chemistry, automation, AI and data science to discover new drugs. In 2020 the company raised $239 million and formed a strategic partnership with Bayer to develop new treatments for chronic scar tissue and lung, kidney and heart conditions.
01: Caption Health...
This Californian startup uses AI to interpret ultrasound exams. Founded in 2013, the point-of-care ultrasound technology helps healthcare staff with little to no experience of sonography capture high quality ultrasound scans, helping to improve clinical decision-making.