Top 10 Rehab Clinics In The World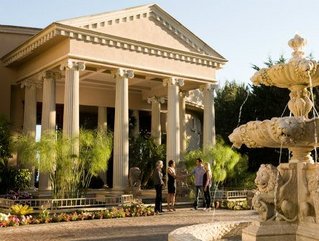 1. Passages Malibu, US www.passagesmalibu.com
1. Passages Malibu, US
Passages Malibu was the first of two Passages clinics in America, both founded by father and son team Chris and Pax Prentiss, following Pax's struggle with drug and alcohol addiction. What makes Passages stand out from other rehabilitation clinics is its unique treatment programme.
Dubbed as "one of the most innovative drug and alcohol treatment centres in the world", it steers away from popular 12-Step approaches and uses holistic methods of treatment instead. Crucially, it does not view addiction as a disease; it believes addiction is something that can be cured by focusing on the patient's underlying issues.
Patients are treated as individuals in a five-star, 10 acre setting, overlooking the Pacific Ocean. They can take advantage of numerous leisure facilities, such as a gym, two swimming pools, and basketball and tennis courts. They can also enjoy gourmet meals, freshly prepared by Passages' in-house chef.
2. The Priory Group, UK
Undoubtedly the most famous rehab organisation in the UK, the Priory Group offers a range of services at its 250 sites, from mental health and addiction treatments, to neuro-rehabilitation services and care homes. It was formed in 1980, when it purchased the Priory Hospital in Roehampton, the longest established psychiatric hospital in London.
3. Promises, Malibu, US
One of two Promises clinics, the Malibu location is particularly popular among those used to a life of luxury; celebrities, business executives and government officials. A world-leader in drug and alcohol rehabilitation services, Promises Malibu was the first centre of its kind to address patients' underlying problems as well as their addiction.
4. Crossroads Centre, Antigua
The Crossroads Centre, a not-for-profit drug and alcohol addiction centre, was founded by guitarist Eric Clapton and officially opened in 1998. Its 'Model of Recovery' sees patients take part in a 12-step residential treatment programme over a 29-day period, and for at least two years after they leave Crossroads they will be supported by its Alumni Coordinator.
5. The Sanctuary Byron Bay, Australia
The Sanctuary is one of the most luxurious private rehabilitation centres in the world and has received international recognition for the services it provides. It offers treatment for addictions, eating disorders and mental issues on a strictly one-to-one basis, and patients are able to bring their pets from home to stay with them during their therapy.
6. Betty Ford Center, US
A former First Lady of America, Betty Ford opened the Betty Ford Center in 1982 after overcoming alcoholism and an addiction to painkillers. The treatment of drug and alcohol dependencies remain its key focus and it has maintained an unparalleled level of excellence in this area, treating over 90,000 patients in the past 20 years.
7. PROMIS Rehabilitation Clinic, UK
It is the idyllic country location of the PROMIS Rehabilitation Clinic that has the most impact on patients. A large converted farmhouse, it is set in three acres of farmland and surrounded by forests. PROMIS offers a mix of traditional and innovative bespoke treatments and rehabilitation programmes, and also focuses on family inclusion.
8. The Meadows, US
Situated in Arizona, The Meadows provides some of America's top treatment courses for addiction and trauma. The therapy programme has been created by Pia Mellody, a leading authority in the rehabilitation of such issues, and patients are treated with time-tested, holistic practices designed to heal the mind, body, and spirit.  
9. Serenity House, Spain
The Serenity House Treatment Centre is the oldest English-speaking rehabilitation centre in Spain. The '12 Step' programme enables patients to understand the root of their addiction and the solution, as well as providing them with a long-term sobriety plan. Serenity House is also one of only two licensed Recovery Dynamic Centers in Europe.
10. Sober Living by the Sea, California, US
Sober Living by the Sea offers exactly what its name suggests. It has been in operation for 25 years and for 23 of those it has been an industry leader in addiction treatment. Rather than stay in one central location, patients reside in the 'treatment community'; homes located just off the beach which are run a house parent.