Integrity360: Securing your digitalisation journey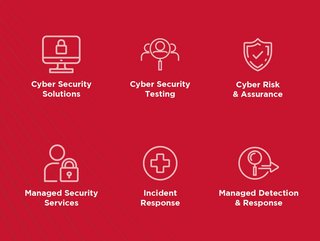 Integrity360
Richard Ford, Chief Technology Officer of Integrity360, outlines how and why businesses should take advantage of the digital world, securely
As the largest independent cyber security provider in the UK and Ireland, Integrity360 provides security services across a full suite of cyber security requirements, encompassing everything from technologies and consultancies to penetration testing and managed services.
In recent years, many businesses have undergone digital transformations, meaning a vast amount of critical data is now stored online and needs to be protected.
"Part of storing data online means it can now be actively shared and collaborated on," Richard Ford, Chief Technology Officer of Integrity360, explains. "To take advantage of the digital world, we must ensure security isn't an afterthought. It needs to be a main focus, to ensure security is an enabler that successfully allows us to take advantage of the opportunities digital transformation may bring us."
As a trusted security provider and partner, Integrity360 helps organisations to take a security-first approach, through a mature and singular lens. To this aim, Integrity360 develops security postures by providing a range of solutions, such as exposure management, MDR and SASE.
A 360-degree approach to security
Integrity360 engages with customers to help them identify risks and address where they are currently positioned, so they can align with cyber security frameworks, such as NIST. This enables Integrity to understand what preventative controls are needed to help protect businesses from threats.
"From here, we need to take a mature approach, knowing we will never be 100% secure and that there will be gaps for potential threats to exploit," Richard says. "We often focus on external threats, but internal threats can be incredibly harmful, too. So, we work with our customers to ensure they have the ability to detect and analyse the threats that preventative controls cannot detect, in order to provide 360-degree protection."
Adapting to digital transformation
The Covid-19 pandemic caused a surge in hybrid working models, which required a huge investment in digital transformation, with businesses taking a more cloud-centric approach. This impacted the security landscape and the risk posture of organisations, as much of the control they previously relied upon was no longer effective.
"As moving data to the cloud ensures it's always accessible for users – as well as attackers – we needed to evolve our approach, to ensure our customers are deploying the security controls needed to support a hybrid working model," Richard says. "Our approach is now more identity-based, which is a key factor to consider when we're utilising third-party applications and storing data in the cloud."
Safeguarding organisations
North Lincolnshire and Goole NHS Trust recognised that they needed to move the dial on their cyber security. As a trusted security partner, Integrity360 engaged with the organisation to modernise controls, capabilities and technologies, to offer better protection and prevent threats. Now, the Trust can detect, analyse and understand what actions are required to mitigate any threats.
"Like many organisations, the Trust had a finite budget," Richard shares. "But, we were able to provide the level of protection needed to ensure staff and customers – who are ultimately the general public – have trust and confidence in systems and how their data is being stored ."
Read the full Northern Lincolnshire and Goole Hospitals NHS Foundation Trust's digital report HERE.