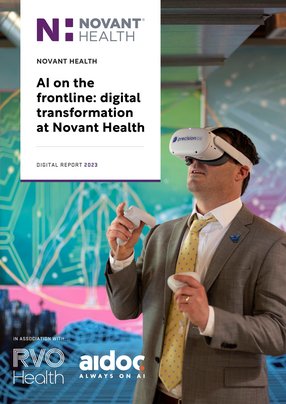 AI on the frontline: digital transformation at Novant Health
Novant Health is utilising the full scope of next-gen technologies – spanning everything from AI to the cloud – to better meet its patients' needs
Novant Health is a not-for-profit integrated network of hospitals, physician clinics, and outpatient facilities delivering healthcare to communities in North Carolina, South Carolina, and Georgia in the US.
Its expansive network consists of more than 1,800 physicians and over 35,000 team members who provide care at more than 800 locations, including 15 hospitals and hundreds of outpatient facilities and physician clinics.
"Our core mission at Novant Health drives everything that we do. We exist to improve the health of our communities one person at a time, one community at a time," explains Onyeka Nchege, SVP and CIO of Novant Health.
"Our values are compassion, diversity, inclusion and equity, personal excellence, teamwork, courage and safety. And that's how we go about things, with a recognition that we have one purpose: we exist to improve the health of our communities."
Staying true to this guiding purpose, Novant Health's pioneering use of sophisticated medtech sets it apart from competitors, providing its communities with significantly enhanced services. These include industry-leading AI technologies improving the pace and breadth of radiologists' diagnostic power.
For Nchege, not only do these technologies help the company to maintain its pace of growth, but they actually prove instrumental in attaining this core mission: "From a technology perspective, my organisation has the hand on the pulse, if you will. That's probably one of the things that's most fulfilling for me."
Digital transformation at pace, propelled by COVID-19
As is the case with countless companies – both within and outside of the healthcare sphere – the global COVID-19 pandemic proved critical in accelerating Novant Health's digital transformation plans.
"If we go back to when Novant Health first started on its digital transformation journey, we completed a thousand or so virtual visits prior to COVID-19; then, starting at the height of COVID-19, we were doing 200,000 per month."
"Think about how technology has allowed us to reach our patients without having to overextend a patient's reach. Are they able to get to the hospital? Are they able to get to a clinic? Well, we've been able to take that off the table and say, 'No, we come to you'."
Driven by unprecedented challenges and the need to pivot almost overnight, the pandemic saw the technology deployed in healthcare evolve at a phenomenal pace.
"COVID-19 presented numerous challenges, and it pushed providers to move quickly on some large-scale changes, which normally would have taken years, or even decades, to accomplish," Nchege says.
And, in the weeks and months since, this pace of change has shown no signs of slowing. "At Novant Health, we'd already built agility into our system. So teams have been able to quickly and seamlessly pivot to serve our patients' most pressing needs.
"Novant Health offers home-based virtual technologies, like TytoCare, that help patients capture basic diagnostics – including heart and lung sounds, heart rate, temperature, and images of inner ears, throat, and skin – for their primary care visits, remotely.
"Going forward, even more technology will be available to empower patients in receiving more care, probably even acute care, at home through virtual visits, home care, you name it."
The pace of change kickstarted by the pandemic has fuelled Novant Health's ongoing investment into healthcare technologies, with the company rapidly expanding its outreach into other spheres, including AI and advanced analytics.
Optimising and expanding advanced analytics capabilities
In 2019, Novant Health began a multi-year journey to modernise many of its corporate and clinical technology platforms, thus laying the groundwork for improved efficiencies and future expansion.
"Novant Health is optimising and expanding our technology and advanced analytics capabilities to provide actionable and secure information, while also innovating to drive organisational results," Nchege explains.
"We're using technology to improve patient experience and outcomes by using an omnichannel approach. This creates a seamless patient experience, making healthcare extremely personal as well as improving quality and speed through both emerging and advanced technologies."
These include creating a digital health platform to engage patients in their entire health and wellness journey, redefining how patients think about health management, building next-generation digital channels for care delivery, and digitally enhancing traditional physical care delivery channels.
Using AI to support and enhance radiologists' diagnostic power
The numerous benefits of AI are, these days, evangelised by businesses spanning a broad remit, from mining and manufacturing through to cybersecurity. It's in a healthcare context, though, that it becomes apparent just how transformative AI technologies are.
Automating laborious manual processes can benefit almost every sector. But when deployed in healthcare tasks, the improved efficiencies that AI software achieves doesn't just translate to revenue saved: it actually has direct links to saving more lives. A primary example of AI benefits in healthcare can be witnessed in Novant Health's radiology diagnostics.
A partnership with Aidoc has enabled Novant Health to instantly – and to an extremely high degree of accuracy – highlight acute problems in real-time. The AI specialist's products assist radiologists in shortening turnaround times, while improving the quality and efficiency of care.
"We were one of the first in North Carolina to adopt Aidoc's FDA-cleared platform for triage and notifications of patients with acute medical conditions, such as intracerebral haemorrhage or pulmonary emboli.
"We went live at two of Novant Health's largest facilities in early December 2021. We wrapped up our pilot in early May, and now, every CT scanner in the Novant Health system, including in the new coastal market region, also sends images to Aidoc and its AI technology."
"It serves as a second set of eyes for radiologists with its ability to detect abnormalities. The patient will come in as normal for their CT, and the scans will be uploaded to the cloud where AI technology quickly scans for any anomalies. No additional time is needed or even added to the patient's appointments," Nchege outlines.
"Then, if the technology detects an anomaly, it will quickly notify the care team and, if additional treatment is needed, it can be done right away while the patient is still on campus."
In turn, the extra AI-enabled capabilities help management to better support its teams. "We're hearing from our emergency department radiologists that burnout is lower, just based on the work that we're doing with Aidoc," says Nchege.
"They were going through scans in the order that they were received, and they were just sitting on a ticking time bomb. But now, the most urgent patient scans go to the top of the stack so they can be quickly triaged using AI technology. These digital capabilities, while they will never replace our providers, will augment our team's incredible skills to deliver the best care possible."
Aligning patient needs with the best facilities
"Our strategy for everything that we do at Novant Health really begins with the patient. So we have a patient in mind, and we start to ask questions like, 'How can we eliminate their pain points?', 'What do they need and how can we change to meet those needs?'. It's a balanced approach to the things that we consider paramount," Nchege states.
In December 2021, Novant Health launched a new digital care platform, designed to connect consumers to expert support and real-time health information. Now, these goals are being achieved and expanded through an ever-advancing system of technologies.
"Now, the two new digital tools involve a virtual assistant and a physician matcher, which leverage automated communications and artificial intelligence to help people make more informed decisions about from whom to receive care."
One recent, key milestone for Novant Health was implementing its new tele-ICU programme. This communications solution rapidly exchanges health information between hospital critical care and other units, creating an interlinked ecosystem of vital patient information. In short, it all but eradicates human error from the process.
"We have developed a robust tele-ICU programme with custom-built ICU carts, right from a race car – a race car design team actually put this together, and they're another unconventional partner of ours. They helped build this for us to support a surge in intensive care patients.
"Market-leading capabilities extend our physical reach digitally in our acute facilities. Essentially, a tele-ICU allows highly-specialised intensive care physicians and nurses to support local care teams virtually via remote monitoring technology, with high-def audio visual capabilities to enhance this," Nchege explains.
"The technology improves overall outcomes by shortening the length of stay times, reducing the length of time that people might be on a ventilator, and giving patients the option to stay in their local hospital – because we can connect to you, as opposed to them always feeling like they've got to come to us."

The next phase of next-gen healthcare technologies
Business transformation remains a key organisational focus for Novant Health, with the company using technology to drive improvements across its entire operations.
"We are modernising, stabilising and scaling our people and culture, as well as supply chain finance, digital products and services, while streamlining all those functions through the implementation of a cloud-based platform."
"Secondly, through the implementation of a cloud-based platform, we are consolidating our clinical and revenue cycle technologies to have a more unified medical record and patient MyChart account. Then we're going to be developing transformational clinical capabilities, continuing expansion into non-acute settings and commercialising digital solutions through our Novant Health Enterprises."
Alongside this, Nchege says that the company is gearing up to prepare itself for what he believes will be an industry-wide shift towards remote technologies.
"When I think about the healthcare industry in general, we're seeing an evolution in monitoring devices, with sensor capabilities becoming so much more sophisticated. I think it's reasonable to expect that a lot of the things for which we'd normally have to go into a hospital can be monitored at home."
"We have unprecedented access to data, and I believe we'll be able to combine the data streams from those sensors and monitoring devices and, coupled with our available computing power, make decisions in the moment."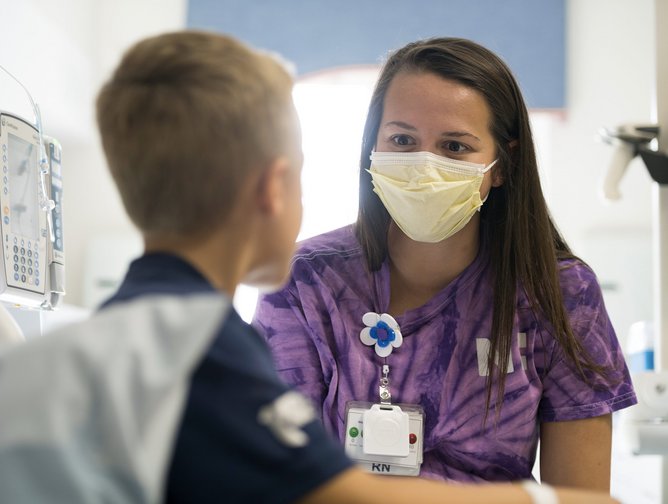 Novant Health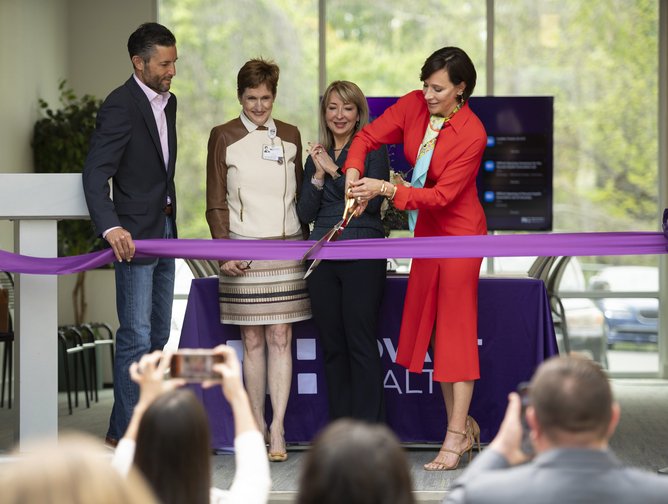 Novant Health
Novant Health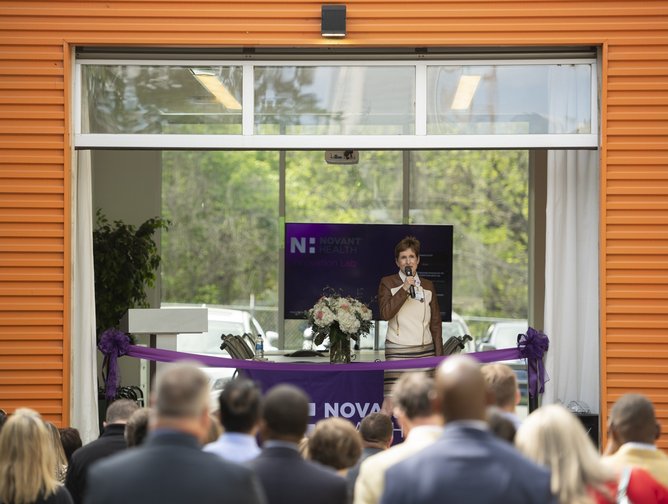 Novant Health