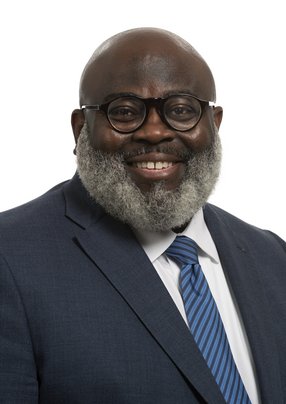 Onyeka Nchege
SVP and CIO of Novant Health

Nchege is utilising the full scope of next-gen technologies – spanning everything from AI to the cloud – to better meet patients' needs
Novant Health is a not-for-profit integrated network of hospitals, physician clinics, and outpatient facilities delivering healthcare to communities in North Carolina, South Carolina, and Georgia in the US.
Its expansive network consists of more than 1,800 physicians and over 35,000 team members who provide care at more than 800 locations, including 15 hospitals and hundreds of outpatient facilities and physician clinics.
"Our core mission at Novant Health drives pretty much everything that we do. We exist to improve the health of our communities one person at a time, one community at a time," explains Onyeka Nchege, the SVP and CIO of Novant Health.
Nchege holds accountability for the company's full breadth of digital solutions and services. For him, not only do these technologies help the company to maintain its pace of growth, but they actually prove instrumental in attaining this core mission.
"Novant Health is optimising and expanding our technology and advanced analytics capabilities, to provide actionable and secure information and innovate to drive organisational results," Nchege explains.
"We're using technology to improve patient experience and outcomes by using an omnichannel approach, creating a seamless patient experience and making healthcare extremely personal, while improving quality and speed through both emerging and advanced technologies."
Healthcare technologies – rapid innovation, in a rewarding role
Nchege has held CIO roles since 2005, at companies spanning everything from Toyota to Coca-Cola. But, for him, working in the healthcare industry brings an entirely different level of job satisfaction.
"I wanted to be in a place where I could impact lives in a positive manner, and I felt that one of those lives could be my father, who has Parkinson's. So being able to join an organisation that is solely focused on patient care and improving the lives of every patient, every community that we engage in, that was appealing to me," Nchege explains.
For Nchege, working in such a people-oriented field is what brings him the greatest level of job satisfaction.
"The thing that inspires me the most are the people. It's the opportunity to be in a position where I can be a brain to pick, an ear to listen, or a push in the right direction for the folks that report to me. And it's the fact that I have an influence over being able to see those individuals grow and become the people that they want to be – whether it's at our organisation or if they move elsewhere."
"That's the thing that inspires me the most. It's working with the next generation of leaders and being able to provide the level of change, if you will, that allows them to grow to be who they want to be."
Read the full story HERE.
"My role is about being a trusted business advisor to empower our top global customers with expertise and proven practices to accelerate their digital strategy "