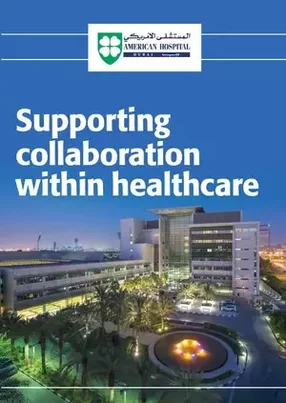 American Hospital, Dubai: supporting collaboration within healthcare
We speak with Manivel Periasamy, Director of Facilities Management at the American Hospital, Dubai, regarding its rich history and ongoing operations to...
American Hospital Dubai is the first private hospital in the middle east to obtain JCIA accreditation, which remains the most prestigious healthcare accreditation in the US, in year 2000. Since this time, the hospital has sought to deliver exceptional, patient-centered care, expanding its services in alignment with a growing private healthcare demand in the UAE and the region.
Manivel Periasamy, Director of Facilities Management, has been with the hospital since its inception, and has viewed first-hand how American Hospital Dubai has transformed in to current size from its original capacity. "In the last 10 years the healthcare industry has been booming in the UAE, and the government is supporting healthcare growth through medical tourism promotions," he says. "Medical tourism promotions are attracting patients in the middle east region and Africa, supported by quality healthcare services available in Dubai and UAE, moving progressively towards the government's goal of best healthcare destination in the region."
With an increased number of health facilities launching in the UAE, American Hospital Dubai continues focusing on bringing specialty clinical services to cater to the needs of the patients. It earned the reputation by building the hospital with an ambience based on a five-star hotel features and adopting a high quality, cost-effective US standards of healthcare.
To ensure a robust, patient-centered service delivery that adheres to US standards, American Hospital has followed the policy of recruiting Board certified physicians from US or equivalent and high quality nursing staff. It has been consistently maintaining JCIA accreditation status for six times in its aspiration to ensure best practices in the care of patients, retaining unique position within the UAE's healthcare sector. This has therefore provided what Periasamy describes as "an edge over other facilities in the region by achieving greater quality of clinical outcomes". Though many new hospitals are coming up with in the recent times, it takes years for a hospital to gain the confidence of the patients who look for quality of care and positive patient experience.
"When the hospital opened its services in 1996, the facility was unique by offering nice ambience with all private patient rooms, building up our name and reputation," he says. "In terms of patient experience, when patients enter our campus, we are able to deliver primary, secondary and selected tertiary services, making the care access easier and in a comfortable and convenient manner."  
Through its continuous expansion, American Hospital Dubai has grown from 100 beds to accommodating over 200+ patients, and has developed multiple centers of excellence in the fields such as Cardiology, Oncology and Neuroscience, which have become known in the region. The Comprehensive Cancer Care Program is a 'one-stop service' with a number of treatments on offer, ranging from Chemotherapy, Surgical Oncology to Radiotherapy. The hospital's Heart Center has also added Electrophysiology Services to its list of specialties recently.
Additionally, Periasamy explains that there is also now a growing need for diabetic services in the UAE, to which the hospital has consequently expanded its endocrinology services to meet this demand, alongside providing a number of thyroid treatments, ensuring a patient-centered, personalized service throughout.
Technological investment
To match its growth and reputation, and also to remain competitive, American Hospital Dubai has invested in a number of new technologies. Its new 640 slice Computed Tomography (CT) scanner, for example, highlights its commitment to reduce traditional levels of radiation from traditional CT scans. The technology will provide clear images of organs, with an exceptional turnaround time. Such efforts portray the hospital's objective to deliver personalized, straight-forward treatments without delay. "American Hospital Dubai clinical outcomes are far superior," comments Periasamy. "We are ensuring the philosophy of 'patients first' since we opened our doors to patients". High-end MRI, PET/CT, SPECT/CT, EP lab, Linac, Navigation Systems are some of the advanced modalities installed in the hospital supporting the physicians in delivering the better care to patients.
Worldwide partnerships
Apart from JCI accreditation, American Hospital Dubai has also been continually accredited by the College of American Pathologists (CAP) eight times assuring, the patients on the quality of lab results. This is alongside the hospital's success in becoming the first in the Middle East to join the Mayo Clinical Care Network in 2016, which has over 40 MCCN network healthcare organizations worldwide.
"Mayo Clinic has been in the market for 150 years and is one of the biggest healthcare organizations in the US," explains Periasamy. "Mayo Clinic has chosen American hospital Dubai as their network member because both organizations share the common goal of 'patients first'. Mayo Clinic Care Network (MCCN) offers various clinical collaborations to augment our commitment to patient care and we share the clinical expertise in many ways".
Positive feedback
With ongoing market challenges, Periasamy acknowledges that shortage of high quality clinical staff remains a common challenge within the healthcare sector in the Middle East. American Hospital repeatedly receives positive feedback from patients through its Patient Feedback System, which is supported by internal Key Performance Indicators (KPI), regularly met by its staff. 
Periasamy concludes: "Our patient satisfaction levels remain higher at all times and our internal quality control mechanisms are based on Continuous Quality Improvement principles and C-I-CARE values. The key differentiator is in the clinical outcomes which has been driving our growth historically."