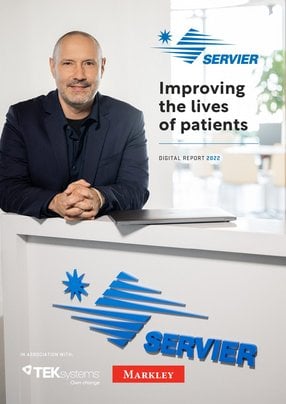 Servier Pharmaceuticals on improving the lives of patients
Servier Pharmaceuticals on digital transformation, unsung healthcare heroes, patients supporting patients and the top ingredient to a good partnership
Mark Yunger is the Head of IT at Servier Pharmaceuticals. His role encompasses all aspects of technology for the company, including the application portfolio for various functions, infrastructure, data and analytics, as well as cybersecurity and digital therapeutics.
"I started off in technology doing statistical programming in graduate school for my master's programme research and then later on for my PhD. From academia, I went into the software industry in the high-tech space and worked in software development and internationalisation." It was during the dot.com meltdown in the early 2000s when Yunger found his way from high-tech into biotech. "By way of IT managed services at Millennium Pharmaceuticals, I eventually moved into the industry and have been in the biotech space ever since - I really love it!"
For Yunger there are two key components that have kept him in the life sciences.
"When waking up in the morning, knowing that you are, even in a small way, making a contribution to curing cancer and saving lives through life-saving products, that's a very motivating reason to get out of bed in the morning and it's a very fulfilling endeavour."
When Yunger was in the high-tech services industry, he had the opportunity to travel around to a variety of different companies and industries, from financial services to leisure and hospitality, to manufacturing. "Through that journey, I came across a number of biotech businesses and was struck by the differences in corporate culture across industries. I felt most at home in biotech." Yunger found the vibe, interactions and culture to be something he was well aligned to.
Yet post-COVID-19, he learned a lot more about the healthcare sector, from an individual perspective, as well as from within the healthcare industry, and within the Servier Pharmaceutical company.
"Moderna, J&J, and Pfizer played key roles from a COVID-19 vaccine perspective, but just as important were the frontline workers, particularly frontline healthcare workers. They are the unsung heroes that deserve a lot of credit and a lot of support and our gratitude for everything that they have gone through," said Yunger.
Yunger sees that technology has played a supporting role in this, particularly with telemedicine and being able to allow patients to get access to care in ways that pre-COVID-19, the healthcare industry was less amenable to. "I think that was a good silver lining from an industry perspective, out of an otherwise very difficult time."
From a company perspective for Servier Pharmaceuticals, it was an accelerator for their digital transformation strategy. Although the company was making progress in a methodical way, the pandemic forced the healthcare industry to accelerate that roadmap and accomplish what Yunger thinks they probably would have done in a couple of years.
"We had to get it done in a couple of months, because the organisation had to continue being productive and having people sit at home, not being able to do their jobs was not an option," said Yunger. "It was an 'all hands-on deck' moment, not just for Servier Pharmaceuticals, but really, for all companies. I was very grateful and impressed with my colleagues and my team being able to cross that gap in a very short period of time."
From an individual perspective, Yunger was moved by the impact a lack of socialisation had, especially on his family. "Just talking to colleagues and talking to friends and family, it was a very isolating time, particularly for teenagers. I have three kids, all three of whom were in middle school and in high school during the pandemic. It was very difficult for them." Although video calls made an imperfect replacement for that socialisation, Yunger laments the impact of the isolation.
Servier Pharmaceuticals' technological transformation and stories of hope
The transformation journey at Servier Pharmaceuticals has been one of rapid scalability. Yunger has seen the company grow exponentially since its founding in 2018, leading the transformation of the U.S. oncology field.
"We have the fortunate advantage of not having a lot of legacy infrastructure or technical debt, we were really born in the cloud and we're able to scale and expand rapidly, as we were adding new colleagues and new services."
The company keeps its data in the cloud allowing for speed, agility and scalability, something Yunger sees as a positive as it frees up employees from physical constraints.
"Although you're always able to automate on-premise infrastructure, you eventually hit physical constraints. Having your data in the cloud really releases you from a lot of these constraints and they just don't exist for most workloads in the cloud."
Servier Pharmaceuticals leverages their cloud capabilities to accelerate meeting the needs of their patients. An example of this can be seen in their patient engagement portal to help patients navigate their patient journey, a project Yunger is very excited about. "Our patient engagement portal is a platform through which we provide digital capabilities to support our patients," Yunger explains. "On the patient facing side, there are tools that are tailored to a patient's particular needs. Once you register, we can provide tailored content to your areas of interest. If you are a caregiver, or parent of a patient, once you register, we'll provide all the relevant content, tools and information to meet your needs."
"We've been very fortunate to have the opportunity to meet with our patients and hear their stories. We've found these stories of perseverance and making it to the other side of treatment really inspiring," said Yunger. "We are very fortunate to be able to bring our patients life changing treatments. For a diagnosis like acute lymphoblastic leukaemia (ALL), it used to be a death sentence for kids. Although, fighting through it today is a very hard journey, the good news is that you can now make it to the other side."
Servier Pharmaceuticals' goal of sharing these patients' stories, is to be able to bring them to other patients who are earlier in their journey. So when you've just been diagnosed or you're in the middle of treatment and things look dark, patients will be able to see what it looks like on the other side of treatment and that they can get through it.
Servier Pharmaceuticals uses technology transformation to drive patient and employee strategy. "I think that's another silver lining from COVID-19, trying to make positive outcomes from a bad situation," says Yunger.
Empowering partnerships and a future outlook
Servier Pharmaceuticals has long-standing partnerships with Markley Group and TEKsystems. "My relationships with both of them have transcended the companies that I've been with," says Yunger. "They're really great partners and as to what is essential to a good partnership, I really think both Markley and TEKsystems understand the answer to that question. Great partnerships are based on relationships; person to person relationships. They consistently demonstrate in the delivery of their services that they care about you as a professional and your professional success."
Markley Group is an infrastructure hosting service provider, which provides critical infrastructure services to companies. According to Yunger, they provide world class services and infrastructure capabilities for all layers of traditional infrastructure. TEKsystems is an IT service and talent provider.
For the next 12 months, he sees the company further strengthening and expanding its oncology presence in the U.S. as Servier Pharmaceuticals continues to build out a robust portfolio of potentially life-changing treatments for patients.
"The next 12 months is really ushering in a new chapter of innovation for the patients we serve. We have a lot of early stage research that's exciting. We're building out our capabilities in early stage research which will be very important for us from both a scientific perspective, as well as a technology perspective. Accelerating the early stage discovery of new drugs will be a very big area for us."
Servier Pharmaceuticals has grown rapidly over the last four years, but the company plans to continue to grow rapidly, both organically and inorganically. "Continued rapid growth for the next 12 months is part of the plan and technology will need to continue to scale and grow with our organisation."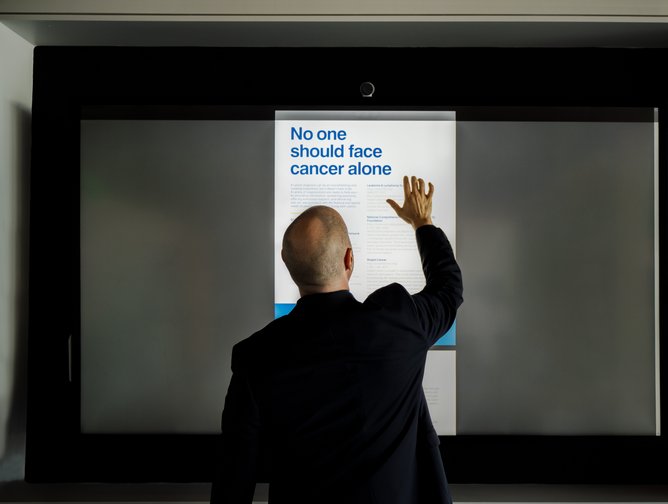 Interactive Reception Monitor at Servier Pharmaceuticals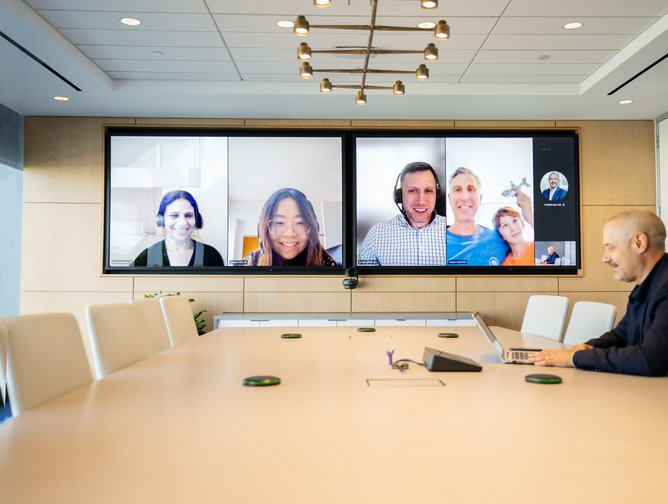 Conference Call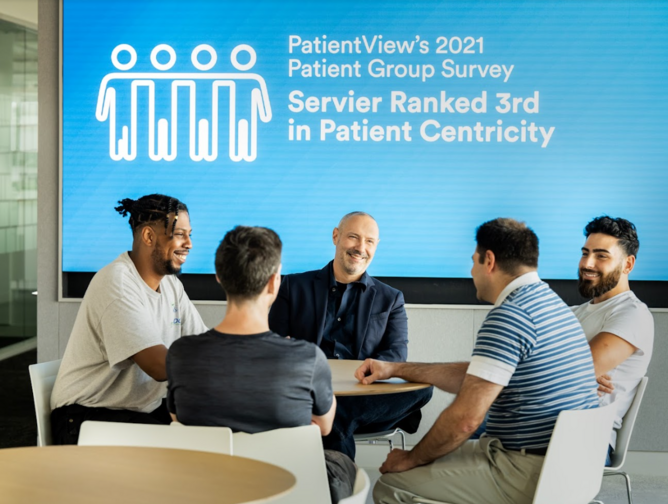 Servier Pharmaceticals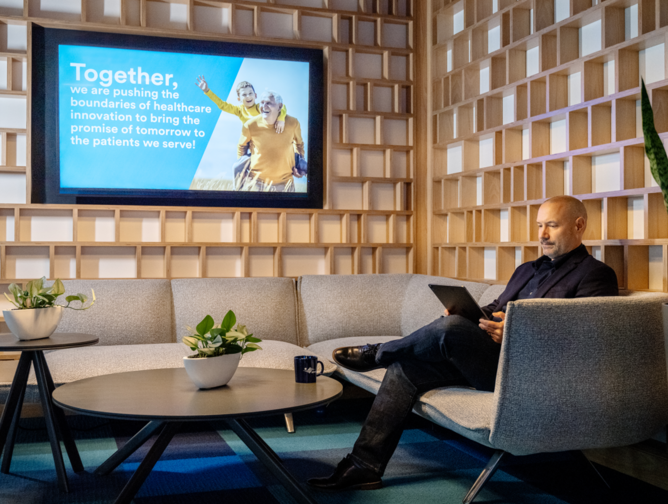 Sevier Pharmaceuticals