Advancing healthcare access for families with telehealth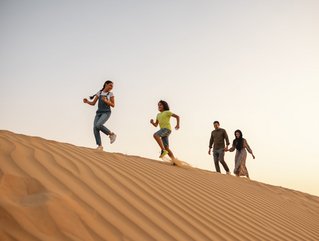 Family health in Dubai
Jalil Allabadi, Managing Partner at Dubai-based health service Altibbi, shares how embracing telehealth and digital healthcare can improve family wellbeing
By the end of 2022 the world's population reached eight billion people and although growth is slowing, the United Nations expects it to reach 9.8bn by 2050 and 11.2bn by 2100. To raise awareness of how demographic trends impact families, Jalil Allabadi, Managing Partner at Dubai-based health service Altibbi, explores how societal pressures on family life stem from our growing population.
Digital healthcare for a growing population
One of the many great challenges facing families is the need to access reliable and affordable healthcare – available when they need it rather than when the local clinic is open. As the population continues to grow, addressing this challenge becomes increasingly important.
"Technology is one of the solutions," said Allabadi. "Today's contemporary families are using digital platforms to access every service and or product they need – from financial services to food delivery – and drive efficiencies in our increasingly busy lives and healthcare is no exception.
"Fortunately, the great advances being made in technology, such as AI and automated learning, provide significant opportunities to improve healthcare access and delivery, enhancing the quality of diagnosis and treatment."
The advent of telehealth is a prime example of how technology is revolutionising healthcare provision – its easy accessibility exposes families to greater health awareness, helping them to adjust their lifestyles and avoid bad habits.
"Simultaneously, it helps save time and money, improving access to healthcare provision," says Allabadi. "This impact is especially true in the MENA region where a high percentage of the population are not medically insured."
One major advantage of telehealth for the contemporary family is convenient access to remote healthcare from the comfort of one's home.
"Have you ever been in a traffic jam with three children in the back of the car, already 15 minutes late for your appointment? Or struggled to navigate the clinic's phone switchboard only to find out there are no available appointments for three months? Digital health platforms are opening the door to on-demand healthcare provision," Allabadi says. "Instead of struggling with traditional methods and the inefficiencies they bring, patients can now benefit from instant access to online medical information and online doctor consultations. One example is using voice calls and text conversations to enhance both the efficiency and experience of healthcare delivery – eliminating the need to tempt your four-year-old to the doctor's office with treats or toys."
Telehealth supports family health
For the busy, contemporary family, work and time constraints such as conflicting work schedules or the inability to take time off – or your child's not-to-be-missed school sports game – may also make it challenging for people to attend appointments during regular clinic hours. Telehealth not only makes it possible to access medical advice from anywhere, but also at any time.
"To cope with the increasing demand from a growing population, healthcare professionals are also embracing telediagnosis," Allabadi says. "Digitalisation enables data aggregation and the development of programs and apps that assist doctors in analysing results and reaching accurate conclusions – and making better treatment recommendations. This transition to telediagnosis enables huge efficiency strides for doctors, especially when considering the accurate documentation of often repetitive patient information can occupy up to 50% of their time.
"Moreover, digital drug delivery systems have streamlined medication management by leveraging technology to ensure efficient distribution and adherence. These systems enable patients to receive their prescribed medications directly to their doorstep, eliminating the need for physical visits to pharmacies and reducing the likelihood of medication errors or delays."
The integration of AI and digital drug delivery systems in healthcare has significantly improved accessibility and convenience, enabling families to receive prompt and personalised care from the comfort of their digital, 21st century homes.
"By simplifying and expediting healthcare interactions, these technologies have the potential to positively impact countless lives, particularly in areas with limited access to medical facilities or those facing mobility challenges," Allabadi says.
Another notable technological innovation is the use of AI to recognise possible symptoms conveyed in text responses. Recent research studies have shown promising results with AI, surprisingly, offering a higher probability of determining an accurate diagnosis than a human doctor.
"These automated and accurate diagnoses are nothing short of revolutionary for patients - a swifter identification of symptoms and possible treatments could literally mean more lives are saved. At Altibbi, as MENA's leading digital health platform, we are continuing to invest and develop advanced technologies such as AI language processing to the benefit of our users and on our mission to make affordable, quality healthcare available to the 400 million people in the Arab world who lack access to basic health services," Allabadi says. "The convenience of accessing healthcare services online 24/7 is just one of the many technological revolutions serving busy individuals and the contemporary family. It eliminates concerns about traffic jams, long waiting times, doctor accreditation, as well as potential discomfort in discussing sensitive topics like sexual diseases or mental health."
It is what led Altibbi to create the idea of 'A home filled with joy' – reflecting its telehealth approach of caregiving for all Arab speakers – by providing the answers to families' medical questions and online consultations at affordable prices.
"We can then, through the new technologies available, lead healthier, happier lives, and in the process fill our homes with more joy."
Jalil Allabadi championed telehealth before COVID-19. Now, he's ahead of the game with Altibbi. Read his interview with Healthcare Digital here.
*********************************************
For more insights into Healthcare - check out the latest edition of Healthcare Digital and be sure to follow us on LinkedIn & Twitter.
Other magazines that may be of interest - Manufacturing Magazine.
*********************************************
BizClik is a global provider of B2B digital media platforms that cover 'Executive Communities' for CEO's, CFO's, CMO's, Sustainability Leaders, Procurement & Supply Chain Leaders, Technology & AI Leaders, Cyber Leaders, FinTech & InsurTech Leaders as well as covering industries such as Manufacturing, Mining, Energy, EV, Construction, Healthcare + Food & Drink.
BizClik, based in London, Dubai & New York offers services such as Content Creation, Advertising & Sponsorship Solutions, Webinars & Events.