Building connected & intelligent health ecosystems with EY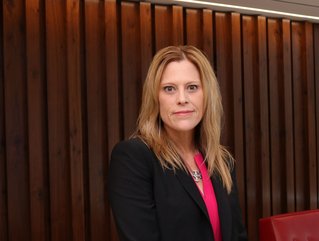 Aloha McBride
Aloha McBride, EY's Global Health Leader, shares how the company is unlocking the power of data to help clients shift toward sustainable delivery models
Consulting company Ernst & Young sprouted from two small accounting companies: Alwin Ernst founded one in Cleveland, USA, 1903, and Arthur Young founded his own in 1906, Chicago. Later in 1989, the two companies merged and quickly shot up to become one of the Big Four accounting firms. In 2023, the company employs over 200,000 people and operates in over 150 countries, offering consulting services across auditing, taxation, business risk, technology, security risk services and human capital services.
As EY's Global Health Leader, Aloha McBride works with over 11,500 health-focused professionals that EY has around the world. She helps clients confront problems and solve the challenges facing the health industry.
"We know the challenges are many – spiralling costs, health disparities, an overburdened workforce, an older and sicker population – just to name a few," she says. "But it's also an exciting time for the industry as it tries to realise the full potential of virtual care, automation, analytics and connected data platforms. One of the best parts of my job is helping our clients across the globe digitally transform to better serve their patients."
EY has the ambition to be a key player in transforming the health industry into a hyperconnected, intelligent health ecosystem, driven by data insights that allow for the delivery of more personalised and equitable care, better experience and more value.
"We aim to digitally deliver the future of wellness," continues McBride. "We put the consumer, caregiver(s) and clinicians at the centre of any solutions for health organisations. With the challenges the industry faces, we help our clients simultaneously strengthen their foundation to become more financially sustainable, while also helping them to innovate and shift toward new care delivery models."
EY's work in the healthcare industry
McBride took on the role of Global Health Sector Leader in July 2020, a time when the global health industry was in crisis.
"What COVID-19 did was to drive home the need for healthcare organisations to become more connected, intelligent and sustainable," she says.
With an overburdened workforce and significant worker shortages forecasted, health organisations see the need to automate more of their workflows to free up clinicians to do what they do best. With scarce resources, McBride sees that healthcare organisations are looking to demonstrate value.
"They are looking for data insights to help them create a more transparent and resilient supply chain, and to deliver more personalised care."
EY is building a better working world with optimised health outcomes. The company purposefully named its Health business 'Health Sciences and Wellness' because EY wanted its strategy to be built around unlocking the power of data to deliver a more engaging health experience with improved, affordable outcomes.
"Data now is uncoordinated, often underleveraged, and spread throughout the ecosystem," says McBride. "We help health organisations build digital platforms, common data models and data strategies that allow for the flow of data needed to generate real-time actionable insights about, and for, our patients' wellbeing."
To step into the future, healthcare must move beyond digital innovation, toward the world of big data and smart technology infrastructures.
"Many of us probably have had the experience of having to fill out duplicate forms, or of struggling to understand the next step in a loved one's care plan," says McBride. "Smart health starts by getting the user experience right by designing for people – the consumer and the workforce."
McBride is aware that physicians are exhausted and have too many administrative tasks that get in the way of caring for patients.
"No new tool should be rolled out to the clinical staff without involving them in the process," she says. "They know what patients and colleagues need. Yes, a smart health experience will mean leveraging data to drive insights that can influence outcomes, it will mean building digital platforms, and applying analytics and other emerging technologies – but at the centre of all this is the clinician and the consumer."
EY does a lot of work with clients thinking through that human experience.
"Do you have the right digital front door to welcome consumers and help their caregivers navigate the system? What communications can be automated to help you develop a more consistent relationship with your patients? Do your care pathways factor in consumer preferences and social determinants of health to help achieve the desired outcomes? By incorporating the human experience lens, you can accomplish the quadruple aim of improved patient experience and provider experience, improved outcomes, and lower costs," she says.
EY is helping health IT decision-makers to understand that as healthcare systems integrate, they have an opportunity to reimagine the health information infrastructure to allow for innovation and fluidity.
"Current health technology infrastructure doesn't allow for easy connectivity," says McBride. "Data is often siloed in systems that don't easily connect, so it's harder to deploy new technologies, to analyse data, and to bring new players into the ecosystem that serves the patient. We need an open architecture – one with agreed protocols and interfaces that help enable applications to talk to each other and share data."
McBride believes that virtual care, including telemedicine, can help health organisations confront the challenges ahead once they find an appropriate way to integrate it with in-person care.
EY's predictions for virtual healthcare
McBride sees virtual care as critical to helping health organisations solve those challenges ahead. Around the globe, evidence shows that successfully integrating digital, virtual and in-person care can free up staff and hospital beds, reduce costs, and improve outcomes as health systems try to treat an older, sicker population with fewer health workers.
"But to do this right, health organisations need deep knowledge about their patient populations so care pathways can be stratified according to consumer preferences, lifestyle factors, and health needs," explains McBride. "It's also going to require new workforce roles, payment incentives, and expanding concepts such as digital command centres, remote patient monitoring across the care continuum, and hospitals at home."
This is where EY is headed – to a proactive, data-driven, user-friendly system that keeps patients healthier at home longer and prevents the progression of disease to crisis points.