Dialexa, an IBM Company, explores digital healthcare & AI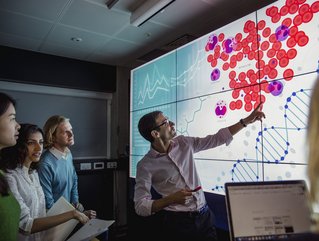 Patient data
Dialexa, an IBM Company, is transforming healthcare businesses. Craig Walker tells us about the impact of AI on patient data & digital healthcare trends
Dialexa, an IBM Company, is a digital product engineering firm which helps businesses to transform their industries.
Craig Walker, a partner, is focused on creating disruptive digital product solutions for the life science and healthcare markets, across hospital systems, pharma companies and physician practices to biomedical research groups.
Here, he discusses the impact of AI on patient data, digital healthcare trends and software as a medical device (SaMD).
Hi Craig! Tell us about your relationship with IBM.
"Dialexa was acquired by IBM in 2022, its first acquisition in the fast-growing digital product engineering services market which is estimated to reach US$700bn by 2026. Dialexa will spearhead IBM's digital product engineering services offerings in the Americas and enable enterprises to achieve their digital growth agendas.
"By combining our product mindset and deep experience in end-to-end digital product engineering with IBM's hybrid cloud, AI and business transformation offerings, our clients will be able to solve complex, technical problems and build scalable, differentiated product portfolios to drive measurable results."
Craig Walker
What can you tell us about technology and digital healthcare trends?
"The impact of generative AI on healthcare will continue to be top-of-mind for the healthcare industry as companies and health systems work to better understand how the new technology will drive value and move out of the hype cycle. For example, companies in the MedTech space may find themselves using generative AI to enhance almost every part of their business, including research and development and marketing and sales. In the research and development process specifically, generative AI may be able to reduce the time spent on clinical trial reporting as well as regulatory filing. We anticipate that generative AI will also be used to improve the usability of electronic health records.
"Other trends we anticipate this year include the continued improvement of the digital front door patient experience by hospital systems in order to remain competitive and streamline operations. Investments in virtual care digital health platforms will also continue in the post-COVID world, across telehealth services, prescription delivery and remote patient monitoring apps.
"Additionally, with the uncertainty in the economy, the healthcare industry is looking at new digital products or digital enhancements for existing systems, to mitigate against lower headcounts and the need to streamline operations."
How can digital product solutions be a competitive differentiation for hospitals and health systems, especially during unfavourable market conditions?
"In their everyday lives, patients are using digital tools to do everything from order takeout to unlocking their front doors. When a patient has a bad experience with a hospital's portal or app, they may look to another provider that offers digital tools that can better simplify their experience, such as by streamlining the booking of appointments, or providing remote monitoring to reduce their number of in-person visits. To best attract and retain patients, it's imperative for health systems and hospitals to offer digital tools that make their experiences better and more efficient and convenient.
"During tougher market conditions, technology can also help healthcare providers stay competitive by streamlining and optimising operational processes. For example, electronic health records and digital documentation systems can improve efficiency, reduce errors, and facilitate seamless information sharing among providers.
"Additionally, digital tools for inventory management, scheduling, and workflow optimisation can help streamline administrative tasks and resource allocation, leading to cost savings and improved productivity."
What is the digital front door?
"The digital front door brings together a healthcare provider's disparate apps, products and services into a cohesive single experience that empowers patients to navigate their entire healthcare journey all from a single interface.
"The development process for a digital front door often requires our teams to audit and assess a large number of disparate apps that comprise the backbone of a healthcare provider's current patient experience that the digital front door is replacing. The digital front door result is a modern, cutting edge platform that integrates data from disparate systems, accessible through a brand new streamlined mobile and web experience. They ultimately become a competitive advantage for healthcare providers, to expand into new patient markets while improving their operational efficiency."
Tell us about how you use software as a medical device?
"Software as a medical device (SaMD) is essentially software that is used for medical purposes, and that classification is determined based on criteria such as intended use and the role in the clinical decision making process. Because of the potential risk to patients, SaMDs are regulated by the FDA in the United States to ensure their safety and effectiveness. An example of a SaMD is a mobile app that we helped a client build to remotely monitor the progression of retinal diseases to allow for quicker interventions and treatments. Another example would be an application we helped build to monitor glucose levels for diabetes management. Healthcare providers also use SaMDs for medical imaging analysis, which are tools used to interpret outputs of CT scans and MRIs and support the diagnosis and treatment of disease. We get excited to work with our clients in the SaMD space because it has a real opportunity to advance the pursuit of personalised healthcare. The possibilities in the SaMD space are limitless and will have the largest impact on individual healthcare."
What has been the impact of AI on patient data?
"We have only just begun to leverage the full capabilities of what AI can bring to healthcare. AI can identify trends when comparing certain data from patient records such as age, medical history, and lab results, which can result in improved diagnosis and earlier disease detection and intervention. A patient's health status can also be monitored through wearable devices that apply AI algorithms to identify changes in vitals and activity levels, also resulting in earlier intervention as well as improved preventative care.
"Post-COVID-19, clinician burnout is at an all time high, and electronic health records are a primary source of stress. AI has improved the user experience of electronic health records for clinicians by summarising relevant clinical data so that they can spend more time with patients and less time navigating through complicated interfaces."
What do the next 12 months hold for Dialexa in the healthcare space?
"We anticipate a lot of growth! We continue to support our clients with digital front door solutions and expect the interest and need for these to only increase. We also expect to see more focus from healthcare systems on improving operational efficiency, and believe there are numerous opportunities for digital solutions to drive value in that area. Our SaMD work will also grow.
"Overall, we look forward to leveraging our digital product mindset and expertise to help our clients solve their most pressing challenges so that, ultimately, they can improve patient outcomes which is our shared goal."