Digital healthcare at Halma, with smart healthcare solutions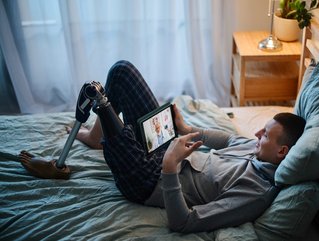 Steve Brown, Sector Chief Executive for Healthcare at Halma, explains why this is the year when digital healthcare goes mainstream
The world is facing a healthcare crunch. A shortage of doctors and nurses, combined with rising costs of running hospitals, is putting patients' lives on the line.
The World Health Organisation (WHO) predicts that by 2030 there will be a global shortfall of 10m healthcare workers. The causes are varied. Many doctors and nurses are quitting the profession due to burnout after enduring three gruelling years of the pandemic. Others are put off entering the profession due to the stress caused by long hours and a heavy workload.
In the developed world, this shortage is creating 'medical deserts' where people are losing access to healthcare near where they live. In developing countries, the WHO estimates that 56% of people still lack access to essential health services and cannot reach a healthcare facility by foot within one hour.
"All this means there are fewer healthcare workers to treat the sick and fewer people able to access adequate healthcare," says Steve Brown, Sector Chief Executive for Healthcare at Halma. Here, he tells us more.
Smart healthcare solutions with medical devices and AI
"Help is at hand. For the last few years digital healthcare technology has been advancing fast," says Brown. "Innovative solutions using connected devices and artificial intelligence (AI) are now available to help meet the rising demand for better and more accessible healthcare. These advances have the potential to vastly improve access, quality of care, and patient experience while reducing the burden on doctors and nurses. This is the year when digital health comes of age."
Access digital healthcare anywhere
"Digital healthcare solutions allow long-distance contact, care and monitoring between clinician and patient. The technology had been growing fast, and the pandemic accelerated its adoption," says Brown. "Healthcare professionals who were unable to meet their patients face to face had to find new ways to connect. Now these digital-enabled services are set to become the standard, including using video calling to conduct routine appointments, to remotely monitoring vital signs in patients with chronic illnesses.
"Halma, a global group of life-saving technology companies, has several healthcare companies in its portfolio whose digital technologies connect patients and health professionals remotely.
"The Volk VistaView® uses digital technology to help diagnose common eye health problems remotely. Its compact and easy-to-use retinal camera allows a healthcare worker in the field to take high quality images of a patient's eye and then upload them for assessment by a trained eyecare professional miles away.
"People who live far from healthcare facilities or are too ill or poor to travel to a clinic, can now have their eyesight tested without ever having to leave their home. The technology can also be used for patients in nursing homes, for those with disabilities and for elderly patients suffering from mobility issues. This portable technology is already being used in a number of countries where there are remote healthcare access needs, including Honduras and India."
Safe baby business with AI

PeriGen, a Halma company, is in the safe baby business. The company develops software that uses AI to protect mothers and babies during childbirth. Its PeriWatch Vigilance® technology tracks vital information such as foetal heart rate, contractions, and labour progression. It looks for patterns in the data during labour and, if it detects anything abnormal, immediately notifies the clinicians in charge so they can intervene quickly. While obstetric expertise may not always be available, this system operates objectively and continuously to provide clinicians an additional layer of safety.
"The technology also enables clinicians to monitor mothers and babies across multiple facilities from a centrally remote location," says Brown. "For example, the Texas Children's Hospital in Houston, USA is providing PeriGen's solution from their own servers to a large maternity clinic in Malawi, providing insights to nurses and midwives there. This is helping to bridge the gap in care and has significantly reduced the rate of stillbirth and early neonatal deaths in this resource-constrained area."
Providing healthcare in remote places
Riester, a Halma company based in Germany, is designing a range of solutions to bridge the gap between clinicians and patients in remote locations without access to specialist care. "Their telemedicine platform helps nurses and doctors to run primary care diagnostics on patients from a different location. The technology uses connected devices which can record a patient's vital signs and transmit them live to a doctor for instant analysis and feedback in a remote consultation setting."
The future of digital health
Digital health, powered by new capabilities like AI and connected devices, is changing how healthcare is delivered. This new approach enables faster diagnosis, provides greater access to underserved communities and relieves some of the pressures on an overstretched global healthcare system.
"As the world adjusts to healthcare in a post-pandemic world, the next wave of digital innovation is coming to support the doctors and nurses of the future," says Brown. "This is the year when digital health comes of age."