Dr Rangan Chatterjee, a public health and happiness expert
By Charlie Steer-Stephenson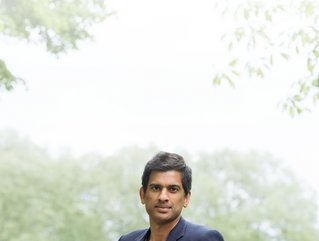 Dr Rangan Chatterjee, doctor, author and podcaster, is a digital health trailblazer and an advocate for a holistic approach to mental and physical health
Name: Dr Rangan Chatterjee
Job Title: doctor, author and podcaster
Company: BBC
Dr Rangan Chatterjee was born to Indian parents in Manchester, England, in 1977. Inspired by his father's hard-working attitude as a consultant at Manchester Royal Infirmary, Chatterjee studied Medicine at the University of Edinburgh, where he graduated in 2001 with an extra degree in immunology.
"My mission is to help 100m people feel fantastic by restoring them to optimal health"
In discussion with Fearne Cotton on her Happy Place podcast, Chatterjee spoke openly about how his 20 years' medical experience – as well as his personal struggles as a doctor with an immigrant background – have shaped his mission, which is: "To help 100m people feel fantastic by restoring them to optimal health."
To do this, Chatterjee has used multiple platforms to advocate for a holistic approach to mental and physical health. Today, he is devoted to promoting new ideas about progressive medicine to help people live happier, healthier, and more fulfilled lives.
Dr Chatterjee first entered the public eye as resident doctor on BBC Breakfast, where he administered general health advice to the public in response to current medical research. In March 2020, he featured in a BBC Breakfast conversation alongside other leading UK doctors (Professor Tom Solomon and Dr Chaand Nagpaul) to offer a much-needed 'GP perspective' on the early COVID-19 outbreak. Most importantly, though, he encouraged viewers to take care of their mental and physical health during the lockdown – which many were unintentionally ignoring in the face of the pandemic.
In 2015, Chatterjee presented the BBC documentary, Doctor in the House (rated 8.4/10 stars on IMDB). For two series (2015/2017), Dr Chatterjee temporarily moved in with families dealing with health concerns. After analysing their lifestyles and determining the root cause of their health problems, Chatterjee empowered the families to make small, practical changes (such as swapping out sugary snacks or implementing a morning/bedtime routine) that would lead to happier, healthier lives. This established Chatterjee's status as a leading public health expert determined to help people improve their own health and happiness.
Since 2017, Chatterjee has written five influential books to help him achieve this mission. His first publication, The 4 Pillar Plan, promotes simple, accessible ways to improve health by encouraging people to pay attention to how they relax, eat, move and sleep. In The Stress Solution (2018) and Feel Better in 5 (2019), Chatterjee offers readers more practical solutions to reset their lives – this time with a US edition and translations for German, Dutch and Swedish audiences. In 2020, Chatterjee released Feel Great, Lose Weight, an influential book that debunks diet myths and provides readers with realistic habits to adopt for long-lasting weight loss.
Chatterjee's most recent publication, Happy Mind, Happy Life: The New Science of Mental Wellbeing (rated 4.36/5 stars on goodreads) promises to help readers feel better about themselves and learn to live fulfilling lives by cultivating core happiness – a primary message that Chatterjee reiterates across his social media and interviews.
"I want to empower you to become the architect of your own health. Because when you feel better, you live more"
Today, Chatterjee is best known for his weekly podcast Feel Better, Live More. 1.5m people watch and listen to Dr Chatterjee's podcast each week, and it remains the #1 health podcast in the UK and Europe.
Chatterjee outlines his personal mission in the podcast introduction: "I want to empower you to become the architect of your own health. Because when you feel better, you live more."
Each week, he interviews leading experts in different areas of health and lifestyle – from discussing post-traumatic stress and resilience with Holocaust survivor Dr Edith Eger, to exploring the latest science in gut health with world-leading expert Professor Tim Spector. The Feel Better, Live More podcast is an accessible yet thought-provoking platform for non-specialists to learn about current medical research and interests across the world.