Guyana's digital transformation will improve healthcare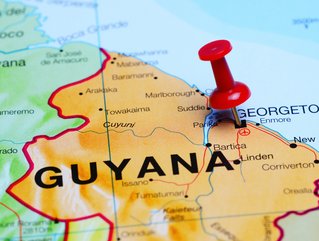 Supported by NRD Companies, Guyana aims to implement a digital transformation to ensure a higher quality of life for all - especially in healthcare
Guyana, a coastal South American country, has a population of less than one million people - and a Prime Minister who is determined to digitally transform the country to reach all of their healthcare needs, especially following COVID. 
However, there is a geographical problem: 80% of Guyana is covered in rainforest and waterfalls, including Kaieteur Falls (which is four times higher than Niagara Falls). Accessibility to services provided by the government is simple for those living in coastal areas, but much more difficult for those based inland, known as 'the hinterlands'. Guyana's government has recently set about filling the gaps in public services, across all regions.
NRD Companies, which has led other digitisation projects, has already completed an analysis of the country's ICT capabilities and will help Guyana's digital transformation. NRD Companies is a global IT and consulting group of companies, specialising in governance and economic digital infrastructure development. Founded in 1995 and headquartered in Norway, the group aids countries in reaching the UN's sustainable development goals. 
Modernising Guyana's digital healthcare post-COVID
The ICT Access and E-Services for Hinterland, Poor and Remote Communities project, has four core elements: 
Strengthening the e-government policy and legislation environment 

Improving access to ICT across the country

Facilitating digital access to public services and information

Increasing the digital literacy of regional communities, enabling them to use e-services
NRD Companies will also facilitate the modernisation of The Division of Social Protection and Health of Guyana, which will provide security in rural communities. 
The ability to provide online services will help the government better serve citizens in areas of:
Social support

Healthcare

Education
Ultimately, this project will contribute to the UN's Sustainable Development Goals, including Goal Three: Good Health and Wellbeing.
COVID has accelerated the global digital transformation and Guyana can't be left behind
The Government of Guyana will provide e-Government services, from 200 ICT hubs located in remote communities.
This will improve the impact of public services, especially for those who live in remote areas.
The Prime Minister of Guyana, Brigadier (Ret'd), the Honourable Mark Phillips, believes that the success of this project is pivotal for Guyana's development. 
"Eliminating the digital divide is a part of development in any country", he declared. "COVID has forced accelerated digitisation on the entire world and Guyana cannot afford to be left behind. This project has the potential of having us achieve the goal of connecting our hinterland, poor and remote communities. We have identified 200 of those communities to be connected and to benefit from everything that comes under the umbrella of e-governance." 
 Other countries' experiences show that the introduction of digital public services not only increases their accessibility - it also drastically reduces the time and effort needed to reap their benefits. 
Digitisation of government services has also been shown to boost the economy, as foreign investments are attracted to modernised countries. As a result, Guyana's Resident Representative of the United Nations Development Programme, Jairo Valverde and Jose Eguren, Senior Advisor, are both excited to see the project begin. 
"The impact of the project will go beyond what we have been able to imagine because once those communities have the hubs, and once the Government's e-services are developed, it's going to improve the integration of all Guyana", said Valverde.
"Our assessment indicates that Guyana has massive potential for digital transformation. Unlocking it will be a crucial part of reaching the goals of digital governance by 2030", said Mindaugas Glodas, CEO at NRD Companies.