How Amal Health is helping patients with chronic conditions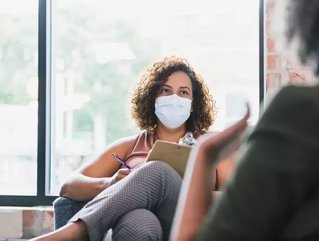 The UK-based startup aims to help at the intersection between chronic illness and mental health...
Earlier this year Nadia Smati and Zaha Masri founded Amal Health, a UK-based digital healthcare platform that aims to help doctors and patients manage chronic conditions. Here Smati tells Healthcare Global about how they're aiming to help people with long term illnesses during the pandemic. 
Smati and Masri met at Stanford University before moving to London to further their studies. They founded Amal Health earlier this year, after spotting inefficiencies in healthcare delivery during the pandemic. "While working at a GP practice I saw many patients attend with stress and mental health issues related to their conditions, such as social anxiety about going to work or feelings of guilt for being a burden to their loved ones" explains Smati. 
"Inflammatory chronic diseases like psoriasis have a syndemic relationship with stress and mental health disorders, in which they can cause a worsening of physical symptoms and generally make it more difficult for patients to cope with their conditions. Another issue is accurate clinical histories from patients - for a doctor the key aspect of a consultation is understanding the full history of a patient's symptoms." 
Smati says that it can be challenging for patients to recall their entire history, so along with Masri she set about creating a digital healthcare company that would streamline inflammatory chronic disease care, including digital psychology interventions for patients which would all be recorded and fed back to the patient's doctor. 
"The Covid-19 pandemic influenced this greatly" Smati says. "GP and outpatient appointments were converted to telephone consultations, and during the transition fewer appointments were available. This meant patients were left more responsible for self-management of their conditions. The pandemic greatly increased the urgent need for holistic, patient-centred care for primary management of chronic diseases that could be delivered easily and effectively."
Amal Health's platform allows patients to record both physical and psychological symptoms through text-based, daily health questionnaires. "The questions are framed in a way so that the patient is having a familiar, medical-jargon free conversation with the symptom tracking platform, which then records their responses" Smati says. 
Their responses are converted into assessments reflecting how they are coping with their condition, based on their behaviours and psychological wellbeing. If they need psychological treatment, the platform provides them with personalised, text-based therapy. 
The symptom tracking also allows patients to document their health goals, or other lifestyle changes like changing their diet to see if it impacts on pain symptoms. Through machine learning (ML) the questions become more individualised over time. 
A summary of this information is provided to the individual's doctor, which Smati says helps to get the most out of consultations ny reducing the burden of re-explaining and remembering every detail of their symptoms. 
Smati says the pandemic has highlighted several structural issues with the way healthcare systems manage chronic diseases, which can be addressed with increased outpatient symptom monitoring, a greater focus on prevention, and greater 
access to mental health services to cope with anxieties and stress related to medical conditions. The latter has become particularly important during the pandemic, as anxiety, isolation and fear amongst the general population has increased. 
"Digital health in particular has incredible potential to address all these challenges" Smati says. "Checking in with patients, monitoring symptoms at home, offering different mediums of mental health therapy, and giving patients the tools to be able to keep track of their own medical conditions are all ways in which digital health can offer virtual care without increasing the demand for healthcare professionals or physical appointments.
"AI and machine learning will enable us to better understand people's physical and mental health problems and forward cases to medical professionals in a timely manner" she says. 
Technology can also help to increase people's role in their own care through self-monitoring, increasing health education, and encouraging lifestyle changes, medication compliance, and mental health awareness.
Looking ahead, Smati says they aim to make Amal Health faster and more accurate in the way it develops tracking and therapies for each patient. They also have plans to expand their services. "We want to have Amal Health's services offered for more chronic diseases including hypertension and diabetes control, and also expand to help with post-surgical rehabilitation services as well. We plan to offer our services in multiple languages to cater to the diverse population in the UK, and expand to more primary care clinics globally."