Increased digitisation will revolutionise healthcare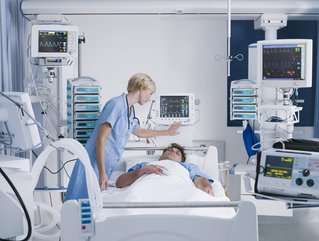 Stefan Spendrup, VP of Sales, Northern and Western Europe at SOTI, shares how increased digitisation will transform the healthcare industry
Long wait times, seemingly endless waits for GP appointments and overloaded A&E departments have prompted health leaders to revolutionise digital practices within the healthcare industry. Gone are the days of traditional doctors and hospital appointments – UK institutions are currently on the brink of a digital transformation, with experts predicting soon digital appointment systems and artificial intelligence (AI) will begin to be used in patient diagnosis and illness prevention.
The COVID-19 pandemic exposed cracks and inefficiencies within the healthcare infrastructure and highlighted that IT healthcare professionals must work to digitally transform the healthcare industry to prevent further negative impacts on patient care.
While patients are avidly waiting for a health tech revolution, there is still work to be done. Currently, 59% of IT healthcare professionals agree their organisations regularly experience problems with IoT/telehealth medical devices resulting in device downtime and delays to patient care.
SOTI's recent research report estimates device downtime is costing UK healthcare providers an average of 167 hours a year, resulting in 21 days per year that practitioners are busy resolving tech issues and not patient care. A further 74% agree their organisations need to invest in new or better technology to prepare for any future health crises.
It is time for healthcare institutions to embrace change and revolutionise their operating systems to offer patients better care and faster diagnosis.
The rush to digitise healthcare
The impact of the pandemic was felt globally by every industry, but particularly the healthcare sector. Many IoT/tech issues that were hidden prior to the pandemic came to the surface, and IT healthcare professionals realised the industry needed a complete transformation to prevent it from collapsing.
IT professionals within the sector are turning to more digital devices and healthcare technologies to change both patient care and administration, since over 56% of UK healthcare institutions do not have digital recordkeeping for patient records. The rush to digitise UK healthcare institutions was accelerated by the pandemic, with 69% of professionals agreeing that they did not start using IoT/telehealth medical devices until the beginning of 2020.
However, while many IT professionals are rushing to install new technologies, they must take care to ensure each device is fully integrated within the existing systems to prevent further tech issues and device downtime.
Integrating the new with the old: medical devices and telehealth
With the scaling up of device implementation in the medical industry, healthcare professionals can improve patient care, but only if these devices are integrated fully with the existing med-tech infrastructure.
Medical digital devices are now needed to streamline healthcare processes and patient care services. But over 9 in 10 professionals have experienced some form of tech issues, resulting in an average of 21 working days lost. Furthermore, 64% of IT healthcare experts agreed that their systems were not integrated effectively, leading to a further 52% stating that they experienced frequent technical issues as a result.
To avoid frequent technical issues and device downtime, IT managers must ensure mobile technologies are integrated properly with pre-existing legacy systems, but also that they are equipped with an advanced diagnostic intelligence tool. These systems can highlight device performance and provide remote support, which can then in turn improve the level of day-to-day operations and avoid patient care delays.
The pressure placed on the healthcare sector following the pandemic is huge, and IT leaders are tasked with alleviating it. Combatting technical issues and device downtimes is an important step.
The future of digital healthcare
Moving towards a digitised healthcare system of shifting away from manual and paper processes to new digital appointments and online diagnoses is the way forward for the UK healthcare sector.
The healthcare industry is slowly starting to rebuild after the pandemic, but more work needs to be done.
As we continue to move towards a more technology-focused future, medical practices will become more digitised with tools such as AI adopted to overhaul the current medical systems and introduce a new online healthcare industry.
But the first step is fixing the current tech issues we have now. As the number of digital devices within healthcare institutions continues to grow, IT managers must ensure new technology is efficiently integrated with pre-existing infrastructure. Also, IT specialists must begin to take advantage of new IoT software to help remotely control, manage and fix digital devices.
With tools such as advanced diagnostics, remote controlling and performance management in their arsenal, IT managers can competently fix and monitor all digital devices within their institutions. This will result in less frequent technical issues and a reduction of device downtime.
Costly device downtime can seriously hinder a healthcare worker's ability to provide effective patient care. So, shortening and eliminating these technical issues should be a key focus for IT healthcare experts moving forward as we transition to a more digital age.
Stefan Spendrup, VP of Sales, Northern and Western Europe at SOTI