Ranjan Singh, CEO of HealthHero on digital healthcare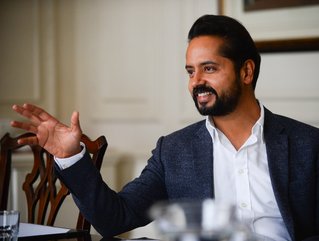 Ranjan Singh, co-founder and CEO of HealthHero explains how Healthcare 3.0 is focused on preventative and chronic care, as well as connecting devices
Hi Ranjan, please introduce yourself and HealthHero.
"I am Ranjan Singh, CEO and Co-Founder of HealthHero, Europe's leading digital healthcare provider. We deliver remote access to doctors and expert clinicians directly to patients, insurance policy holders and employees via digital technology.
"Our purpose is to simplify healthcare and improve lives. We've set out to transform healthcare by combining digital convenience with human expertise. With over three million consultations a year and 35 million lives covered, HealthHero delivers a holistic care solution to patients, making it easier for them to manage their health and at the same time delivering better outcomes."
Tell us about your education and career path - what led you here?
"I did my engineering from National Institute of Technology in India and an MBA from INSEAD.
"Engineering helped me develop a structured approach to problem solving and an analytical bent of mind. At INSEAD, I developed my perspective and understanding of business and created a valuable network. Interacting with some of the best minds in the world also gave me a lot of my confidence – something you really need when you're starting a business!
"I'm privileged to have such an education, though 80% of where I am today is due to learning on the job – there is no substitute to real-life!"
What has been your biggest lesson?
"Hiring the right people can change everything. When scaling at pace, it is a complex challenge to make sure you're bringing in the right people, at the right time, into the right positions – there are a lot of factors at play. It's important that they meet the requirements of the role, but equally as important that it's a good fit for them too."
What is Digital Healthcare 3.0?
"Healthcare 3.0 is a forward-looking vision for healthcare that is transformed by digital solutions: a patient-centric ecosystem where healthcare is delivered in a way that combines experience for the patients and efficiency for the system.
"To successfully achieve the ideals of Healthcare 3.0, every touchpoint in the healthcare landscape —from practitioners and their staff to the digital monitoring and reporting devices used by patients—needs to be connected.
"Through reengineering pathways of care for individuals, underpinned by data, we want to dramatically change things for patients and clinicians. Combining data, intelligence and automation, we will improve the experience and efficiency of the healthcare sector. This means patients will receive the right care quicker and that there will be a dramatic reduction in strain on the system – and all personalised to the individual."
How does it connect to every touchpoint in the healthcare ecosystem and how does it empower patients?
"We want to support individuals through their own highly tailored health and wellness journey. To do that, we're building entirely new data-driven pathways and iterative feedback loops to create a personalised health experience. This means we'll be able to treat a preventable disease, like Type 2 diabetes, by spotting the early warning signs and promoting personalised changes to diets and behaviour.
"A large part of the vision for Healthcare 3.0 is centred around preventative and chronic care. Rather than waiting for an illness to present and worsen, patients should be empowered to manage their own care through a range of appropriate digital and physical tools."
Tell us about transforming the industry, including by connecting the entire healthcare experience including preventative and chronic treatments?
"Almost all of us have had difficult experiences in the healthcare system. What makes it especially frustrating is that tech solutions have been around for a long time, but few have made a material impact in improving the experience for patients or clinicians.
"I realised that we needed more than just marginal improvements that digitise isolated parts of the healthcare journey like patient records – we needed to revolutionise the industry. When we launched HealthHero, the idea was to deconstruct the healthcare journey and reconfigure it with technology at every touchpoint, to create a truly connected system for both patients and practitioners."
Tell us about your research on employee health.
"We recently commissioned research to reveal the experience of employees in a range of businesses and how their employer supports their health. It found that many businesses are failing to address the connection between good physical and mental health. We found that three in ten (31%) of workers feel as though their employer doesn't care at all or much about their mental health or wellbeing.
"It's startling that such a large proportion of companies are lagging behind in their approach to supporting staff wellbeing, despite the clear evidence that mental and physical health are inextricably linked. With challenging economic factors affecting all businesses, it's critical that staff wellbeing is front of mind for every business leader to ensure they have a happy, healthy and productive workforce."
What has been HealthHero's greatest challenge?
"I founded HealthHero in 2019, just before the pandemic. Running any business at such an uncertain time was difficult and running such a fast-growing scale-up that was having a direct impact on an industry in such turmoil was particularly challenging."
What do the next 12 months hold for you and the company?
"Overall employee wellbeing has been a growing concern across boardrooms around the world since the pandemic exposed the rise of burnout. We've developed a product, Symbio, which will provide organisations with a solution to help their employees manage mind and body together.
"We continue to march forwards with our plans to reconfigure the patient healthcare journey by combining gold standard clinical expertise with an innovative digital platform.
"To truly achieve our model – Healthcare 3.0 – we will look beyond just episodic care and incorporate preventative and chronic treatment."