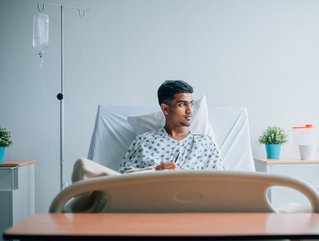 Healthcare videos
Healthcare businesses like Headspace, Sanofi, iQuantum, Kinaxis, TAG, Capgemini, VitalityHealth & more have made our Top 10 Healthcare Digital Videos list
10. How Headspace Health created a culture of cyber awareness
Headspace Health offers a whole spectrum of services, from mindfulness and meditation tools to CBT, coaching, therapy, and psychiatry. The service starts with the mobile app, which helps users with meditation and helps users build good daily habits around sleep breathing.
"If you have a certain situation where you need clinical help then, you are able to elevate the service level to clinical where you can now schedule time with a therapist or psychiatrist, or whatever it takes to get you into a better state from a mental healthcare standpoint," explains Puneet Thapliyal, Chief Information Security Officer at Headspace Health. "That's the vision of the company: to focus on outcomes and to make sure anyone who comes and uses our service is able to get better from a mental healthcare standpoint."
9. Sanofi: The arrival of the 'haute couture' supply chain
Sanofi is a one-of-a-kind pharmaceutical company for the modern age. Self-described as 'pushing the frontiers of science' and 'chasing miracles', the 100,000-plus employee company delivers 'life-changing treatments and life-saving vaccines' to patients around the globe.
Arnaud Dourlens believes that the clinical trial supply chain can be a source of value for patients and the healthcare sector.
"When a patient is suffering from a disease, they are in a tough situation, and clinical trials are an option of care for them," explains Dourlens.
Behind the clinical trial, there are a lot of activities that happen around defining a protocol, defining the way in which the study will be carried out and the way that the data will be managed.
Yet the treatment that the patients will get – when they receive a box of drugs or a vaccine designed to either save or vastly improve their life – is what the patients will see from Sanofi. It's Dourlens' job to get the drug to the patient on time, whatever the situation.
8. iQuantum: A modern procurement platform for today's business
Hetal Mehta is the founder and CEO of iQuantum Inc., a modular, modern procurement platform. As the leader of iQuantum's woman and minority owned business, Hetal works closely with all internal teams, customers, partners, and the iQuantum Advisory Board of industry champions and practitioners.
7. Digital technology & data is transforming cancer care
Cancer has a significant impact on Canadians living with cancer, their caregivers and the healthcare system. About half of all Canadians are expected to be diagnosed with cancer in their lifetime and about one in four are expected to die of cancer. The cost of cancer care in Canada is in the billions and is steadily rising. The Canadian Cancer Society plays an essential role in saving and improving the lives of people affected by cancer.
Lesa O'Brien is the Interim Executive Vice President of Digital Strategy and Technology for the Canadian Cancer Society. She has been with the Canadian Cancer Society for six years and in the not-for-profit space for 25 years.
"I am responsible for enterprise-wide digital, data and technology strategies, products, and solutions across the organisation," she explains.
What led O'Brien to this industry was a lifelong passion for healthcare. Here, she tells us more.
6. Bringing better healthcare to more people at TAG
TAG – The Aspen Group – is transforming the healthcare system, to bring better health to more people.
"The company has recently evolved," explains Fontana. "We went from being a dental support organisation - supporting independent practice owners and dentists for Aspen Dental branded offices, to now - as TAG, providing support to four healthcare businesses."
Fontana's experience from over the past 25 years has significantly shaped his current role as founder, chairman, and CEO. Here, he tells us more.
5. Capgemini helps Boehringer Ingelheim in a world of data
Boehringer Ingelheim specialises in areas of unmet medical need in Human Pharma, Animal Health, and Biopharmaceutical Contract Manufacturing and has focused on advanced technologies to discover new ways of introducing technology to core business processes.
Here, she explains how data management is helping Boehringer Ingelheim to transform lives.
4. Diversity, ESG & Automation: Gainfront's modular procurement
Gainfront is a platform that meets the procurement needs of today's business landscape, focusing on mandates related to diversity, supplier diversity, workforce diversity, as well as ESG tracking. Led by Hetal Mehta, CEO of Gainfront, the company provides organisations with an innovative way to achieve compliance to preferred buying while offering powerful workflow automation, which is essential in today's hybrid work environment.
Gainfront enables customers to easily configure their workflows, whether in sourcing, finance, or HR, granting them full control over the process through team collaboration and audit trails. As a complete Procure-to-Pay platform, Gainfront fully embraces diversity, ESG, and workflow automation requirements, providing a comprehensive solution for procurement professionals.
3. Digital healthcare with OSF HealthCare & Current Health
OSF HealthCare is an integrated health system that is owned by The Sisters of the Third Order of St Francis. Headquartered in Peoria, Illinois, it has 15 hospitals – 10 acute care and five critical access, as well as 2,084 licensed beds and 24,000 Mission Partners in more than 150 locations.
"We are a comprehensive health system and we also have a digital health arm," Roopa Foulger says. "Fortune Magazine has recognised us as one of the most innovative companies in the country for 2023 – this is a huge testament to what the organisation has invested in innovation. My role in OSF is Vice President of Digital Innovation Development."
It was the desire to make an impact on people's lives that drove Foulger to the healthcare industry. Here, she tells us more.
2. VitalityHealth: Telehealth in a digitised world
The latest advances in the IoT and wearables, as well as an acceptance that telebased medicine provides a more convenient service, have led to huge advancements in the fields of health and wellness insurance. Dr Keith Klintworth, Managing Director of the UK's leading telehealth insurance provider, tells us why prevention is better when it's digitally managed.
1. Kinaxis at heart of Microsoft Azure ecosystem
Microsoft's Azure ecosystem is helping businesses modernise supply chains worldwide, and Kinaxis is at the heart of this important process.
Kinaxis provides cloud-based supply chain management (SCM) software called RapidResponse, built on prescriptive AI and automation. This provides organisations with supply visibility and resilience.
Supply chains are by nature complex, and involve many operational steps and activities – whether this is manufacturing, procurement or logistics.
Using RapidResponse, planners can create disruption scenarios – such as severe weather events, material shortages or major surges in demand – and use this to make informed decisions, with business outcomes, customer needs and sustainability in mind.
Giovanni Pizzoferrato is Kinaxis CTO and helps define the technology strategy of its customers globally.
*********************************************
For more insights into Healthcare - check out the latest edition of Healthcare Digital and be sure to follow us on LinkedIn & Twitter.
Other magazines that may be of interest - Manufacturing Magazine. Check out our free upcoming virtual event, Manufacturing LIVE, 6-7th December 2023.
*********************************************
BizClik is a global provider of B2B digital media platforms that cover 'Executive Communities' for CEO's, CFO's, CMO's, Sustainability Leaders, Procurement & Supply Chain Leaders, Technology & AI Leaders, Cyber Leaders, FinTech & InsurTech Leaders as well as covering industries such as Manufacturing, Mining, Energy, EV, Construction, Healthcare + Food & Drink.
BizClik, based in London, Dubai & New York offers services such as Content Creation, Advertising & Sponsorship Solutions, Webinars & Events.