MetroPlusHealth on navigating the postpartum journey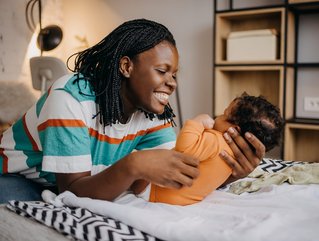 Mother and baby
This Women's Healthcare Month, Talya Schwartz, President & CEO of MetroPlusHealth, shares her top mental health concerns and resources for new mothers
The transition to motherhood is a joyous time filled with tender moments, but it's also a period of immense physical and emotional change that can take a toll on a person's mental health. A recent survey from MetroPlusHealth not only underscored the need for a better understanding and support for postpartum mental health, but also revealed alarming disparities.
Women's Healthcare Month: new mothers in the postpartum period
The survey found that a staggering 67% of women wished they knew more about the mental health challenges associated with childbirth. This number was even higher among Hispanic women at 76% and Black women at an alarming 81%. As a mother of two daughters, a paediatrician and the CEO of MetroPlusHealth, these issues are of extreme importance to Talya Schwartz.
"During the postpartum period, which is generally considered the year after giving birth, most people experience some type of mood disturbance, sometimes called the 'baby blues'. The symptoms are often mild and transient," says Schwartz. "However, 10-20% of women develop more significant symptoms of depression or anxiety. Postpartum depression, anxiety and psychosis are some of the key challenges faced by new mothers, with symptoms ranging from feelings of guilt and worthlessness to sleep disturbance and even suicidal thoughts."
The effects of these mental health issues are not just confined to the mother but have a profound impact on the entire family. Studies have shown that the mother's mental health is tied to the well-being of their child and severe or chronic depression can significantly affect maternal interactions with the infant, partner and family.
"According to our survey, the experiences of these challenges are not equally shared," Schwartz continues. "It reported that 66% of those who identified as women knew someone who had experienced mental health difficulties after childbirth, compared to only 51% of men. The survey also revealed disparities in postpartum care, with 28% of white women acknowledging a need for more care than expected, in stark contrast to 50% of Black women and 52% of Hispanic women."
These statistics highlight the systemic barriers that often prevent new mothers from seeking and receiving the help they need. Cultural factors often play a significant role in a mother's reluctance to seek care.
"Negative perceptions of mental illness are prevalent in communities of colour," says Schwartz. "Seeking help and taking medication can be seen as a sign of weakness. Social determinants of health (SDOH) also have a significant impact on communities of colour. People may need to prioritise obtaining basic needs for their families over taking care of their own mental health.
"In addition, communities of colour have been disproportionately impacted by negative experiences with the child welfare system. These experiences contribute to the fear that if they disclose that they are experiencing mental health symptoms, their children will be taken away from them."
Mental healthcare support is essential for new mothers
Despite these challenges, there are numerous resources and support systems available for new mothers.
"Postpartum Support International, BIRTH Matters NYC and the National Maternal Mental Health Hotline all provide resources, support groups and helplines," says Schwartz. "Professionals like psychologists, psychiatrists and therapists are also accessible, as are local postpartum support groups and online communities."
To address these disparities and empower mothers to seek care, we need to remove barriers to care. That could mean community initiatives that provide culturally sensitive support and encourage open conversations about postpartum mental health.
"It is our collective responsibility to ensure that new mothers have the resources and support they need to take care of their mental health. The need for continued awareness and advocacy has never been clearer."