Movember to raise global awareness of prostate cancer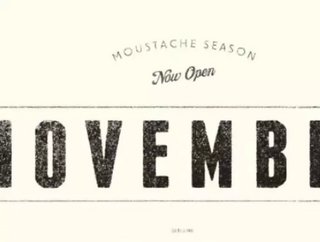 Men across the world reached for their razors last night to shave in anticipation for the start of Movember – a month long attempt to grow mousta...
Men across the world reached for their razors last night to shave in anticipation for the start of Movember – a month long attempt to grow moustaches to raise awareness for prostate cancer.
Movember, a play on words between moustache and November – the month in which the event takes place – was originally started in 1999 by a group of Australian men.
Although Movember was initially focused on raising awareness for male cancers and depression in New Zealand and Australia, it quickly gained global popularity.
Today, official Movember events are held in the UK, the US, South Africa, Canada and across Europe.  
To read the latest edition of Healthcare Global, click here
The Movember Foundation charity was officially formed in 2004 and as well as increasing people's knowledge of male health issues it works to raise money and funds that can go towards treating and fighting such illnesses.
Since it began, 1.1 million men, or 'Mo Bros' are they are otherwise known during November, have participated in Movember and to date the global movement has received $174 million in charitable donations.
Movember's Global Action Plan (GAP) works to "accelerate research outcomes through global collaboration" and the Foundation's vision is to have an "everlasting income on the state of men's health."
As a result, the Movember Foundation has established partners across the globe, mainly in the form of prostate cancer charities, including The Lance Armstrong Foundation, LIVESTRONG.
To assist the Foundation deliver its initiatives, an independently formed Global Scientific Committee (GSC) of internationally renowned prostate cancer doctors and experts was established.
Dr Colleen Nelson, the Independent Chair of the GSC, commented on the importance of the Movember movement: "Prostate cancer research is often most effective when multi-disciplinary teams across different research institutions work together to address key scientific challenges," she said.
"This is usually done within a given centre, occasionally across one country. Rarely is there an opportunity to do this on a global scale.
Nelson added: "Movember's GAP provides an unprecedented challenge and opportunity to unite prostate cancer researchers across the globe to achieve key breakthroughs faster."
For those Mo Bros who are looking to get involved in Movember, each has the opportunity to registers and pledge to abide by the strict rules, which are as follows:
Mo Bros must be clean shaven at the start of Movember, 1 November
During Movember, Mo Bros must make an effort to groom their growing moustaches
Mo Bros must not join moustaches to sideburns, else it will be considered to be a beard
Handlebars of a moustache are not allowed to be joined to the chin, which is considered a goatee
The theme of this year's Movember campaign is country gentleman craftsmanship:
Our magazine is now available on the iPad. Click here to download it.