The 4-day work week could help hospitals & healthcare staff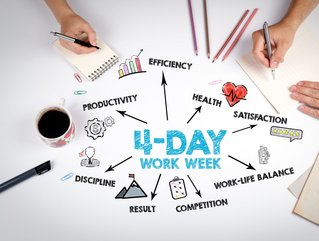 4-day work week
Healthcare staff across the world are leaving the profession due to burnout, but the four-day work week could increase staff retention & help hospitals
Even prior to the COVID-19 pandemic, healthcare workers across the world were under a lot of strain - working odd hours in what can be a highly stressful job has led to many healthcare professionals leaving their roles. This in turn has created job vacancies, which until they can be filled by a new employee, mean the remaining staff have to take on even more work.
In the UK, the NHS lost 10,000 staff in one year: 203 doctors, 2,800 nurses and more than 4,100 support staff.
The four-day work week could be the answer to decrease staff burnout and increase staff retention.
Four day work week reduces burnout
According to recruitment company Reed, a survey in 2021 showed that 80% of people would prefer a four-day work week.
60 companies across the UK took part in a four-day work week trial, where employees used the extra day to complete personal admin, do housework, spend time with family members, exercise and even monetise their hobbies - or simply rest.
Results from 3,000 employers showed benefits, such as:
71% reported feeling reduced levels of burnout
62% found it easier to balance their work and social life
60% were better able to manage their caring responsibilities
92% of employers said they would continue with a shorter workweek following the programme, while 30% said that they would make the change permanent.
"This is a major breakthrough moment for the movement towards a four day work week," says Joe Ryle, Director of the 4 Day Week Campaign. "Across a wide variety of different sectors of the economy, these incredible results show that the four-day week with no loss of pay really works."
The healthcare sector is in a dire condition and if the four-day work week is implemented, it may increase staff retention.
Former President of the Faculty of Public Health, Professor John Ashton, agrees that a shorter working week could:
Reduce sickness absence
Improve morale among healthcare workers
Advance the quality of work employees are producing.
The four day work week can 'retain talent' and 'make people stronger'
Some countries have already embraced the four day work week:
Belgium
Belgian employees can work a full week in four days without a change in their salary, but have to work the same amount of hours across the week.
"We have experienced two difficult years," said Prime Minister Alexander de Croo. "With this agreement, we set a beacon for an economy that is more innovative, sustainable and digital. The aim is to be able to make people and businesses stronger."
Iceland
A four-day work week was trialled through 2015 to 2019 and results showed it improved workers health and work-life balance.
"This study shows that the world's largest ever trial of a shorter working week in the public sector was by all measures an overwhelming success," said Will Stronge, Director of research at Autonomy. "It shows that the public sector is ripe for being a pioneer of shorter working weeks - and lessons can be learned for other governments."
New Zealand
Cameron Heath, Managing Director for Unilever New Zealand, views the four-day work week as a way to support people and the planet, while increasing profit.
"A high performing business requires thriving people, and the need to attract and retain passionate talent is more critical than ever," said Health. "It's imperative for us to continue to deliver superior business performance, whilst also meeting the evolving needs and expectations of our thriving workforce."