The NHS at 75: same healthcare, new technologies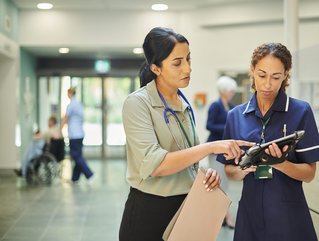 NHS healthcare workers
75 years of the NHS: Markus Nispel of Extreme Networks & Simon Hemingway, Healthcare Director at The Barcode Warehouse, discuss the NHS & new technologies
This week, Britain celebrates 75 years of the National Health Service, also known as the NHS. Launched in 1948, its post-war aim for the country was to make sure "everybody, irrespective of means, age, sex or occupation shall have equal opportunity to benefit from the best and most up-to-date medical and allied services available."
In the March issue of Healthcare Digital, we caught up with Jacqui Rock, NHS England's Chief Medical Officer.
"The NHS is in a very challenging time right now," said Rock, referring to the impact of COVID-19 and the cost of living crisis. Rock was confident that a combination of resilience and respect would help the service survive.
Yet on its anniversary week, Aneira Thomas, the first baby to be born on the NHS, said that the service is 'creaking at the seams'.
But new technologies might be able to save the day.

New healthcare technologies
Markus Nispel, CTO of EMEA at software development company Extreme Networks, remarked that new technologies have facilitated great advancements in healthcare and therefore having secure, reliable and high-performing network connectivity has become absolutely critical to the continued development of the NHS.
"Whether it's deploying an innovative medical application, leveraging analytics to ensure critical medical applications are performing as expected, extending telehealth services or meeting new operational requirements around billing and patient services, healthcare facilities need a high-performing, scalable and secure network to continue to deliver consistent and exceptional patient care," said Nispel.
"Leading hospitals including the West Suffolk NHS Foundation Trust have recognised the need for strong connectivity underpinning excellent patient care, and it has enabled them to automate important processes such as medication administration, patient monitoring and room assignments, helping reduce manual errors and improve overall efficiency across its facility."
Digital healthcare can improve patient safety
The government's 2023 mandate for NHS England has called for the adoption of point of care barcode scanning, which will enable digital transformation.
Simon Hemingway, Healthcare Director at The Barcode Warehouse, sees this as a great opportunity to support patient safety.
"The government's mandate for the NHS to adopt barcoding is an incredibly positive step. The efficiencies the technology provides will be a catalyst for modernisation across the NHS," he said. "The adoption of digital technologies such as these by hospitals, has already allowed trusts to streamline patient journeys, improve their safety, experience, and overall outcomes - saving healthcare professionals hundreds of thousands of hours of clinical time which can be redirected to patient care."
The heart of the NHS are its patients. Helping its healthcare professionals save time and energy will keep it beating.