The opportunities in the healthcare property market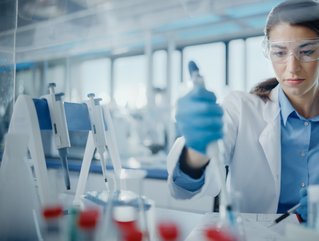 The opportunities in the healthcare property market
Rebecca Mortimore, Director at Ramboll, explores property's role in unlocking a life sciences superpower & the opportunities for the healthcare sector
In 2021, the UK Government announced it would be prioritising funding of the life sciences sector as part of its ambition to make the country a "science superpower" by the end of the decade. For stakeholders in the healthcare and life sciences sectors – startups, established players, and property designers and developers alike – this presents a huge opportunity, says Rebecca Mortimore, Director and Science Sector Co-Lead at engineering company Ramboll.
"Life sciences play a vital role in the development of new healthcare technologies and medicines," she says. "But a key concern for the future of the UK life sciences sector is space – of the right type and scale, and in the right location.
"Q1 2023 saw take-up in the Oxford life sciences property market increase 50% on last year's total, according to research from Savills, whilst the 'Golden Triangle' of Oxford, Cambridge and London already hosts five of the UK's six Academic Health Science Centres. Demand is clearly high, both for new-build and re-purposed existing properties, but does the UK boast enough expansion potential overall to support the government's growth ambitions?"
As new and established players ramp up development activity, now is a pivotal time to be well-versed in the life sciences property market - from what physical features a successful facility needs, the ideal locations for these developments, and the forces that will shape the future of the market.
Here, Mortimore tells us more.
The blueprint for healthcare labs
Mortimore says that the current property demand is heavily weighted towards research and development facilities. Considering post-COVID-19 ways of working, it can be tempting to suggest pivoting empty office space to labs, but a typical office is unlikely to have sufficient height, engineering space or servicing capacity for life sciences purposes. For example, labs need 50% more small power than offices, and lab drainage systems can be a challenge to retrofit.
"Although many offices can be adapted to support life sciences uses, not least through the ingenuity of design and constructor teams, not all can do this economically. This is also true for healthcare laboratories, which in addition to laboratory regulations, must also comply with hospital technical design guidance."
Flexibility is an essential characteristic of a successful life sciences building. By building in flexibility, facilities can appeal to a broad range of tenants.
"In practice, this means significant floor loading capacity and tall ceiling heights to accommodate equipment and engineering services; ability to separate lab and office workflows for safety and biocontainment; and a back-of-house service area for specialist waste streams, bottled gases and other ancillary functions," continues Mortimore.
The market is also seeing an uptick in provision of speculative, fully fitted-out labs where tenants can literally just move in, because these are fast to let and attract smaller life sciences firms.
"This is driven by the perception of huge unmet demand for laboratory facilities in the sector (although few have attempted to quantify this) leaving developers investing in greater upfront costs and racing to bring their space to market, to maximise their chances of leasing before tenant demand potentially falls away."
The modern life sciences sector is fundamentally about collaboration - from local to global levels - and the Golden Triangle locations offer the full life sciences ecosystem that underpins success, namely research-driven universities and hospitals plus a critical mass of other life sciences firms, alongside essential business support services like investors and legal teams. Additionally, transport connectivity and urban lifestyle factors help attract talent in a globally competitive market.
"Is the intense competition for space in the Golden Triangle sustainable in the long term? The sector isn't immune to the macro-economic forces in play across the rest of the economy, and property prices and the cost-of-living crisis may well help consolidate emerging, regional life sciences hubs in Bristol, Birmingham, Manchester, and Edinburgh, particularly as all four cities play host to leading hospitals," says Mortimore.
If current R&D activity is successful at the scale the existing development pipeline allows for, then the next tranche of demand will be GMP space, followed by clinical trials facilities with progression to full-scale manufacturing – all more expensive and complex than R&D facilities.
"Implications for space, engineering complexity and finance should be explored by more experienced developers now. The sector should be asking itself whether it will be able to deliver these follow-on facilities at scale, speed and economically, if the UK capability beyond R&D is to similarly flourish."
Building a life sciences superpower for the healthcare sector
As competition intensifies in the race for space, new life sciences facilities must answer to discerning and demanding clients, especially tenants within the healthcare sector.
"If the UK is to fulfil the government's vision of becoming a "science superpower", the built environment should form a foundation stone for this achievement," says Mortimore.
*********************************************
For more insights into Healthcare - check out the latest edition of Healthcare Digital and be sure to follow us on LinkedIn & Twitter.
Other magazines that may be of interest - Manufacturing Magazine.
*********************************************
BizClik is a global provider of B2B digital media platforms that cover 'Executive Communities' for CEO's, CFO's, CMO's, Sustainability Leaders, Procurement & Supply Chain Leaders, Technology & AI Leaders, Cyber Leaders, FinTech & InsurTech Leaders as well as covering industries such as Manufacturing, Mining, Energy, EV, Construction, Healthcare + Food & Drink.
BizClik, based in London, Dubai & New York offers services such as Content Creation, Advertising & Sponsorship Solutions, Webinars & Events.