Top 10 sustainability leaders in healthcare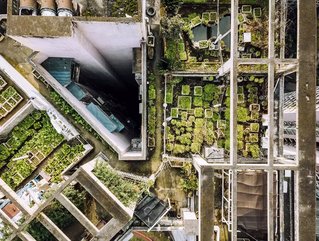 Ten people leading efforts to make healthcare more sustainable
The healthcare sector is a major cause of pollution. In the US, the healthcare industry accounts for 10% of greenhouse gas emissions, while in the UK it's 4%. Here are 10 people leading efforts to make healthcare more environmentally friendly. 
1. Professor K. Srinath Reddy, President of Public Health Foundation of India 
As well as leading the Public Health Foundation of India, an initiative that aims to strengthen public health training, research and policy, Prof. Reddy is a member of the Leadership Council of the Sustainable Development Solutions Network (SDSN), established to assist the United Nations to develop the post-2015 goals for sustainable development.
Initially a cardiologist, he has won multiple awards for his work in tobacco control as well as the Global Peace Essay contest organised by Economists Allied for Arms Reduction. A researcher and activist, Reddy is campaigning for new policies to reduce food waste, new metrics to measure diet quality and  food system efficiency, and measures to reduce air pollution. 
2. Kathryn McKenzie, Divisional Vice President, Global Citizenship and Sustainability, Abbott
Kathryn McKenzie leads the sustainability team at medical device company Abbott, frequently ranked as one of the greenest companies in pharma. In recent years it has reduced carbon emissions by 50% and cut water usage by 33%. 
Abbott is also focused on reducing waste. The company has 36 sites that don't send any waste to landfills, instead recycling, reusing or composting waste products. In the US a pilot takeback programme allows consumers to send back used sensor kits for free, to prevent them going to landfills. 
3. Gary Cohen, Co-founder and President of Health Care Without Harm 
Health Care Without Harm is an international campaign for environmentally responsible healthcare. It partners with healthcare systems, campaigns and NGOs around the world, including the WHO and the United Nations Development Program, to help hospitals become more environmentally sustainable and taking action to tackle the climate crisis as a medical emergency.
As well as co-founding the campaign, Gary Cohen has been working on environmental health issues for 35 years, and has received numerous awards including the MacArthur "Genius" award and Champion for Climate Change and Public Health by the White House in 2013. 
4. Rachel Kakos, intensive care nurse, Beth Israel Deaconess Medical Center
Working as a nurse at Boston's Beth Israel Deaconess Medical Center, a teaching hospital part of Harvard Medical School, Kakos saw the large amount of waste the hospital generated. Along with the hospital's sustainability lead, Kakos created a best practice guide to reduce waste by getting rid of plastic straws from patient trays, collecting unused medical supplies for a local dog shelter, and designed a process to transfer supplies between patient rooms if the patient was moving, rather than throw in the bin. Her efforts meant she received the Beth Israel Deaconess' Jane Matlaw Environmental Champion award in 2019. 
5. Mary Ellen Leciejewski, Vice President for Corporate Responsibility, Dignity Health
With more than 380 medical centres and 39 acute hospitals, Dignity Health is one of the biggest healthcare providers in the US. Sister Mary Ellen Leciejewski leads the organisation's sustainability initiatives, which have included increasing use of renewable energy by 35%, and reducing greenhouse gas emissions by 50%. Other schemes include using IV bags and tubing that are PVC-free, and creating a the 9,000-square-foot garden that provides ingredients for the hospital's cafe and nearby retirement home. 
6. Greg Adams, Chairman and CEO, Kaiser Permanente
Kaiser Permanente is one of the largest healthcare providers in the US, operating almost 40 hospitals and 727 medical offices. Under Greg Adams' leadership, in 2020 the company achieved carbon-neutral status, eliminating its 800,000-ton annual carbon footprint. Next it plans to become carbon negative by 2025.  
In practice this has meant installing solar panels at a number of sites, along with electric car-charging stations and implementing California's first renewable energy hospital microgrid, which connects renewable energy and battery sources to the pre-existing, diesel-fuelled backup power system at the hospital.
7. Dr Nick Watts, Chief Sustainability Officer, NHS
Dr Nick Watts is the first Chief Sustainability Officer appointed by England's National Health Service (NHS). He joined in 2020 with a remit to help the NHS reach its carbon net zero goal. To achieve this, the NHS aims to implement new ways of delivering care that reduces patient journeys, and turn the NHS fleet "green" including working towards road-testing a zero-emissions emergency ambulance by 2022.
Additionally new hospitals and buildings must be built to have net-zero emissions, low-carbon alternatives must be used where possible; and energy conservation will be a part of staff training and education programmes.
8. Dr Dong Chun Shin, President of the Korea Society for Green Hospitals 
Dr Dong Chun Shin is the President of the Korea Society for Green Hospitals and Director of the Department of Preventive Medicine at the Institute for Environmental Research of Yonsei University College of Medicine. The Korea Society for Green Hospitals aims to reduce the environmental footprint of healthcare in South Korea.  
Dr Shin is a leading advocate of environmental health in South Korea, and is a member of a number of agencies including the Environmental Health Committee of the Ministry of Environment. He has also received Korea's Presidential Citation for Environmental Achievement award, and the Order of National Service Merit.
9.Harriette Laurijsen, Policy Advisor for Sustainability, at Radboud University Medical Centre
Harriette Laurijsen coordinates sustainability efforts for Radboud's university and the medical centre in Nijmegen, Netherlands. These include reducing food waste in restaurants and from patient meals by 35%, and separating plastics from other waste.  Laurijsen also aims to encourage a culture change by stimulating students and staff  to make environmentally-friendly choices in their day-to-day lives. 
10. Melissa Bonassisa, Medical Imaging Supervisor at Overlook Medical Center, Co-chair of Overlook's Sustainability Committee
Overlook Medical Center in New Jersey has implemented several initiatives led by Bonassisa and her "Green Team", including repurposing the surgical blue wrap that covers sterile surgical instruments and materials, which is usually thrown away, instead turning it into tote bags for patients to store their belongings.
The hospital also sells the bags in the gift shop, bringing in revenue that could help expand the programme through Atlantic Health System, of which Overlook is a member. There are proposals to repurpose the blue wrap into sleeping bags and ponchos for local homeless populations.  The hospital also has 10 bee hives on the roof, supplying honey for the hospital kitchen and beeswax for lip balms and lotions sold in the gift shop.