US lawmakers want to create field hospitals near Ukraine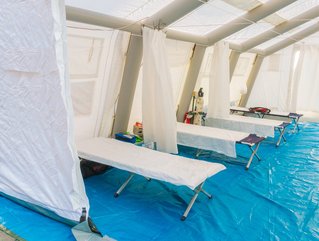 The Biden administration has been called to act by a group of bipartisan lawmakers who want to organise field hospitals near Ukraine's border
A bipartisan team of U.S. lawmakers has requested that the Biden administration move to create field hospitals close to Ukraine's border, to aid wounded Ukrainian soldiers and civilians as the country fights back against the invading Russian army.
Russian war crimes against Ukrainians must be met with healthcare assistance
Under the ICC statute, an attack on a hospital is a war crime. Yet according to the World Health Organisation, Russia has targeted 70 medical facilities, including the Mariupol maternity hospital. Footage of pregnant women being evacuated on stretchers is perhaps the most defining image of the war so far.
Due to this war crime, Ukrainian healthcare workers know it is unsafe for them to enter a medical facility or for patients to be treated there.
NATO territory across the border however, is safe from Russian aggression.
Several House members wrote to US Secretary of State Antony Blinken and Defense Secretary Lloyd Austin asking for the U.S. to support Ukraine's medical infrastructure by:
Opening field hospitals across Poland
Providing Ukraine with armoured ambulances
Using the US military's Landstuhl regional hospital in Germany to offer assistance to the wounded
US lawmakers want to support NATO with healthcare assistance
US President Joe Biden has vowed his support to Ukraine, but remained adamant that US soldiers will not be sent to fight against Putin's army. Instead, this week Biden announced an extra US$1.3bn of new weapons and economic assistance in aid of Ukraine.
But to many lawmakers, this is not enough.
"We're going to have to really step up in a really big way to relieve the combat wounded and civilian casualties that will be coming in the weeks and months ahead," said Colorado Democrat Rep. Jason Crow.
"We must remain united and provide Poland and our other NATO partners with the necessary medical and healthcare assistance to alleviate the suffering of the Ukrainian people," agreed South Carolina Republican Rep. Joe Wilson.