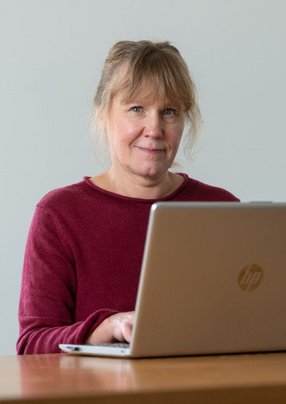 5 minutes with Dr Sarah Bateup, CCO at Oliva
Dr Sarah Bateup is a CBT therapist. Her passion for driving a new frontier of mental health care is what led her to join Oliva in 2021
Hi Dr Sarah Bateup, please introduce yourself and your role.
"I'm a cognitive behavioural therapist and Chief Clinical Officer at Oliva, a mental health platform for employees.
"My 25 years of experience as a mental health professional spans both clinical and academic settings. I've worked for the NHS and private companies as a CBT therapist, and have held teaching positions at the University of Exeter and Institute of Psychiatry, King's College, London for mental health professionals and psychiatrists training to practise CBT. I was on the founding team of one of the first digital CBT services in the UK, as well as founding the first CBT primary care service in the south-west of England, and have been a part of pioneering research into the use of psychedelics to treat depression.
"I've always been driven by innovation and a desire to help as many people as possible, so joining Oliva – a platform helping to widen access to tailored, timely and evidence-based mental health care – in 2021 as Chief Clinical Officer seemed like a natural next step."
What are the duties of a Chief Clinical Officer?
"As Chief Clinical Officer, I'm responsible for ensuring that we're delivering the highest possible standard of mental healthcare for our users. This includes helping to develop our self-guided content and resources, as well as overseeing our one-to-one coaching and therapy services, and managing the team of mental health professionals – including counsellors, CBT therapists and clinical psychologists – who deliver them.
"At Oliva, we pride ourselves on offering evidence-based psychological therapies in particular, meaning that all treatments are backed by rigorous research. We also ensure that each employee is carefully matched with a specialist therapist based on their individual needs. Ensuring this process is working effectively – creating the fastest possible route to the best possible support for each user – is my biggest priority. "
What is Oliva Health?
"Oliva is the mental health platform that offers employees on-demand, specialist mental health support, paid for by employers. Co-founded by Javier Suarez (who previously founded TravelPerk) and Sançar Sahin (former marketing lead at Typeform) in 2020, Oliva has helped widen access to mental health support for thousands of employees globally.
"Through the platform, staff can access on-demand therapy, as well as a whole range of self-guided content, including guided meditation sessions, fitness classes, and TED-style talks from mental health specialists and industry leaders. We also offer dedicated training for managers to help them support their team's mental health, as well as their own.
"Crucially, the support Oliva offers is evidence-based and therapists are matched with employees based on individual needs. This empowers employees to navigate everything from anxiety and depression to PTSD without having to first navigate endless Google search results, professional jargon, or marketing material to find the right support for them."
What is CBT?
"CBT, or cognitive behavioural therapy, is a type of talking therapy that helps people understand how thoughts, feelings, and bodily sensation impact on their behaviour. CBT helps people understand how their individual problem is being maintained and teaches them strategies and techniques to help them achieve their goals. It is used to treat a whole host of mental health conditions but is most commonly used to treat depression and anxiety.
"CBT treatments are based on the principle that a person's beliefs, thoughts, feelings and actions are all connected. For example, if someone happened to have a panic attack while on a train, they might associate their anxiety with the train journey itself – rather than being able to recognise and address its root – and come to fear future trips. CBT is used to break the cycle."
How have you noticed mental health treatments change post-pandemic?
"The pandemic has accelerated the evolution of digital health services, including mental health care. The availability of online mental health support has grown tenfold since.
"Now, patients can access everything from Zoom therapy sessions to self-taught CBT therapy. The proliferation of on-demand services has helped to make mental health support more widely accessible. But this isn't without its problems, since those seeking treatment must now navigate even more Google search results before they can find the right support for them – if, indeed, they are able to filter through the endless options to find the right support at all. Ultimately, many sufferers give up and stop looking for help. Oliva is trying to change that by connecting more people with the right support sooner."
What do the next 12 months hold for you?
"Oliva is currently active in over 30 countries in the world, helping thousands of employees navigate everything from anxiety and depression to PTSD. Over the next 12 months, we want to continue to grow and support even more workers.
"I am also setting up a residential intensive therapy service that is aimed at founders and senior leaders. The idea is that people get away from their home and working lives to access intensive therapy in a beautiful country setting, while also spending time on things they enjoy doing, like physical activities, creative activities or just relaxing in a wood-fired sauna. Quite simply, the idea is 'come on holiday and get better'."
What else needs to be done?
"The mental health crisis must be addressed - and fast. Research shows that of the record numbers of working-age people who are not in work due to poor health, mental health issues are the most common cause, and rising living costs and NHS waits are exacerbating mental health issues for those going untreated. Therapy shouldn't be a luxury that few can afford, nor should it be seen as a "perk". But by enabling companies to offer their staff specialist mental healthcare, we can overcome barriers to access like cost and widen access to support for as many people as possible - including those who are struggling the most right now."
Concentrating on continuing to reduce future morbidity and mortality, and really giving people healthy life years, remains our key strategic focus.