5 mins with... Dr Lisa Anderson, Paragonix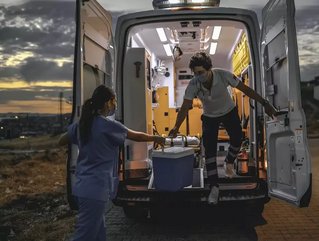 Dr. Lisa Anderson explains how Bluetooth and thermal cooling technology by Paragonix is expanding the organ donation pool
A medical device that uses Bluetooth is making it possible for hearts donated for transplants to travel much further, therefore expanding the donor pool. Dr. Lisa Anderson, CEO of Paragonix, tells us how this works. 
Why was Paragonix founded? 
At the outset of our company we were surprised at the lack of innovation related to donor organ transport. The standard of care - ice storage, has not changed since the inception of organ transplant in the 1960s.  We determined there must be a more consistent, scientific and measurable solution to transporting an organ from a donor to recipient and sought out to create such a device.  
Our mission is to create a new standard for organ preservation and transport that improves patient outcomes worldwide. We strive to protect the organ donation with the dignity and safety it deserves, to give patients every possible advantage to thrive.
What challenges exist in organ donation?
There are many challenges; at Paragonix, we focus on the challenges related to transporting and preserving donor organs while outside the body. One of the main challenges is temperature control.
Studies have shown that donor organs are very sensitive to the temperature they are preserved in during transport. Temperatures below 2°C have been shown to have a negative effect on clinical outcomes and have been linked to many complications related to donor organ viability. Another challenge is related to the lack of data related to organ conditions during transport. 
The challenges have been compounded with a recent change in the way organs are procured in the United States. This change has increased access to donor organs to transplant centres outside the historical geographic radius, increasing time and the distance transplant centers are traveling to procure donor organs. 
What is the average travelling distance?
Based on the type of donor organ, times and travel distance can range greatly. Average distance is typically based on ischemic time - the time the organ is detached from blood supply, rather than distance. Hearts historically were limited to four hours of ischemic time, which meant only a couple of hours of travel time and therefore only a few hundred miles range for the donor heart. 
With the new allocation change and the Paragonix system, we see centres going much further: one centre traveled 2,000 miles and over 7 hours for a heart, and we recently supported a case where donor lungs were transplanted from Alaska to the east coast which resulted in a 14 hour ischemic time.
Paragonix' unique technology provides a consistent temperature environment and real-time data that gives surgeons confidence to not only travel farther, expanding the donor pool, but also to help prevent potential tissue damage and irreversible cellular damage.
How does SherpaPak work and what technology does it use?
The Paragonix SherpaPak is the only commercially available FDA-cleared and CE-marked medical device for heart transportation.
The combination of a rigid external shipper system, combined with a leak-proof nesting canister device, protects the heart on its journey. Bluetooth-enabled technology allows transport teams to continually monitor the heart's temperature, from dispatch to arrival.
Proprietary thermal cooling technology keeps donor hearts between four and eight degrees celsius, keeping the heart in a range that ensures metabolic preservation while avoiding freezing injury.
The Heart Transplant Program at Penn State Health Milton S. Hershey Medical Center was the first in Pennsylvania and the 24th nationwide to use the device. 
SherpaPak successfully transported four donor hearts to recipients at Medical Center from April to June 2021, and the transplant team intends to use the device to transport many more donor hearts.
The lead surgeon who transplanted the first donor heart received  through SherpaPak noted that the heart was nice and supple, meaning the organ was preserved much better than with previous methods.
What else does Paragonix have in the pipeline?
We are conducting our GUARDIAN study - the largest multi-centre, international registry specifically focused on donor heart preservation. Recently, investigators presented an analysis of the differences in clinical outcomes of 224 patients who received donor hearts preserved either with the Paragonix SherpaPak system or with traditional ice storage. 
The investigators reported that the donor hearts preserved by the Paragonix system had statistically significant increases in total ischemic time and travel distance, as well as reductions in ICU length of stay.