Creating robust pharma supply chains with delivery devices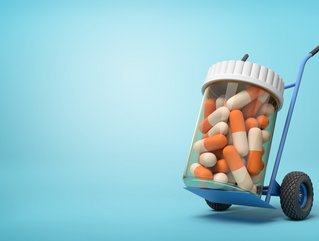 Pharma supply chain
John Swift, Head of Supply Chain at Owen Mumford Pharmaceutical Services, discusses how lifecycle management is key to a safe supply of pharma products
Owen Mumford Pharmaceutical Services is a family-owned business specialising in the design and manufacture of injectable drug delivery systems for the pharmaceutical, biotech and generics industries.
"Our devices are used daily in the delivery of various medications for a multitude of conditions across the globe," says John Swift, Head of Supply Chain. "We work closely with our pharmaceutical partners to support them throughout their combination product development."
After 16 years in operations roles, Swift has accumulated extensive experience, covering different areas such as procurement, supplier management, invention and manufacturing, as well as sales and distribution.
"I've worked for both SMEs and large corporations – such as Abbott, Abbvie and Tyco – and also in multiple industries, including medical device, aerospace and defence, rail, chemical, automotive, and printing. What I most enjoy about operations management and the supply chain is it gives me the opportunity to add value across the whole business, influence and work with all functions, quantify benefits and achievements (use of KPI's) which all lead to job satisfaction and ongoing daily self and team motivation."
Here, Swift tells us more about the pharma supply chain, lifecycle management and his 'secret sauce' for operational strategies.
Hi John! Getting a new drug delivery device to market is a complex and challenging process. What is the secret to managing the network of processes, teams and third-parties involved?
"While creating unique and intuitive devices is of course important, commercially and for patients, success in the marketplace relies on a robust operations plan to ensure a resilient supply chain with guaranteed continuity of supply. Each stage of the development journey – defining user requirements and early design concepts, building and testing prototypes, human factors testing and device verification and validation – must be carefully navigated to ensure each device is safe and functioning as intended when it reaches end users and is ready for drug administration."
At what stage do you start thinking about the level of demand for a product, and how much you will need to produce?
"As manufacturers, we must incorporate plans for the production and final assembly of combination products (device plus drug) from inception to development. There should be a clear path to scale up manufacturing to allow for mass production without risking any deterioration in product quality and performance.
"So that production of devices can quickly be scaled up or down according to demand, we put options for single cavity moulding and manual assembly in place for executing low volume assembly, and prepare for high volume assembly with high cavitation moulding and automated production. Through strategic planning, we make sure infrastructure, equipment and resources are available at the most suitable manufacturing hubs and remain cost effective."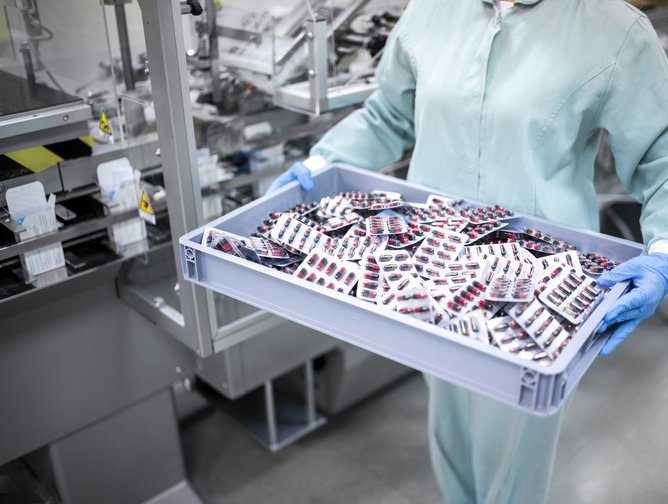 Pharma supply chain
Asset and lifecycle management are key to ensuring necessary supply of a product. What does a good asset management plan look like?
"Effective asset management programs proactively maintain, refurbish, and replace equipment to prevent any disruptions to the supply of a product. We regularly assess injection moulded tooling, injection moulding machines and automated assembly machines as well as all software, hardware and ancillary equipment to ensure they can cope with the level of demand at each stage of a product lifecycle. In sum, plans should cover capacity growth, refurbishment programmes, replacement of key assets and preparations for potential obsolescence."
In recent years, we've seen the impact Brexit and the war in Ukraine can have on supply chains, not to mention the immense worldwide impact of the COVID-19 pandemic. How has OMPS coped?
"Absolutely, these events have highlighted risk areas and reinforced the necessity of robust supply chain plans. Programs around asset and lifecycle management must have auxiliary plans in case of sudden shocks to the supply chain. For extra safety, we have tools such as Process Failure Mode Effect Analysis (PFMEA) – if there are risks not eliminated by asset, lifecycle, and supplier management, PFMEA is useful for tracking and mitigating these remaining manufacturing risks."
Responsibility for your product supply also rests on third-party companies who supply you. How do you ensure they are reliable?
"To effectively manage suppliers, you must clearly define roles and responsibilities, governance, and escalation procedures to ensure quality and consistency in supply. Supplier audits allow for assessment of the systems, equipment, methods and skill sets of partners, to confirm they are able to deliver to the agreed level of quality. In this way, potential issues in supplier performance, capability or strategies can be identified and corrected before they become a problem. Working together openly is crucial when creating fruitful relationships with suppliers, and lowers the risk of differences between components, measurements, processes or settings where direct comparison of products is required.
"Indirectly, sustainability audits may also have a beneficial impact on the ability to manage supply chains effectively. With audits requiring consideration of end-to-end processes, logistics and value stream mapping, they may unearth risks and drive improvements to shipping routes, transportation methods and supply assurance."
Do you have any other 'secret sauce' operational strategies you can share?
"At Owen Mumford, we create centres of excellence which develop and implement best practices across key focus areas, to improve efficiency and performance, and protect us from undue risk. The centres provide a hub for specialised engineering skills and expertise, allowing the team to focus on one particular aspect of the operations process such as moulding, assembly or automation.
"To establish these hubs, organisations must begin with an understanding of the teams' core competencies to support specialisation in specific areas. This allows the creation of facilities which contribute to ongoing training and development of staff. Not only does this improve quality and efficiency, but it also increases staff retention rates and in turn contributes to a lower risk profile.
"At Owen Mumford, we've developed a new Centre of Excellence for Automation and Assembly in Witney (Oxfordshire, UK) – setting a benchmark for design and development in medical devices. This site has been built according to the Building Research Establishment Environmental Assessment Method (BREEAM), which recognises the highest levels of sustainability performance for the building environment. This building increases our production capacity in the UK, further strengthening our supply chain, while also supporting responsible expansion of the business overall."
Click here to read how Jesper Jonsson, Director of Medical Devices at Owen Mumford, plans to help the company reach its environmental goals.
*********************************************
For more insights into Healthcare - check out the latest edition of Healthcare Digital and be sure to follow us on LinkedIn & Twitter.
Other magazines that may be of interest - Manufacturing Magazine. Check out our free upcoming virtual event, Manufacturing LIVE, 6-7th December 2023.
*********************************************
BizClik is a global provider of B2B digital media platforms that cover 'Executive Communities' for CEO's, CFO's, CMO's, Sustainability Leaders, Procurement & Supply Chain Leaders, Technology & AI Leaders, Cyber Leaders, FinTech & InsurTech Leaders as well as covering industries such as Manufacturing, Mining, Energy, EV, Construction, Healthcare + Food & Drink.
BizClik, based in London, Dubai & New York offers services such as Content Creation, Advertising & Sponsorship Solutions, Webinars & Events.