Delivering patient-centred care in a post-COVID world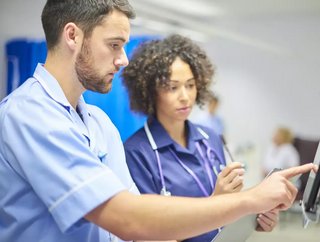 Richard Guy, Country Sales Manager UK & Ireland at Ergotron on the benefits of mobile medical carts to patient care
Using technology to optimise care delivery isn't a new concept. In recent years it has been a key contributor to the design of healthcare environments that enable efficient patient-centred care. However, the COVID-19 crisis has elevated the importance of bringing patients, clinicians, and technology together to create a 'Triangle of Care' that promotes increased interaction, safety, and efficiency for all.
Optimising patient care and outcomes
Mobile medical carts have long made it possible to deliver the resources healthcare teams need to document and treat patients at the point of need. Utilised in medical dispensing and a variety of other workflow scenarios, these workstations on wheels enable doctors and nurses to use computers directly at the point of care to instantly access patient information and update care notes. 
Enabling both data capture and recall in real-time, this optimises how clinicians make best use of their time while ensuring that patient records are accurate and up-to-date.
Requiring no extension cords or generators, today's customisable medical carts support the installation of vendor-agnostic barcode scanners, printers, monitors and keyboards that are needed to facilitate efficient patient interactions.
Importantly, this also makes it easy for healthcare organisations to create triage locations and guarantee uninterrupted runtime for laptops and computers when staff are working in a non-hospital setting like a car park. For example, mobile carts and charging solutions are currently being used to power the UK's speedy COVID-19 vaccination roll-out.
Utility at the point of need
Supporting temperature detection and facilitating access to equipment that maximises workflow activities, today's mobile carts are enabling medical teams to undertake the efficient vaccination of people outside clinic walls, and in non-traditional locations like car parks and drive-through facilities.
These lightweight mobile solutions ensure that medical teams can undertake data access and data capture in real-time while providing access to vaccination materials. All of which makes it possible for frontline personnel to deliver joined-up safe care to the population in the most efficient way possible.
Ensuring everything care workers need is within arms reach is proving valuable in new care delivery models such as telemedicine, which have rapidly risen to prominence during the COVID-19 crisis.
Optimising remote-care capabilities
More and more clinics and GP surgeries are deploying telehealth technologies that make it fast and convenient to deliver human-centred care. At the height of the coronavirus crisis, video and telephone consultations in primary and specialist care settings proved key to maintaining care delivery as clinicians strove to keep patients away from overstretched and potentially infectious hospitals and GP surgeries. Indeed, Matt Hancock, the UK Health Secretary recommended that "all consultations should be teleconsultations, unless there's a clinical reason not to."
As a result, in the four weeks leading to 12 April 2020, 71% of routine GP consultations were delivered remotely – up from around 25% the previous year.
Indications are that the game-changing potential of telehealth means that once the crisis ends, healthcare providers will be looking to expand their remote care capabilities and monitor patients with long-term conditions, so they can intervene early to prevent a medical emergency.
However, the successful acceleration of telemedicine capabilities depends on rethinking how best to organise the physical spaces that clinicians use when remotely interacting with patients.
Evaluating the needs of all stakeholders
The key to transforming healthcare facilities for the delivery of telemedicine begins with bringing together all stakeholders to assess the needs and goals of users. That will mean convening representatives from IT and administration, as well as caregivers and even patients, who will regularly interact with technology in different ways.
During initial meetings, discuss how telemedicine might be expanded across the care environment to connect patients to loved ones outside the facility and foster enhanced communication between clinicians from different specialities or at different sites.
From a practical perspective, clinicians will need private quiet spaces where they can engage with patients in virtual consultations and undertake remote care visits in a professional and secure way. That means considering everything from the connectivity and materials that will be needed – such as speakers, good lighting, and enough bandwidth to ensure a jitter-free discussion. Finally, the seamless integration of technology and equipment will be key to bringing everything together in an effective and optimised way.
Reconfiguring spaces with people in mind
Introducing technology into care settings has a physical impact on both caregivers and patients. For example, using products configured for multiple monitors will ensure clinical staff can quickly access patient information from multiple systems in one location.
Similarly, adjustable equipment that provides relief for staff that want to switch between sitting and standing during virtual visits will be key to ensuring they are able to work effectively throughout their shifts. 
As spaces at facilities may need to be easily reconfigured to support different clinical needs at the drop of a hat, products will also need to be easy to move in and out of rooms and through crowded hospital corridors. Finally, utilising workspace solutions that feature ultraviolet (UV) light to neutralise surface contamination on medical equipment will be essential if that equipment is going to be used by multiple caregiving teams.
Finetuning the telehealth delivery setting
Acting on feedback will help ensure that your organisation's long-term adoption of telehealth models of care is successful. Post initial implementation, undertaking regular evaluations will help identify any training needs or and gaps that will need to be addressed.
When appraising new equipment, don't just take into account if it offers an appropriate way to manage the physical constraints imposed by the facilities within which caregivers operate. Focusing on the ergonomics and workplace comfort needs of the healthcare workforce should also be a top priority.
The past 12 months have presented healthcare organisations with some significant challenges. As a result, they've had to innovate at speed to deliver care in a variety of settings and modes. Plus, to cope with demand, they've had to ensure that caregivers and clinicians can easily access the tools and information they need to deliver streamlined optimised care in a highly personalised way. 
Today's ergonomic medical carts and telehealth equipment solutions are making it easier for healthcare organisations to flex their facilities and their workflows to enable a new era of efficient, and digitalised, healthcare delivery.