The difference between PCR and rapid tests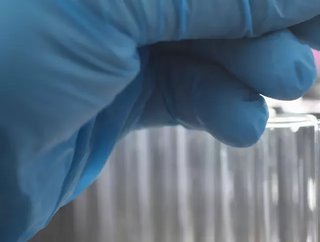 Thermo Fisher's Dr. Manoj Gandhi explains the difference between PCR and rapid antigen tests
Dr. Manoj Gandhi, Senior Medical Director for Genetic Testing Solutions at Thermo Fisher Scientific, explains the difference between the available COVID-19 tests and how these support vaccination programmes. 
What is the difference between PCR and rapid antigen tests?
PCR stands for Polymerase Chain Reaction and these tests detect the genetic material present inside the virus. PCR tests for COVID-19 generally use some type of upper respiratory specimen or saliva, which is then sent to the laboratory where the viral RNA is extracted and then analysed using a PCR instrument. 
PCR is considered the gold standard for the detection of SARS-CoV-2. It is highly accurate, has high sensitivity and specificity, mostly performed in a laboratory setting and takes about 24 hours to generate a result. 
On the other hand, antigen tests look for specific viral antigen proteins that are present on the surface of the virus. Antigen tests generally use nasal swabs which are put in a solution and then applied to a lateral flow device where a colorimetric reaction takes place and a band is observed. 
These tests are less sensitive than PCR tests, but are generally quite specific. They are usually performed at point of care and take about 15-30 minutes, hence these are also called Rapid Antigen Detection Tests (RADT). Based on the clinical presentation of the patient and the prevalence rates of the disease in the general population, the results of RADT may need to be confirmed by a PCR test.
What do the variants mean for testing?
Viruses mutate and especially RNA viruses like the coronaviruses do not have a robust mutation correction machinery. As a result, they are more prone to undergoing mutations resulting in the emergence of variants. 
There are important implications of the variants such as increased transmissibility, causing severe disease, and resistance to treatments or vaccines. As far as testing is concerned, some of the mutations in the variants may impact the way the diagnostic tests are able to detect the presence of the virus. 
It is essential for diagnostic tests to be designed so they are able to detect the virus even as variants develop. Secondly, as the variants develop, it is important that testing is carried out to identify which variants are circulating, especially those variants that are capable of causing disease in the vaccinated, called breakthrough infection.
What is surveillance testing, and could these be a solution to control further outbreaks?
Surveillance testing is used to monitor community or population-level outbreaks of disease, characterise incidence and prevalence of disease, as well as determine the strains of the virus circulating in the population. This is generally performed on a proportion of positive samples that are randomly selected.
Surveillance testing is critical, because in some ways it is more important to monitor strains capable of causing disease in the vaccinated because if this were to occur, the current vaccines would need to be modified to counter these breakthrough variants.
What do you think of England's decision to drop COVID restrictions? Is it time to accept living with the  virus or is this dangerous given the rise in cases and new variants?
This is a two-part question. Second question first - it is important that we realise that SARS-CoV-2 will circulate in the population and continue to evolve over time. Over time, the pandemic is expected to evolve into an endemic state where we can expect to see a pattern of seasonality develop with different strains from year to year, similar to the seasonal flu. 
It is expected that variants will develop because it is an evolutionary mechanism for the virus to provide itself with some sort of advantage. Whether or not it is dangerous depends on the surveillance efforts and it is important for governments and public health laboratories to step up surveillance testing as we move in the next phase in this pandemic. 
As far as England's decision to drop restrictions, this is a complex issue which involves the socio-economic aspect of this disease. While there is no simple answer for this, it is good practice for people to maintain general hygiene, continue social distancing and avoid overcrowded spaces. 
Individuals with pre-existing high-risk health conditions or in whom vaccines are not yet approved, such as children under the age of 12, should exercise more caution. Also, if there is a possibility that someone is exposed to the virus, especially if they are not fully vaccinated, it is best to get tested by a RT-PCR test to rule out any SARS-CoV-2 infection regardless if they have symptoms or not.
In your opinion what is the most effective way to keep infection rates under control?
The best way to keep infection rates under control is by vaccination. The current vaccines have been shown to be extremely effective in preventing disease, including hospitalisations and death. 
An important aspect to understand is the distinction between "infection" and "disease". Vaccines do not necessarily prevent infection; however, they prevent against disease if infection were to occur. Hence, it is paramount that countries around the world ramp up their vaccination efforts so that we are able to control the pandemic and prevent outbreaks.