Front Line Medical Technologies: tech that saves lives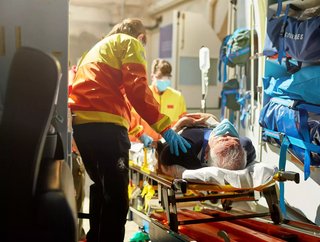 CEO of Front Line Medical Technologies Dr. Asha Parekh tells us about creating a device to stop internal bleeding and the challenges for women in STEM
Dr. Asha Parekh is co-founder and CEO of Front Line Medical Technologies, a Canadian medical device company that has developed a product to stop internal bleeding. Parekh tells us how it's saving lives, and has advice for women who want to start a career in STEM. 
Why did you found Front Line Medical Technologies?
Dr. Adam Power (CMO and co-founder) and I teamed up to develop a new device to make the REBOA (Resuscitative Endovascular Balloon Occlusion of the Aorta - a  technique designed to stop internal haemorrhage) technique faster, reduce complications, and ultimately try to save more lives. We worked on this project prior to founding the company, which we incorporated in 2017. 
At that point, we decided to give this a real go. We realised that we needed to have someone dedicated to it full-time, so I took the plunge from my engineering career pathway into entrepreneurship. 
What are the key benefits of using the COBRA-OS compared to other devices?
The COBRA-OS offers a solution to stop internal bleeding in emergency situations when direct pressure cannot be applied. Two of the most important advantages of our device include its smaller profile and its speed. It is almost half the size of its competitors, allowing it to be deployed quicker and with fewer steps – in one minute, compared to an average of 8 minutes for current alternatives. This means less blood loss and greater chance of survival for the patient. 
Trauma to the torso occurs where compression cannot be applied. This type of non-compressible haemorrhage from injury is the leading cause of potentially survivable deaths of American troops and second leading cause in the civilian setting. 
Around 90% of these patients die before reaching definitive care, and control of bleeding is the only way to avoid the problems associated with haemorrhage in trauma. Our device provides the required support to allow for safe transport. It can also be used to direct and maintain blood flow to critical organs in other clinical applications. 
Do staff require training to use it? 
Our goal was to make the device as easy to use as possible so that the learning curve is minimal, but another factor that inevitably contributes to this is also the training or skill level of the end-user, such as a trauma or vascular surgeon vs. paramedic. 
Where is it currently being deployed?
REBOA is mostly being used in hospital settings such as trauma centres, but it has also been used in some military settings. We believe that the usage will increase as technology evolves and more options are available to end-users.
What strategic goals does Front Line Medical Technologies have for the coming years? 
Increasing availability of REBOA devices where it is wanted and needed most and increasing the usage across multiple applications. Our target markets are the military, ambulances, and hospitals. 
The pre-hospital setting is a clear target; however, our product can also be used for several in-hospital applications such as postpartum haemorrhage, organ transplants, and cardiac arrest both in and out of hospital, which can increase usage and help try to save more lives across these other applications. 
Looking back over your career, do you think there are more women in STEM careers now than when you first started out?
Yes, I do see that we have grown and have come a long way already. From my experience, we are making progress in what seems to be the right direction, but there is still a lot of work left to be done. More awareness is being raised around these issues, and more people are trying to make waves in the industry. 
From my experience in engineering, from undergrad through grad school, females were certainly in the minority. By the time I was doing my Ph.D., women were still few, but there was a noticeable increase from what I saw in undergrad.
What would like to have know then, that you know now?
That it can sometimes be better to be more critical of who you work with and on what projects versus just doing anything and everything that comes your way. Working with reasonable people should not be understated! 
What would you like to see change in STEM? 
Having positive influences at a younger age and continuing to promote awareness around these areas can help. Additionally, STEM combined with startups are opening new doors for young students that are less traditional. They are incorporating things into the curriculum [at university] about the business side of things to show there are more options than what has been the norm in the past. 
Deconstructing gender bias needs to start at the formative ages. We need to address our biases from a younger age and make it the "norm" for men and women to have similar interests. People get pigeon-holed into specific industries based on their gender, which doesn't need to be the case. 
What would you say to young girls who might be considering a career in STEM? 
Make sure it's something YOU want to do. Being passionate about your career choice is so important. 
Continue to show up. If you face challenges as a female in STEM, it's that much more important for you to keep showing up and standing your ground for what you believe in and where you want to make an impact. It's the only way we can affect change. Enjoy the journey. Every bump in the road is still a part of what makes you who you are, and you will learn something from it. 
Don't pigeon-hole yourself into traditional STEM careers either. You don't have to be a scientist in R&D or a math professor. Take some time to critically reflect on where and how you want to be a part of this industry and work towards that. You may want to be in a marketing role related to STEM, so you can take that angle and work towards it as you "pitch" yourself for potential positions.