Israeli ICUs adopt automated ventilation amidst COVID spike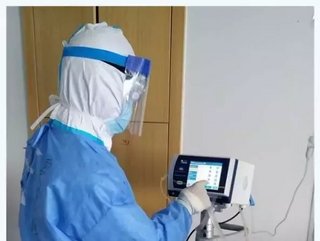 The respiratory systems aim to prevent complications in patients using ventilators...
Hospitals across Israel have introduced a new respiratory system to help clinicians in ICUs cope with complications caused by ventilators. 
This follows a surge in the number of patients being admitted to hospital with COVID-19 who require ventilation. Today Israel became the first country worldwide to impose a second lockdown, recognising that it was entering a second wave of the virus. 
The AnapnoGuard respiratory system has an automatic control unit and endotracheal tube designed to prevent ventilator-associated complications such as pneumonia and injury to the trachea. It works alongside a ventilator, using automation to monitor air leakage from the lungs and seal the trachea. 
Developed and manufactured by Israeli medical device company Hospitech Respiration, it was first offered to Israeli hospitals on a free loan-basis last March, to cope with the first spike in ventilated patients.
In August it was reported that the system had been successfully used to treat more than 700 ventilated patients in the US, Israel and China . 
The rise in cases has seen more large hospitals adopt the AnapnoGuard system, including Sheba Medical Center and Wolfson Medical Center in Tel Aviv, and Rambam Medical Center in Haifa. adopt the AnapnoGuard system. Prof. Gil Bolotin, Director of the Department of Cardiac Surgery at the latter, said: "My department has been using the AnapnoGuard system when treating high-risk ventilated patients. During this time, we have seen a significant reduction in the number of patients who developed lung and pulmonary infections following intubation."
Tzipi Yakoby, VP Clinical of Hospitech Respiration, said: "Over the past month, we have been working with some of the best medical teams in Israel to install our AnapnoGuard systems in Intensive Care units. Currently dozens of patients are treated with the system every month.
"The unique features of our system do not only enable us to significantly reduce ventilation complications in intubated patients, but also minimise the exposure of clinical teams to contamination. In today's COVID-19 reality, the AnapnoGuard system is the only airway management solution which provides protection both for patients and for medical personnel."