News roundup: medical devices, procurement & mental health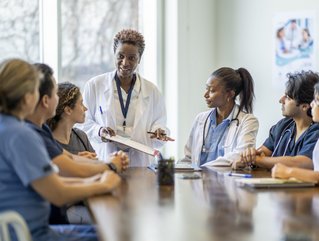 Healthcare news roundup: this week we spoke with Béa Fertility CEO Tess Cosad, Sky Medical Technology founder Bernard Ross & Brian White from LogicSource
Mitchell Smith, Chief Medical Officer at the Follicular Lymphoma Foundation - founded by Meta's Nicola Mendelsohn - discusses new treatments for blood cancer.
"The Follicular Lymphoma Foundation (FLF) exists for just one purpose – to lead new and determined efforts internationally on a mission to find new treatments and a cure for Follicular Lymphoma (FL). The FLF was founded in 2019 by Nicola Mendelsohn (VP Global Business Group Meta), following her FL diagnosis.
"We are a global charity that is dedicated to improving the lives of the hundreds of thousands living with LF today, and for everyone who might be diagnosed in the future. We are the first global charity in the world solely focusing on FL and we are dedicated to finding a cure – and fast. The FLF is designed to be the delivery mechanism for treatments and cure, to move from the scientist's bench to the patient's bedside faster than ever before. We are driven by patients, working in tandem with the finest scientific and clinical minds, alongside primary research funders and pioneers, to drive industry and biotech innovators forward with the best available opportunities.
"All our programmes aim to accelerate a transformative change in scientific research, which will lead to better treatments and cures for FL patients. The people living with FL are at the heart of everything we do as a Foundation.
"We continue to work internationally and very closely with FL patient communities, such as the incredible 'Living with Follicular Lymphoma' Facebook group and our Super Supporters patient group, to ensure we as a Foundation remain centred and keep our patient focus."
Mark Malis, Vice President of Global Employee Experiences at Netwrix shares how businesses can support employee mental health.
"Companies must also re-evaluate their level of manager and employee interaction to help ensure that caring, supportive, and collaborative conversations are taking place. As we can't engage face-to-face as often as pre-pandemic, having the right dialogue in place is imperative. Managers need to extend conversations with employees beyond just their work performance. Simply asking employees "How are you feeling?" and "How can we help and support you?" need to become more of the ongoing narrative."
Tess Cosad, Béa Fertility CEO, shares her advice to other founders building medical devices, the future of fertility & their first fertility device.
Raising funding is never easy, but in Cosad's experience, the barriers are even higher when you're a female founder selling a femtech brand.
"Ultimately, the majority of VCs are men," says Cosad. "They may be the partners, friends or family members of the women that will use our fertility device, but they won't be using it themselves. They may or may not feel comfortable with my pitch, which invariably involves discussion of how the product works and where it goes. I've lost count of the number of times I've seen investors squirm."
Cosad has learnt that it's crucial to distinguish between the investors who get your brand… and those who don't.
"Not every investor is going to get excited by your business or share your vision - and that's ok. I choose to work with investors who actively approach difficult conversations and questions from the outset, and who are ready for an open and candid conversation. I'd far rather ensure that an investor is the right fit for Béa than compromise on our ethos, for the sake of capital."
Bernard Ross, CEO and founder, Sky Medical Technology shares the medical technology trends he expects to see in 2023, from telehealth to sustainability.
"2023 could mark the year that this trend begins to reverse. Without the immediate threat of another pandemic, healthcare professionals are facing something of a backlash from patients, who are struggling to get appointments or are frustrated with remote diagnostics. The reality is that many conditions simply cannot be identified via video or phone calls," says Ross. "Telemedicine and remote diagnostics will continue, but the future will focus on a hybrid model that recognises the convenience of remote consultations for some but respects the needs for real face-to-face meetings for others."
Brian White, Healthcare Partner at LogicSource, shares his experience in the healthcare sector and how LogicSource fits into the healthcare landscape.
"Labour represents most of the expenses in healthcare. That's going up, not down. Today, many health systems are losing money and that limits the ability to invest in care. This concerns me. I want to see healthcare advance and improve patient care outcomes. In my opinion, that means we must be open-minded to new solutions, and that's what LogicSource is to me."