RxBenefits: pharmacy benefits optimizer (PBO) & diabetes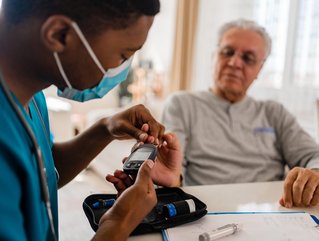 Bradley Nelson from RxBenefits, on the benefits of the industry's first technology-enabled pharmacy benefits optimizer (PBO) & its fight against diabetes
Bradley Nelson is the Senior Director of Clinical Services at RxBenefits, the employee benefits industry's first technology-enabled pharmacy benefits optimizer (PBO). He is an experienced pharmacoeconomics strategist with more than 15 years as part of the pharmacy industry.
"In my role at RxBenefits, I focus on helping clients address their pharmacy concerns and developing strategies to manage drug costs."
To help improve patient care and combat rising healthcare costs related to diabetes, RxBenefits recently launched its Optimize MyCare Diabetes Support Program. "Recognising that each patient's healthcare journey is different, this programme aims to promote pharmacist-patient-provider engagement to purposefully improve health outcomes while simultaneously working to reduce total healthcare costs," said Nelson. "I have been privileged to work with and develop a collaborative approach with Tria Health, our partners in delivering a more personal touch to chronic disease management to our clients."
National Diabetes Awareness Month
November is American Diabetes Month®, which provides an opportunity to shine a light on the diabetes epidemic.
"The American Diabetes Month® shows the world what living with diabetes looks like, its growing impact on our population, and educating and providing resources for individuals at risk for developing the disease," said Nelson. "To me, this is a chance to use our voice to encourage individuals diagnosed with diabetes, or those at risk for diabetes, to make necessary lifestyle changes. If medication use is necessary, we also want to assist in optimising individual medication regimens to create a peak response that may positively improve their overall health."
Today, diabetes is a consistent top three cost driver for medical spending and can represent 15 - 20% of total gross pharmacy costs that leads to an average healthcare spend that is 2.3 times higher than someone without diabetes.
"Additionally, members with diabetes may also have increased absenteeism, reduced productivity, and an inability to work resulting from a disease-related disability, which creates financial considerations beyond the individual health costs and even beyond the costs associated with the benefit plan.
"Adding to the challenge, people with diabetes often don't adhere to their medication treatment and prevention regimens, don't understand their condition well, and become resigned to live with their condition without considering the long-term effects.
"To support the health care needs and protect plan sponsors from the rising cost of care related to this population, benefits advisors must understand the impact of diabetes on members, the cost of care of diabetes due to healthcare misalignments, and how to help facilitate better outcomes for everyone involved. We help by connecting pharmacists with patients to educate and empower them and provide advocacy services to their providers, with the goal of reducing overall healthcare costs."
Due in large part to the COVID-19 pandemic, diabetes in the younger population, specifically youth and adolescents, is on rise.
"New type 2 diagnoses in youth climbed 77% amid COVID-19, stemming partially from a sedentary lifestyle during lockdown as well as unhealthy food choices and access to snacks during home-based virtual learning. When youth were confined to their homes, restricted from playing organised sports, interacting with other youth, and enjoying school recess, screen time rose dramatically. Diabetes in youth can lead to many complications and could be life-threatening, requiring hospitalisation. So it's essential to implement more beneficial lifestyle changes – encourage exercise and healthy eating – and control their blood sugar levels. With early detection and intervention, it is very possible for youth to achieve a remissive status of their diabetes."
The role of pharmacists in improving diabetes management
The average patient with diabetes takes nine prescriptions and has seven chronic conditions.
"Conversations with an invested medication expert, such as a pharmacist, can help patients find the right resources, medication and lifestyle regimen unique to them," said Nelson. "Regarding diabetes management, pharmacists can play an essential role in helping patients manage their condition by looking at patients holistically and providing them with proper resources, disease education, and care coordination beyond a simple medication review. On top of that, pharmacists can serve as patient advocates when addressing identified medication problems with their providers and be a counsel for change when warranted."
Why does the lack of endocrinologists make diabetes management difficult?
"In 2019, there were roughly 8,000 endocrinologists to care for the millions of diabetes patients in the U.S., which equates to about one specialist for every 4,625 diabetic patients and one for every 12,000 prediabetic patients."
There simply are not enough endocrinologists to dedicate the time and expertise needed to service diabetes patients and the other conditions they specialise in.
"With this stark reality, diabetes treatment falls to the responsibility of primary care or internal medicine physicians, nurse practitioners, physician assistants, and even urgent care offices. While these providers are necessary for overall care coordination, endocrinologists are positioned to treat this disease state specifically. With a shortfall of endocrinologists, there are gaps in care coordination that a medication specialist, i.e., a pharmacist, can fill and further support the care team through their specific expertise."