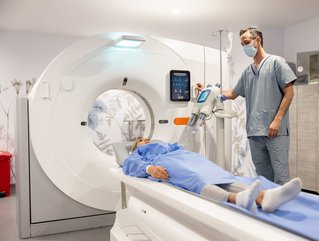 Medical devices
Medical devices are designed to save healthcare workers' time & save patients' lives. From ventilators to CT scanners, here are our Top 10 medical devices
Medical devices are used to help healthcare workers find out what a patient's body is doing and how best to treat it.
From herbal remedies and stone tools used by cavemen to off-planet space-age medical developments, there are many medical devices that help healthcare professionals treat their patients. In the modern age, medical devices can be used daily by patients at home, to monitor their health.
Here are our Top 10 medical devices in healthcare history.
10. Magnetic Resonance Imaging Machines
MRI machines combine magnets and radio waves to examine the human body internally. This is used in cases such as brain tumours and for spinal problems.
The first commercially available MRI machine was brought by the now-defunct EMI (Electric and Musical Industries) Limited. One of the biggest modern MRI machine manufacturers is General Electric Healthcare.

LinkedIn: GE Healthcare​​​​​​​

9. Computed Tomography Scanners
Similar to an MRI machine, CT scanners use X-rays and computer technology to build a cross-sectional image of the human body. These are used for diagnosing injuries, examining lungs and internal bleeding.
In a CT scan X-ray, the patient will experience the impact of ionising radiation and repeated CT scans can cause radiation exposure. As with the first commercially available MRI machine, the now-defunct EMI Limited brought the first scanners into hospitals. Now, Siemens is one of the biggest manufacturers.

LinkedIn: Siemens

8. Dexcom's Glucose Monitor
San Diego, California, USA
CEO: Kevin Sayer

Dexcom launched in 1999 and since then has become a leader in diabetes technology, with a goal to 'simplify and improve diabetes management for every possible person with diabetes'.
Previously, it was only possible to measure glucose levels via a fingerstick - which can be painful. Now, diabetes patients can use Dexcom's wearable device, the Continuous Glucose Monitor, to take medical readings.

LinkedIn: Dexcom

7. Cala Health's Cala Trio
San Mateo, California, USA
CEO: Renee Ryan

Cala Health is a bioelectronic medicine company which is changing the pattern of care for those living with chronic diseases. Cala Health's wearable neuromodulation therapies provide peripheral nerve stimulation, tailored to each individual. For example, hand tremors can disrupt daily activities, from tooth brushing to texting. The Cala Trio is a wrist-worn wearable and a non-invasive treatment which can reduce tremors. The Cala Trio device is cleared by the FDA as an external upper limb tremor stimulator and must be prescribed by a doctor.

LinkedIn: Cala Health

6. Ultrasound Machines
Sweden

Ultrasound devices use high-frequency sound waves to produce images from inside the human body. This technology is used to monitor pregnancies, from identifying a baby's sex to checking the development of their organs.
Ultrasound machines are also able to examine blood vessels or to examine abdominal organs, to identify cysts, stones and any other abnormalities.
The first practical ultrasound machine was manufactured by George Ludwig and Inge Edler, in the 1940s at Sweden's Lund University.

LinkedIn: Lund University
5. Esper Bionics' prosthetics
New York City, USA
CEO: Anna Believantseva

Founded in 2019 in Kyiv, Ukraine, Esper Bionics is a human augmentation startup now based in New York, which uses AI and Internet-of-Things technologies in its robotic hand prosthesis.
"Our current goal is to build the biggest connected community of users of large wearables in the world as a foundation for the introduction of electronic implants," said CEO Anna Believantseva.

LinkedIn: Esper Bionics

4. Defibrillator
Kalamazoo, Michigan
CEO: Kevin Lobo

A defibrillator provides electric shocks to the heart of a patient experiencing cardiac arrest - when the heart ceases to function.
In 1930, Electrical Engineer William Kouwenhoven manufactured the external defibrillator. Then in 1947, cardiac surgeon Claude Beck first successfully used one while in heart surgery.
Physio-Control Corporation, founded in 1955, led the development of defibrillators. The company is now owned by Stryker.
LinkedIn: Stryker

3. Ventilators
Graubünden, Switzerland
CEO: Robert Hamilton

A ventilator helps patients suffering from some form of respiratory failure and like many medical devices, ventilators were created with the expertise of many different scientists, over years of research and development.
Intelligent solutions company, Hamilton Medical, was founded in 1983 in Graubünden, Switzerland. The company massively advanced the technology used in ventilators, in time for COVID-19. During the pandemic, ventilators were used to support breathing and maintain oxygen levels.

LinkedIn: Hamilton Medical

2. Fitbit
San Francisco, California, USA
CEO: James Park

In 2007, Fitbit co-founders James Park and Eric Friedman wanted a solution for monitoring health and fitness and created a wearable device, the Fitbit.
"We have built an incredible foundation as the leading wearables brand, helping millions of people around the world make lasting behaviour changes that improve their health and wellness through fun and engaging experiences," said James Park, co-founder and CEO of Fitbit.
The Fitbit's Stress Management Score algorithm is calculated each morning and reviews physiological, sleep and other activity data from the night and the day before, examining the user's reactions to stressful situations.

LinkedIn: Fitbit

1. Apple Watch
Cupertino, California, USA
CEO: Tim Cook
Apple entered the wearable healthcare technology space with its introduction of the iPhone 6 and the Apple Watch, which offers fitness tracking, file sharing and emergency contact information storage.
The latest version of Apple's smartwatch includes an FDA-cleared electrocardiogram, (which can record the electrical activity of the heart, helping to diagnose and monitor heart conditions from arrhythmias to heart attacks). This medical device has been able to alert users to health problems quickly, giving them a head start to get the healthcare that they need.