Wearable tech inspired by animals could prevent injuries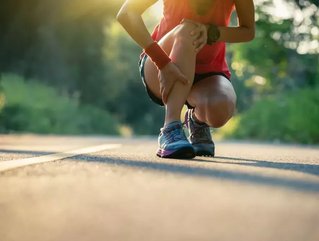 Casts inspired by animal scales could be beneficial to athletes...
When we think of wearable technology, what usually springs to mind are smart devices that can be worn on the body, like smartwatches tracking how many steps we take, and glasses that provide us with immersive experiences. 
However the latest in wearable tech could be the creation of a London university graduate, who's taken inspiration from animal skins to design a type of cast that can protect athletes from injury. 
Natalie Kerres is a graduate from the Global Innovation Design master's programme, offered jointly by Imperial College London and the Royal College of Art. She researched animals that protect themselves against threats with their skins, shells or scales, to create a product for humans that can protect them in the same way, without inhibiting flexibility. 
The result is SCALED, so-called because it's made from interlocking protective scales, referencing animals like lizards and fish, that Kerres took inspiration from. It functions like a cast but doesn't limit movement, as the interlocking scales are bespoke to provide precise motion limitation for the wearer. It is also custom made to fit the wearer's body shape and requirements. 
The scales can prevent injuries from happening in the first place, and could also be used for improving rehabilitation and enhancing sports performance.
The project recently received funding from the MedTech SuperConnector programme (MTSC), for Natalie to further develop Scaled, with the aim of making it commercially available. The MTSC facilitates the early stage development of innovative medical technologies, from devices, diagnostics, and digital healthcare solutions. MTSC provides participants with funding, training, membership and access to industry partners to help fast-track their research discoveries to market.  
The six-month programme features masterclasses in business, mentorship, networking, project development and funding, ending with an investment pitch. Natalie will be working at the Additive Manufacturing Lab at the Dyson School of Design Engineering, part of Imperial College London.