Procurement & Supply Chain
Improving diversity in clinical trials at mdgroup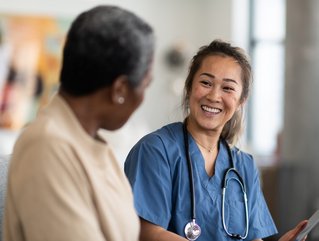 Tarquin Scadding-Hunt, CEO of mdgroup, explains what the healthcare industry must do to improve diversity in clinical trials
In the healthcare industry, lack of diversity is not just a problem in leadership. Clinical trials - research studies on people which assess medical inventions - must be conducted with diversity of race, gender, age, income, ability and location in mind.
"We are all aware of some of the key challenges presented by a lack of diversity in clinical trials", says Tarquin Scadding-Hunt, CEO of mdgroup. "Incomplete data, uncertainty over treatment outcomes and disparities in healthcare, to name a few."
Founded in Berkshire, England in 2002, mdgroup's mission is to create more efficient clinical trials.
"This is not a problem that is going to be solved individually", continues Scadding-Hunt. "The healthcare industry must work together to figure out the best way forward."
Scadding-Hunt shares with Healthcare Global five key steps which can help to improve diversity in clinical trials.
Work with grassroots organisations
"Big pharmaceutical companies and their partners must engage with grassroots organisations which are already tackling diversity and inclusion", says Scadding-Hunt. "While these organisations may be small and local, they often have the trust of the communities they serve and innovative ways to reach them.
"Dr Allison Matthews, CEO and founder of Community Expert Solutions, took part in the mdtalk podcast Raising awareness of clinical trials in diverse communities and emphasised the importance of building long-term relationships. 'Make sure that you have a continued presence in the community, don't just come in and ask for what you need, and then leave. Be a resource for them and support their initiatives as oftentimes, they're doing work in the community that goes unfunded and unsupported.' As Dr Matthews says, these relationships will not develop overnight and it can be tempting to revert back to 'tried and tested' methods to engage trial participants.
"However, these traditional methods have not yet solved the problem so it is time to get creative."
Embrace digital health opportunities
Technological advancements and the pressures of COVID-19 have seen a huge increase in decentralised clinical trials (DCTs) over the past couple of years.
DCTs can increase enrolment, retention and engagement among a more representative population by reducing participant burdens.
"For example, communities in rural locations, or those living in communities with typically low incomes, are less likely to enrol in clinical trials because they do not have the time or the means to travel to a research site", said Scadding-Hunt. "They are also least likely to have access to a high standard of healthcare.
"Replacing site visits with home health visits for patients, allowing them to gather data themselves through wearable technology and check-ins via video conference instead of face-to-face can all help reduce or remove the burden of time and travel.
"The pandemic has seen these technologies adopted at a greater scale but we must not lose momentum now. We must also make sure advancements are rolled out equitably and consider how to reach communities where digital infrastructure is lacking."
Representation throughout the research process
"Increasing diversity is not just about trial participants, but also the healthcare industry as a whole", said Scadding-Hunt. "Co-founder of CliniSpan Health Rashaad Galloway was a panellist on the mdtalk diversity podcast. 'One of the first things that needs to happen is the inclusion of people of colour in the research process – not only as participants but as administrators and facilitators' Galloway said.
"We must continue to look at how we recruit researchers and healthcare professionals to ensure we are finding the best candidates from diverse populations."
Collect data on ethnicity
"We need to make sure all clinical trials are collecting data on ethnicity", said Scadding-Hunt. "In a review of 230 oncology clinical trials taking place between 2008–2018, only 145 included any information about the participant's race. Of those that did, approximately 76% of the participants were white, 18% Black, 3% Asian, and 6% Hispanic.
"Without that data we cannot see progress or whether a treatment works for everyone.
"Between 2008 and 2013 around one in five newly approved drugs demonstrated differences in treatment response across ethnic groups. In some cases, this led to doctors prescribing drugs differently according to ethnicity."
Use a wider range of sites for clinical trials
Finally, making clinical trials accessible to all sites, of all sizes, is vital. Large academic institutions will always have a place, but smaller sites are going to be crucial.
"Certain communities are extremely close-knit," says LaQuinta Jernigan, mdgroup Executive Vice President for The Americas. "They tend to stay within the same areas, go to the same physicians, and get their information from the same places – perhaps a church, or community centre. These aren't organisations that the clinical research industry speaks to. We have to build awareness on a community level with community hospitals with community sites to increase participation from both patients and healthy volunteers."
"This might create more work and take training, as most of these sites have probably never participated in a clinical trial, but it will be worth it", continues Scadding-Hunt. "This is also an area where technological advancements can help by facilitating a collaborative approach to research.
"Sites across multiple locations – both large and small – can work together to form networks of labs or imaging centres, from which data can be gathered and sent digitally, information reviewed remotely by healthcare practitioners, and results delivered electronically.
"These types of collaborative networks mean the burden of patient care does not fall to one central site or team."
Final thoughts on diversity in clinical trials
"When clinical trials are inclusive of a wide variety of races, genders, ages, incomes, abilities and locations, findings are more representative of the true patient population and lead to better clinical outcomes", says Scadding-Hunt. "Diverse recruitment benefits not just individual patients, but scientific progress.
"More effective treatments have the potential to reduce the long-term burden on overstretched healthcare systems. The challenge ahead can feel overwhelming, but by working together as an industry and taking seemingly small steps we can make big progress."