The adoption of virtual reality in healthcare training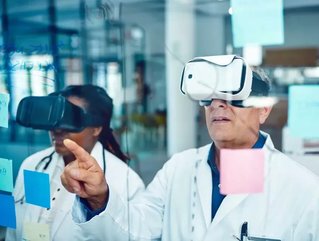 Graham Lamb from Planet One Reality tell us how the pandemic has accelerated the adoption of VR in healthcare training...
Just under a year ago, statistical insights for the role of virtual reality (VR) in the healthcare sector identified that the market had a value of USD 1.56 billion in 2018, and that it would grow to USD 30.40 billion by 2026. The growth was predicted to run in line with the adoption of wearable tech, in addition to growing comfort with online training. 
The predictions also included adoption of interactive practice spaces accelerating growth, as virtual reality can provide a visual and realistic environment in which to get hands on, and can even provide a safe practice space for intricate surgery and complexity management for example. Indeed, a study by Seymour et al. into the use of VR surgical simulation for practice purposes found that as well as being faster, VR-trained individuals were five times less likely to injure the tissue (in this case a gallbladder) and six times less likely to make other impactful mistakes.
Within the healthcare sector, VR solutions currently exist or are in development within: pain management; education and training; surgery; patient care management; rehabilitation and therapy procedures; and post-traumatic stress disorder (PTSD). Examples include product familiarisation in infection control processes; post-stroke therapy to improve arm and hand movement; mindfulness applications to help treat depression; and complex medical processes during surgery. 
There's even a very cool proposed application which has emerged, to support children and young people with Autism Spectrum Disorder in safely experiencing new environments and scenarios such as navigating an airport. The full potential for virtual reality has barely been tapped, and as further wearable technology becomes available, for example to accurately track hand and finger movement, the possibilities can only vastly increase. 
The impact of Covid-19
While it has yet to be quantified statistically, Covid-19 has significantly accelerated this growth curve in the use of VR in the sector, as home working, infection control, and risk management have encouraged and fast-tracked the adoption of digital training solutions across the globe. As a VR business, we have seen a renewed sense of urgency in enquiries into VR technology for remote training since the start of Covid-19. Once it became obvious that things will not be returning to 'normal' anytime soon, companies have seemingly adopted a new open-minded attitude to the vast potential of remote connectivity. There's also been a period of 'familiarisation' with other non-VR platforms, such as the adoption of video calling and cloud-based management software, which has in turn provided new confidence in trialling what might previously have been perceived as 'terrifying' tech. 
There's a very serious role for VR technology within current and future pandemic management. As a solution which can be quick to deploy, hyper realistic, affordable to equip, and very engaging, it is suddenly becoming the optimum solution for many healthcare brands to train and support staff. Some of the most effective solutions we have already seen in the sector, and indeed we have built some too, are providing instant access to training environments, reference materials and equipment that are currently physically inaccessible. VR also removes users from the confines of social distancing while connecting staff with industry experts and innovators in a meaningful and familiar 'face-to-face' way.
VR training can and will thrive long after Covid-19. Given the way that virtual training experiences are currently providing so many opportunities to continue the vital and rewarding transfer of knowledge and experience between two human beings, VR will continue to both empower and inspire us well into the future. Not only that but new 'healthtech' companies are emerging all the time, combining cutting edge technology with medical knowledge to provide treatment for medical conditions. 
San Francisco start-up Vivid Vision for example is using VR to help treat and correct crossed eyes and vergence disorder using VR headsets and they are just one of many that will emerge in the coming years. In the meantime, Virtual Reality adoption is accelerating and it is an exciting time for brands to consider how they might and can use this technology to support innovation, training and patient care.