AI, the future of healthcare & ethical considerations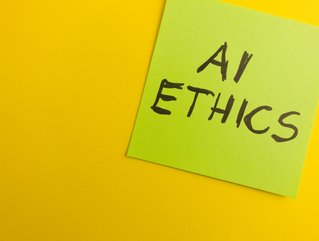 AI ethics
Zak Holdsworth, CEO and Co-founder of Hint Health, discusses the ethics of AI and how it can support, as well as challenge, the healthcare sector
Hi Zak, please introduce yourself and your role.
"As the CEO, my job is really about finding and hiring the right people for the right roles and ensuring my team has clarity around our mission of fundamentally shifting the healthcare industry toward a model that prioritises the health and wellbeing of both the patient and the provider."
What is Hint Health?
"Hint Health is the leading digital health company committed to driving the Direct Primary Care (DPC) movement. We champion a healthcare transformation centred on fostering a direct connection between patients and doctors, cutting out intermediaries like insurance, and supporting physicians in establishing their own DPC practices. Direct primary care is a healthcare model where patients pay a direct monthly fee to the provider and don't use insurance. This allows for better care delivery on the provider's end and better outcomes for patients."
Tell us about your experience with healthcare, technology and venture capital.
"With over a decade of hands-on experience in healthcare, software engineering, consulting and tech investing, my passion lies in transforming the healthcare system while championing the patient-doctor relationship.
"I started my career as a Software and Embedded Systems Engineer and eventually became a technology consultant where I took charge of pivotal business and technology transformation initiatives at both private and public organisations. Prior to moving into healthcare, I completed my MBA at Stanford and worked at a venture capital firm as an analyst.
"I've also been an active investor across a variety of startups through direct angel investments, contributions to syndicates, and participation as a limited partner in multiple funds. Overall, I've made approximately 100 startup/tech/crypto investments primarily over the last 5-6 years.
"Today, I'm bringing together this experience in healthcare, tech and investing with my passion for rebuilding the healthcare delivery system by providing software to accelerate the direct primary care movement."
How can we fix the broken healthcare system?
"To overhaul the broken healthcare system, we need to address the fundamental root cause issues within the system - lack of price transparency, perverse incentives, and unnecessary administrative overhead, most of which can be directly attributed to the fact that most health care is managed and paid for via the Insurance FFS chassis. We also need to restore trust in the system, restore the patient doctor relationship and prioritise patient centric care, much of which can be achieved by restoring the integrity of the primary care system.
"Central to this effort is the direct primary care model. By circumventing the constraints imposed by conventional insurance, resources can be freed up for longer visits with patients, preventive measures and early interventions, which in the end leads to better patient outcomes. Once you have a high quality primary care foundation, it becomes much easier to start applying these principles and integrating downstream care.
"We can then begin layering in innovative technology including recent advancements in AI and data analytics, which can play a crucial role in proactively identifying health patterns and risks across different patient groups. This enables more effective preventive strategies and personalised care, leading to better patient outcomes and reduced long-term healthcare costs. Additionally, there is a commitment to pricing transparency which eliminates billing surprises and promotes cost-conscious decision-making, building trust between patients and providers."
What are the ethical considerations for AI's use in healthcare?
"Technology is neither inherently good nor bad. It is essentially a tool that amplifies or accelerates existing systems, structures or hierarchies. History offers numerous examples. The printing press, for instance, greatly increased access to information and facilitated the spread of misinformation. Similarly, nuclear energy can be harnessed to produce electricity or, in contrast, to create weapons of mass destruction. The key factor is the intent and actions of the users, not the technology itself.
"AI possesses enormous potential for streamlining processes, enhancing diagnostics and facilitating personalised treatment plans. However, without careful oversight, it could also reinforce systemic disparities. For example, minority groups have traditionally faced challenges in receiving quality care due to systemic biases. If AI is trained on data reflecting these biases, it could unintentionally reinforce them unless conscientiously guided to do otherwise.
"As we increasingly integrate AI into healthcare, our intent should be to ensure it becomes a tool for promoting equality and fairness. We should consciously work to prevent it from becoming a perpetrator of existing disparities."
How can AI support - or challenge - the healthcare sector?
"AI has the potential to transform doctor workflows, mitigating some of the administrative burdens they face and allowing them to dedicate more time to patient care. This becomes particularly critical considering a recent study found that between 25% and 75% of clinical staff felt overloaded depending on their specialty. By taking over tasks ranging from administrative functions to clinical decision aids, automated imaging and intelligent drug design, AI can help alleviate this burden. For example, AI could make a significant impact by recording and transcribing doctors' notes from patient consultations into structured medical records."
How do you foresee the integration of AI with electronic medical records (EMRs) improving patient outcomes and aiding patients' understanding of their health conditions?
"The Cures Act has given patients greater access to their medical records, fostering increased personal involvement in their healthcare. As a result, patients can now view their electronic health information, including medical records, notes and test results, through secure online portals. This is a substantial development but also introduces new challenges, primarily the complexity of medical terminology."
How does AI-integrated patient data analysis enhance disease prediction, treatment customization and proactive healthcare management?
"AI makes it possible to extract and structure vast amounts of patient data meaningfully. This allows healthcare providers to spot early signs of disease, better understand population health trends, and improve their predictions.
"Unstructured patient data – which could include text notes from a physician, lab results, or radiology images – traditionally poses a significant challenge in extraction and analysis. However, AI can transform unstructured data into structured formats, making analysis more straightforward."
What do the next 12 months hold for you?
"Over the next 12 months, I see a continued commitment to our mission of reshaping the healthcare industry towards a model that places the health and well-being of patients and providers at its core.
"In parallel, I am excited about our ongoing exploration of AI's potential in healthcare. The integration of AI with electronic medical records holds the promise of not only improving patient outcomes but also making healthcare information more comprehensible for patients. By providing AI-driven translations of medical jargon, we can empower patients to grasp their health conditions more effectively, fostering a more informed and collaborative approach to healthcare decisions."
*********************************************
For more insights into Healthcare - check out the latest edition of Healthcare Digital and be sure to follow us on LinkedIn & Twitter.
Other magazines that may be of interest - Manufacturing Magazine.
*********************************************
BizClik is a global provider of B2B digital media platforms that cover 'Executive Communities' for CEO's, CFO's, CMO's, Sustainability Leaders, Procurement & Supply Chain Leaders, Technology & AI Leaders, Cyber Leaders, FinTech & InsurTech Leaders as well as covering industries such as Manufacturing, Mining, Energy, EV, Construction, Healthcare + Food & Drink.
BizClik, based in London, Dubai & New York offers services such as Content Creation, Advertising & Sponsorship Solutions, Webinars & Events.