Apple's iWatch To Revolutionize The Healthcare Industry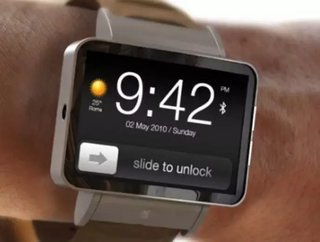 Follow @HealthCareG Fresh leaks report that Apples iWatch is heading for production, so Healthcare Global asks what this means for the healthcare indu...
Fresh leaks report that Apple's iWatch is heading for production, so Healthcare Global asks what this means for the healthcare industry. Apple iPads have already revolutionized patient care by promoting mHealth on a global scale. Could the iWatch provide real-time date and communication between physicians and patients?
iWatch is thought to be heading into production
Healthcare Global predicts that the iWatch could change patient / doctor communication
iWatch could become the latest medical device
A recent report by Bloomberg states that Apple's Senior Director of Engineering, James Foster is heading up the iWatch team. This comes just as Tim Cook, Apple's CEO says that "innovation at Apple has never been stronger" at the Goldman Sachs Technology and Internet Conference in San Francisco yesterday.
He added, "The boldness, ambition, belief there aren't limits, a desire to make the very best products in the world. It's the strongest ever. It's in the DNA of the company."
The iWatch Could Revolutionize The Healthcare Industry
Initial reports have suggested that the iWatch would be linked to the wearers' iPhone, and would allow them to access many applications from the wrist. The iPad transformed the healthcare industry in many ways, laying the path for mass uptake on mHealth technology, and the iWatch could have a similar effect.
Experts predict that the iWatch could be used by patients to monitor their conditions and record symptoms, to track heart rate and blood pressure, to record the patients' overall feeling and to provide communication and alarms to medical professionals and assistants should they need it. Patients may also be able to schedule appointments with a doctor, receive notifications when they need to take medication and even provide paramedics with information about ongoing conditions should they have an accident. The possibilities are endless.
Manufacturing Process 
It has also been reported that Foxconn, Apple's main manufacturing contractor, has discussed technologies that could address some of the technical challenges of such a device. In particular it has concentrated on making more efficient displays and chips, which could allow a smart watch to run for longer without recharging.
Apple and Foxconn have declined to comment.