Could robots destroy coronavirus?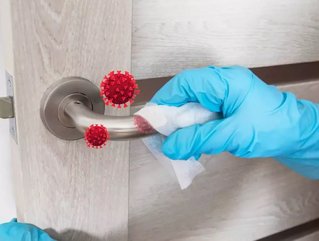 Robotics technology employing UV lighting could be an effective germ killer...
US technology company Xenex have created a robot they say can destroy SARS-CoV-2, the virus that causes COVID-19. The Lightstrike robots do this by emitting an intense UV light that its developers say can destroy even the most challenging pathogen within five minutes. 
The robots have the endorsement of the Texas Biomedical Research Center, who found that their UV light technology is 99.9 percent effective in eliminating the virus . 
Xenex are aiming for the Lightstrike robots to be used to disinfect hospital rooms for instance, as part of daily infection control protocols. They are already in use in Singapore, where a fleet of the devices are being used in general hospitals following an eight month trial of robotic technology as part of its infection control strategy. 
Having a fast, efficient method of eradicating the virus in hospitals is an important step in controlling the pandemic and reducing the presence of pathogens that can cause other hospital-acquired infections. 
When new customers start using the robots, Xenex sends a team to train hospital staff onsite on how they work, when to use them, and how to monitor and analyse their data. The UV light robots collect multiple parameters including room type, location and run time and upload the data to a cloud-based portal. The solution allows the hospital to track use, analyse the system's efficacy, and identify gaps in workflows.
"Xenex's UV light operates much faster than other UV technologies" says Dr. Bejoy Daniel, Senior Industry Analyst at Frost & Sullivan, who have awarded Xenex their 2020 Global Company of the Year Award. 
"The LightStrike robot runs an average of 5 minutes to deactivate C.diff spores while mercury bulb devices may require extended run times of up to 52 minutes. Furthermore, as LightStrike robots do not require warm-up and cool-down time, they can disinfect an entire patient room in the same amount of time it takes for an autonomous robot to begin its disinfection process. The robots do not damage surface materials and have safely run more than 24 million cycles."
"Xenex focuses not just on selling products, but on solving issues for hospitals" he adds. "It is the first and only UV room disinfection technology proven to deactivate SARS-CoV-2, the virus that causes COVID-19. The LightStrike robot achieves a >99.99% disinfection against SARS-CoV-2 on surfaces in 2 minutes, making it a vital tool in the current environment and cementing its leadership position in the market."