Five things about clinical decision support to consider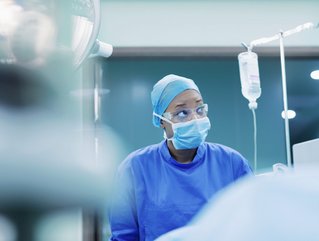 Dr. Peter Bonis, of Wolters Kluwer Health, offers five points on technology & digital transformation to consider when choosing Clinical Decision Support
Across the global healthcare sector, employees are trying to find ways to increase efficiency and support staff. One solution could be Clinical Decision Support (CDS).
NHS England recently said that it wants to make electronic CDS technology "the norm'' for clinicians, as part of measures by the NHS Transformation Directorate to speed up the digital transformation of NHS services. Other priorities include making electronic patient records a standard feature of every NHS Trust and expanding investment in home-based virtual wards.
So why the new emphasis on CDS?
As an experienced provider of CDS technology around the world, we see five key areas where CDS can deliver clear benefits for efficiency, patient outcomes and workforce wellbeing.
1. Supporting workforce resilience
Workforce pressure, staff shortages and burnout are not new in the healthcare sector, but instances rose exponentially during the pandemic, with 92% of trusts reporting concerns about staff wellbeing and stress in April 2021. Staff working outside of their usual specialities was one factor; keeping up with new information about COVID-19 was another. In both respects, giving clinicians access to CDS tools with regularly updated and authoritative guidance on COVID-19 was a practical way for trusts to support clinical staff. Although the pandemic has eased, clinicians are still under severe pressure and they still face an ongoing battle with the 'infodemic' of always-changing medical evidence and research. CDS tools directly address these pressures, giving staff reassurance on critical clinical decisions.
In the case of UpToDate, which covers 11,500 topics across 25 specialties, clinicians know they can access all the latest evidence in context, in seconds, and trust the recommendation. Healthcare facilities which invest in CDS say it sends a strong message of support to clinicians, boosting their confidence and reducing pressure. As such, CDS can be a powerful tool to retain staff and boost workforce wellbeing.
2. Education on new technology on the job
Although CDS is becoming more of a point-of-care knowledge-support technology, its educational benefits are also very important. Many libraries invest in it to support medical students, which means more of today's junior doctors have gone through their education and early career with the support of CDS tools.
As a result, CDS is becoming an increasingly important factor in attracting junior talent, as they expect to use it in their work. Another significant development since the pandemic is that many clinicians are struggling to keep up with mandatory Continuous Professional Development (CPD). CDS tools offer a practical solution, as some allow clinicians to keep up with CPD while on the job. UpToDate, for example, is accredited by The Federation of Royal Colleges of Physicians, allowing FRCP members to earn external CPD credits every time they consult clinical questions within the CDS tool.
3. Reducing errors, variation and inequality
Normalising the use of CDS is a need to reduce disparities in standards of care.
Later this year, the UK Government aims to publish a Health Disparities White Paper, with a plan to reduce the gap in health outcomes between different areas of the country. A damning report by the NHS Race and Health Observatory, which found "widespread" ethnic inequalities across a range of health services, shows that health inequalities in the NHS are not only a matter of postcode, but also ethnicity. Tackling this will require action on many fronts, with CDS tools playing an important role in helping clinicians, wherever they are, to deliver safe and consistent care.
UpToDate has conducted studies that show this in practice. For example, a study in Leicester, called Effective Prescribing Insight for the Future (ePIFFany), found a 50% reduction in prescribing errors among junior doctors using UpToDate.
A separate study in Japan found diagnostic errors reduced from 24% to 2% among doctors using UpToDate. The influence of CDS in guiding doctors to the correct course of action is further evidenced by feedback from clinicians in the UK and Ireland in 2020, showing that 30% of clinicians changed their course of action to a more appropriate treatment or diagnosis after consulting UpToDate.
4. Promoting efficiency and digital transformation
Improving efficiency has long been a key priority in the healthcare sector, but the pandemic has pushed it even higher up the agenda. With longer waiting lists and staff shortages, healthcare workers urgently need solutions to help over-stretched staff get more done, with better outcomes for patients. This is one of the main drivers behind CDS, as it sees it as an easy-to-integrate digital tool that can quickly deliver efficiency improvements.
A study conducted at several acute trusts in the North West of England showed:
57% of clinicians using UpToDate say it reduced treatment delays
52% said it helped them avoid unnecessary testing
48% reported it reduced delays in diagnosis
28% reported that it reduced length of stay.
5. Integrating with Electronic Patient Record
As hospitals adopt Electronic Patient Records (EPRs), some are integrating CDS technology directly into the EPR interface. This allows clinicians to call up evidence-based decision support that is directly focused on the needs of a specific patient. The clinician can therefore search for guidance on a clinical topic while directly in the patient workflow. For trusts with teams working across multiple locations, this saves time and ensures that the latest evidence-based treatment recommendations are equally accessible to whoever is treating the patient, promoting consistent care and outcomes.