Five ways Apple's iPad could change the medical field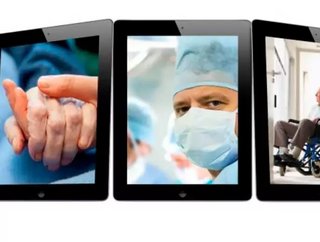 Since its debut there has been much speculation about harvesting the iPads potential for almost anything. As discussions continue to develop about digi...
Since its debut there has been much speculation about harvesting the iPad's potential for almost anything. As discussions continue to develop about digitising medical records, it's almost impossible to leave the iPad out of that conversation. Here are five ways the iPad has the potential to change the medical field for both patients and medical professionals alike.
MEDICAL HISTORY
iPads could easily be used in healthcare to replace patient charts and medical history records. Imagine a patient walks into an exam room and their doctor has all their personal medical information at their fingertips on an iPad. During the intake process a medical assistant could use the tablet to make a note of the patient's vitals, allowing the bulk of the time they spend with the doctor to be focused on their current symptoms and an exploration of treatment and remedy options. The peace of mind patients may feel walking out of an appointment could be priceless.
In hospital settings, nurses and medical assistants could keep track of patient history and other daily records that the doctor could access at their convenience, helping them to prepare for patient consultations and hospital rounds.
MEDICAL EXPLANATIONS
Trying to understand medical terminology as a patient is challenging and doctors do not always use the right layman terms to break down their explanations. Although posters and models are helpful, the iPad could be used to revolutionise the patient-doctor relationship and enhance communications. It would enable doctors to play videos or access virtual, interactive models to take a visual dive into medical explanations.
This type of use for the iPad could also bridge the language barrier gap for non-native speakers to offer patients in mild-emergency situations a quick but comprehensive visual explanation of the procedure or surgery they are about to receive.
EDUCATION
For anyone in school in the medical field – those attending nursing school, medical school or undergoing emergency medical technician training or medical assistant training– if they do not already, they will soon have access to an iPad in the classroom or real-world training environments.
Apparently textbooks just don't cut it anymore in the classroom, especially when students can access applications like Taber's Medical Dictionary, Diagnosaurus DDx or iMeds XL all from their Apple tablet. As a result, the University of California's Irvine School of Medicine has already started giving first-year medical students access to key texts using school-issued iPads.
DIAGNOSIS
With access to patient test results, x-rays and image references, in combination with advanced medical programs on an iPad, doctors will be able to have the latest technology at their fingertips while making diagnoses and treatment recommendations. For example, radiological images can be viewed on the iPad's large screen and then zoomed in on for a more up-close and detailed image. The iPad will also enable device to device image and diagnosis sharing between doctors prior to and following patient consultations.
PRESCRIBING MEDICATION
Digitising prescriptions with the iPad will not only be a benefit for doctors, but it will also be a  convenience for pharmacist's. For hospital doctors with access to digital prescription systems, they will be able to write, send and keep track of all patient prescriptions. Plus, it will instantaneously allow physicians to take an appraisal of all the prescriptions patients are on to make sure they will not experience any adverse reactions. For pharmacists, this will mean fewer follow-ups with a doctor on a prescription due to unreadable handwriting. 
Bethany Brewer is a freelance writer who focuses her attention on topics related to health, education, career opportunities and technology.  
The Kaweah Delta Health Care District in California has integrated iPads into its healthcare services: