Honeywell comments on post-pandemic air quality challenges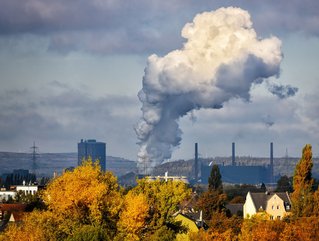 European air pollution
Honeywell's Sarah James calls for air sensors to ensure good air quality & Stefano D'Agostino explores how technology can help improve indoor air quality
Data gathered by modern technology shows dire pictures of dirty air across the continent, with almost all inhabitants living in areas with fine particulate pollution that exceeds World Health Organisation guidelines – with certain areas facing air pollution six times the guidelines for PM2.5.
Honeywell advocates for air quality sensors
Sarah James, Senior Director Offering Manager of sustainable buildings at Honeywell, has discussed what employers can do to support satisfactory levels of air quality.
"With outdoor air quality deteriorating due to an array of factors, it is now more crucial than ever to maintain good levels of indoor air quality (IAQ)."
IAQ greatly impacts the health and wellbeing of those inside the building, with indoor air pollutants being up to five times worse than outdoor air.
According to Honeywell's latest Building Occupant Survey Report:
82% of respondents from the UK claimed to have higher indoor air quality (IAQ) expectations for their workplaces, than they did three years ago
One in five respondents said that they would find a different job if their employer didn't maintain healthy IAQ levels.
James suggests that it is possible for employers to mitigate the impact of outdoor pollutants on indoor spaces with an IAQ strategy that forefronts ventilation, air filtration and monitoring IAQ levels with sensors.

Honeywell explores indoor air quality in post-pandemic environments
Earlier this year, Manish Sharma, Vice President and General Manager at Honeywell spoke with Healthcare Digital about post-pandemic indoor air quality.
"Whilst many have returned to the office, it seems employee's opinions on indoor air quality (IAQ) play a large role in their feelings towards the office," he said.
Stefano D'Agostino, Vice President and General Manager, Sustainable Buildings at Honeywell Building Technologies, spoke with Healthcare Digital about outdoor air quality.
"As outdoor air quality continues to deteriorate due to various factors, such as wildfires or increased air pollution, it is important to maintain optimal indoor air quality (IAQ). In fact, considering indoor air pollutants can be two to five times worse than outdoor air, which is offset by bringing in outdoor air, it is important for facilities managers to adopt strategies which prioritise IAQ.
"In fact, Honeywell's latest Building Occupant Survey Report found that 49% of respondents want employers to implement better indoor air quality and that nearly one quarter of surveyed UK office workers are extremely worried about their office's IAQ. Moreover, one in five respondents also stated that they would look for another job if their employer didn't maintain healthy IAQ levels. Given employee awareness surrounding IAQ, employers must address these concerns efficiently.
"When addressing a building's IAQ levels, facilities managers and building owners should implement a strategy which effectively measures IAQ levels and optimises conditions for occupant wellbeing and building efficiency, regardless of what's happening outside. Utilising proper ventilation and filtration devices is a great first step, but it is just as important to integrate IAQ sensors. Overall, the near real-time monitoring, precision, automation, data-driven insights and early detection capabilities of IAQ sensors make them a superior choice for improving IAQ."
*********************************************
For more insights into Healthcare - check out the latest edition of Healthcare Digital and be sure to follow us on LinkedIn & Twitter.
Other magazines that may be of interest - Manufacturing Magazine. Check out our free upcoming virtual event, Manufacturing LIVE, 6th December 2023.
*********************************************
BizClik is a global provider of B2B digital media platforms that cover 'Executive Communities' for CEO's, CFO's, CMO's, Sustainability Leaders, Procurement & Supply Chain Leaders, Technology & AI Leaders, Cyber Leaders, FinTech & InsurTech Leaders as well as covering industries such as Manufacturing, Mining, Energy, EV, Construction, Healthcare + Food & Drink.
BizClik, based in London, Dubai & New York offers services such as Content Creation, Advertising & Sponsorship Solutions, Webinars & Events.