How technology has supported hybrid work in healthcare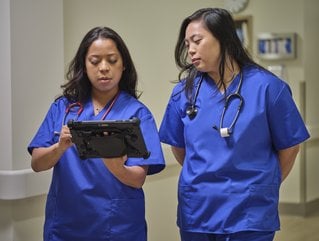 Andre de Araujo, Head of ICT at Greater Manchester Mental Health NHS Foundation Trust, on how technology has helped enable hybrid work during COVID-19
Andre de Araujo works as the Head of ICT at Greater Manchester Mental Health NHS Foundation Trust (GMMH). The trust works to provide inpatient and community-based mental health care for people living in Bolton, the city of Manchester, Salford, Trafford and Wigan.
Here he discusses with Healthcare magazine how the healthcare sector has been influenced by hybrid healthcare.
Hi Andre! It's hard to imagine a time before we carried the internet in our pockets. Can you tell us how you use technology in your role?
"Having a device is invaluable for my day-to-day work and for seeing patients across the organisation. It is also a vital consideration especially since our staff rely so much on having a device that will allow them to access the system in an agile manner. We work not only in Manchester, but we operate all over the country with over 160 sites in the UK, so we must be quite agile as an organisation with how we work. At Greater Manchester Mental Health, we like to prioritise having a single device which allows you to do all your work effectively and having a device which supports that requirement across our business is important to us."
What was your opinion of hybrid work prior to the pandemic?
"Even before the COVID-19 pandemic, we were supporting the movement for flexibility that would allow people to be able to work wherever they are, not just from home but from hospital sites and other premises. Organisation-wide, we have more people working from home than we used to, but this new way of working wasn't completely new or foreign to us as our staff previously worked from home or remotely. We did, however, go through the shift with everyone else, as I would say 400 concurrent users at any given time were working off-site remotely from home and that shot to 2,000 and back down to 1,000. It's definitely higher than it was, but we have stabilised somewhere in between."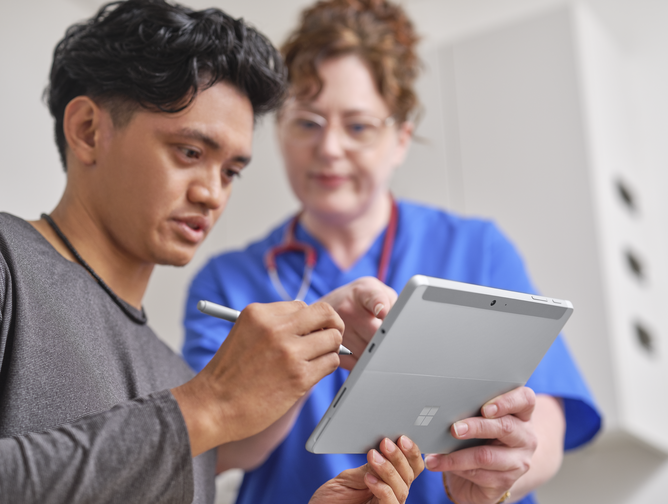 How have you and your colleagues reacted to hybrid work?
"As I work in IT, I can probably use any device I want, I do like the Surface range of laptops which I have found meets my requirements to operate effectively in my day to day, with powerful boot up speed and a very responsive screen which helps ensure my working day continues to flow. I also prefer to use the smaller more compact devices which I carry with me everywhere, so I value the Surface Pro and Go. I often need to power up my devices quickly and the boot up speed on both devices ensures I can log into the system quickly and effectively – without wasting time using legacy items which take longer to power on.
"Having the right device fills a major professional role for me, and the beauty of the Surface Pro device is that it just works out of the box. I use mine as it comes, however for other workers in our organisation that have two monitors, a keyboard and mouse at home, they can just plug the dock in and have up to three screens, using the device to power their home office.
"Prior to the pandemic, we were already well on our way to the Surface route at GMMH. We previously had only 4,500 devices for 7,000 people but this has gone up because of the pandemic and hybrid working and has therefore changed the way we work. Certainly, there are some staff that enjoy having a laptop at home and a desktop at work, but we like the idea of not having a duplicate of equipment and processor so decided to hand our staff a single device to work on which can do both.
"I enjoy the greater flexibility which the devices offer and trust the reliability of both Pro and Go in helping me achieve what is required in my role."