How to support LGBTQ people in healthcare all year
David Stein, CEO and co-founder of Ash Wellness, an at-home diagnostics company that specialises in STI testing, on how healthcare can be more inclusive
People love to celebrate LGBTQ missions and values during Pride Month – and David Stein, CEO and co-founder of Ash Wellness, loves it, too.
"Allies are an incredible part of our community," says Stein. "Together, we can all work toward justice and equal opportunity."
But out of Pride Month, healthcare staff, digital health corporations, and healthtech investors can continue to support LGBTQ individuals.
"Investors can still consider LGBTQ founders whose products serve our community. Doctors can hang Pride flags or study for LGBTQ healthcare certifications. Nothing is too small to be powerful," says Stein.
Check out these recommendations from Stein, for people in the healthcare sector and healthtech, to consider:
Healthcare professionals can prescribe PrEP, but also understand the individual
"PrEP is an incredible preventative tool that allows its users to engage as their authentic sexual selves without jeopardising health," explains Stein. "It reduces the risk of getting HIV from sex by about 99%, and is often prescribed for men who have sex with men. Well-intentioned healthcare professionals like to prescribe PrEP for all patients in this category, as men who have sex with men are disproportionately at risk for contracting HIV. A doctor tried to put me on PrEP before I came out, which did not centre my experience as an individual. I was barely ready to be honest with my friends and family, let alone set myself up for regular HIV testing. Was I at risk? Was this the crucial next step in my journey? PrEP isn't necessary for LGBTQ people in monogamous relationships or who intend to remain celibate for a period of time. Providers need to get to know the individual before prescribing any medication, including PrEP."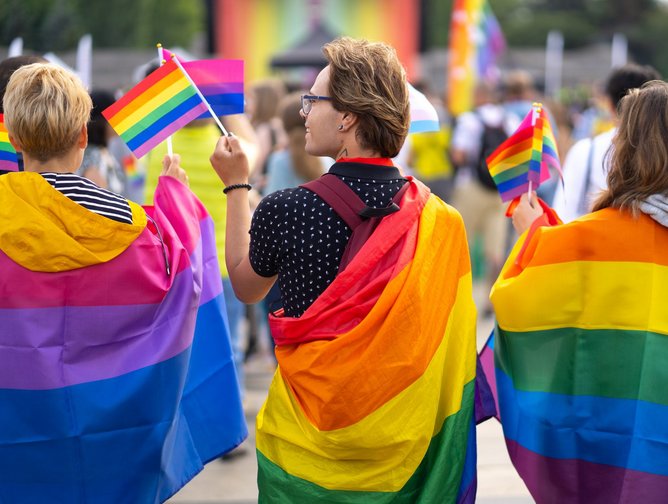 Doctors need to educate themselves LGBTQ issues and health risks, and communicate that support
"There has been a lot of talk in our community about the harm of 'performative' allyship. Is it bad to put up a Pride flag or to showcase LGBTQ support? Not at all! Visible support, especially in a vulnerable environment like a doctor's office, can make LGBTQ people feel safe," says Stein. "This type of allyship is only performative if it doesn't offer tangible help to LGBTQ patients. In addition to signals of support, doctors should take time to understand LGBTQ sexual practice and subsequent health risks. What body parts does someone use to have sex? Are they at risk for colon cancer? Throat cancer? HPV? It should not fall on LGBTQ individuals to seek care with advanced medical knowledge. Medical staff needs to perform additional research to support LGBTQ patients, or go above and beyond with certificate training in LGBTQ healthcare."
Public health departments can onboard reportable at-home testing for population screening
At-home testing is a useful tool for public health departments to screen subsets of the population, including particular LGBTQ populations.
"Men who have sex with men can get HIV screenings, as well as screenings for prostate, testicular, and colon cancer. Women who have sex with women — and therefore carry a higher risk of becoming infected with HPV — can receive cervical cancer screenings," says Stein. "Not only can population screening help catch diseases in LGBTQ populations and treat patients earlier, but it's also a great way to reduce healthcare costs over time."
Investors should support LGBTQ healthcare companies
Less than 1% of VC funding goes toward LGBTQ companies, and 37% of LGBTQ entrepreneurs choose not to "out" themselves to investors because the VC space isn't always hospitable to the LGBTQ demographic.
"In lieu of access to traditional VC capital, many LGBTQ entrepreneurs rely on creative methods of fundraising like self-funding or crowdfunding from friends and family," says Stein. "Challenges are even more profound for BIPOC LGBTQ people who struggle to navigate a field dominated by cis white men, as well as LGBTQ communities outside San Fransico Bay area and New York City. There are a handful of firms by LGBTQ investors – Gaingles, for example — but not enough to offset existing barriers. When investors seek to fund healthtech companies that support LGBTQ demographics, I encourage them to go after LGBTQ founders. We know our communities best."