iPads could help restore vision in blind children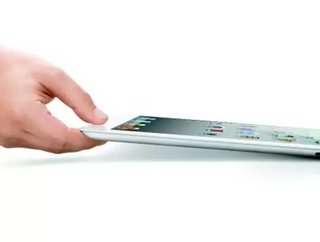 Apples popular tablet computer, the iPad, could help blind children to communicate, according to researchers from the University of Kansas in the US. T...
Apple's popular tablet computer, the iPad, could help blind children to communicate, according to researchers from the University of Kansas in the US.
The team believe iPads have the potential to help children living with cortical visual impairment (CVI) to communicate and could even help to restore vision.
Fifteen children with CVI – the result of brain damage that makes people unable to interpret visual information –were given an iPad to play with and the researchers were "shocked" with the results.
To read the latest edition of Healthcare Global, click here
Muriel Saunders, an assistant research professor at the University of Kansas' Life Span Institute, explained what happened: "We tested 15 children aged and were absolutely shocked."
"Every single child was enthralled with the iPad. Children that typically didn't look at people, didn't respond with objects or responded in a very repetitious fashion, were absolutely glued to the iPad. It was an amazing experience."
According to Saunders, children with CVI enjoy looking at lights – be it daylight, room lights or light boxes – because high contrast scenes and images are easier for them to process.
However, they do not focus on objects and so appear to be blind.
Many therapists who work with children with CVI use light boxes, similar to those used in hospitals to view X-rays, to try to develop their communication and language skills.
The researchers believe the brightness of an iPad recreates the images of a light box, but the children are more engaged by it because of sounds, colour and interactivity.
Saunders notes: "We were using some very simple infant applications, one was called 'Baby Finger,' where you just touch the screen and sounds and images and coloured shapes appear on the white background.
 "In many ways it was similar to a light box except for instead of black and white, there were bright colours."
Although using the iPad as a CVI therapy tool has shown early potential, Saunders believes it could hold endless benefits for children with the condition.
She is in the process of applying for a grant from the National Institutes of Health which would enable a bigger study to be undertaken.
"With the proper intervention techniques, the amazing thing is that the child's brain grows the brain cells needed in the cerebral cortex," she said.
"It grows the brain cells necessary to begin understanding what their eye is seeing, so they develop the ability to interpret images, sometimes just partially, sometimes fully."
She expanded: "Using the iPad, not only can they interact with a screen, but we can teach them through a series of steps to control things on that screen.
"There are so many apps already available so we don't have to go out and make our own apps.
 "There are apps available to make a communication board and there are apps available that have different levels of difficulty."
Internet forums, discussion boards and social media sites are already showing parents of children have witnessed the iPad's benefits.
"Parents of children with CVI are already learning that the iPad works well. There are blogs that say, 'Look at this one' or, 'Look at that one! My child is responding to this app," asserts Saunders. 
Our magazine is now available on the iPad. Click here to download it.