New growth predicted in mobile working in healthcare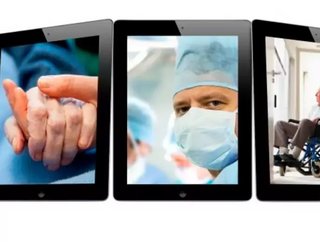 Mobile working in the healthcare sector is predicted to grow rapidly, thanks to mounting evidence from existing projects which suggests the working pra...
Mobile working in the healthcare sector is predicted to grow rapidly, thanks to mounting evidence from existing projects which suggests the working practice could help NHS Trusts deliver much needed cost and efficiency savings. 
The conclusion is drawn from research conducted by specialist software house NDL.  
The research, published in NDL's Mobile Working Report, surveyed a total of 200 senior individuals working in healthcare, social housing or local government.
It found that around a third of healthcare organisations questioned had a line of business mobile working project underway, while a further third have projects in the planning stage.
To read the latest edition of Healthcare Global, click here
Currently almost 70 percent of healthcare projects have fewer than 100 participants, suggesting many are pilot projects set to grow in the next few years.
By 2014 only 27 percent of projects are expected to be restricted to less than 100 workers, while 25 percent will encompass between 501 and 1000 staff.
A further fifth will involve more than 1000 workers, suggesting projects of a significant scope.  
The report also unveiled that mobile working projects, which up until now have been used mainly by district nurses and midwives working in the community, are being adopted by other disciplines.
Planning or pilot projects were reported in A&E, intensive care, radiology, hospital based nursing and occupational therapy as well as executive and IT functions.
Commenting of the findings, Declan Grogan, the managing director of NDL, said: "These figures relate to line of business mobile working projects which enable fieldworkers to carry out a transaction in situ to meet a clinical or organisational need.
"We predict that this technology could be used by a significant proportion of the 285,000 clinical mobile workers in the UK, with activity ranging from a district nurse updating the status of a patient to a midwife recording the weight of a newborn.
He added: "The figures reveal that we are certainly entering a growth phase for mobile working, helped no doubt by the growing body of evidence on the benefits of mobile working."
Ninety-four percent of respondents with a live project reported a reduction in administration which in turned freed up frontline clinical staff to spend more time caring for patients. 
Meanwhile, two associated benefits of increased efficiency and improved service delivery were reported by 82 percent and 70 percent of respondents respectively. Seventy percent of respondents also reported cost savings.
 "Although these results are incredibly positive, it would be naive to ignore the impact the current economic climate will have on mobile working plans," Declan continued.
"Our report showed that 72 percent of respondents believed that budgetary pressure was having a negative impact on mobile working plans, although 24 percent of respondents reported a positive effect. The remaining 4 percent said the cuts had both positive and negative connotations. 
He added: "Given the combination of financial pressure and continuing strategic uncertainty, it's perhaps surprising that the number of organisations reporting a negative effect isn't higher.
"However it's also true to say that 98 percent of respondents recognised cost as a barrier to mobile working, which makes an interesting contrast to local government organisations."
The report revealed that the biggest barrier to mobile working in local government was cultural change, cited by 72 percent of respondents, while cost was the second biggest barrier at 67 percent.
In healthcare, cultural change was cited as a barrier by around 60 percent of those surveyed, with technical concerns around the flexibility of applications seen as a bigger concern at 70 percent.
 "It's interesting that the hurdles to mobile working vary so markedly across the public sector," said Declan.
"While money is currently a significant barrier to getting mobile working off the ground in the health sector as the evidence about cost and efficiency savings mount, it's arguably an easier one to overcome than the more emotive issue of cultural change. 
"The relative openness of healthcare professionals to mobile working can only stand the NHS and other healthcare providers in good stead when it comes to realising the cost and efficiency benefits mobile working can bring," he finished.
The Healthcare Global magazine is now available on the iPad. Click here to download it.