Oracle's generative AI prioritises patient healthcare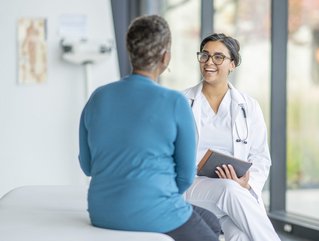 AI assistance in healthcare
Oracle's vision for better healthcare focuses on improving medical professionals quality time with patients, with Oracle Clinical Digital Assistant
Oracle has announced the implementation of Oracle Clinical Digital Assistant, a generative AI service designed to help healthcare professionals minimise manual work, so that they can put their energy into supporting patients.
Efficient AI can advance patient care and support healthcare workers
When a patient is explaining a delicate health issue to a medical professional, it can be disheartening for them to see their doctor looking at a screen, not at them. This is where the Oracle Clinical Digital Assistant steps in to help - medical professionals will be able to give their patient their full attention, as well as reduce time-consuming administrative tasks with its voice-commands.
Oracle's Clinical Digital Assistant will help healthcare workers by:
Helping patients to schedule appointments
Allow patients to view their clinical information, using a voice command
During an appointment, note taking is automated and suggests context-aware next actions, so that the healthcare professional can focus on their patient, not their keyboard or a screen.
This will be integrated with Oracle's electronic health record (EHR) solutions.
"The EHR should be a provider's best ally in delivering engaging, personalised care to the patients they serve," said Suhas Uliyar, Senior Vice President of product management at Oracle Health. "By bringing comprehensive generative AI and voice-first capabilities to our EHR platforms, we are not only helping providers reduce mundane work that leads to burnout, but we are also empowering them to create better interactions with patients that establish trust, build loyalty, and deliver better outcomes."
Quality and affordability in healthcare
In 2021, Oracle acquired Cerner, an IT consulting company. Healthcare Digital spoke to Chuck Whinney, VP of Healthcare Strategy at Infor, who discussed how the acquisition will impact the quality and affordability of healthcare.
"The primary value proposition Oracle is going after is the result of having consolidated health records; however, currently, we do not know how they plan to consolidate records from non-Cerner implementations.
"There is certainly value in healthcare professionals, besides your primary care physician, having access to your comprehensive patient record. If you're injured on vacation, we want the Emergency Department physician to know our medical history in case it changes how they should care for us. The quality of care we receive would be better if they knew whether we were allergic to penicillin or had formerly strained a muscle."
Read the full interview here.
*********************************************
For more insights into Healthcare - check out the latest edition of Healthcare Digital and be sure to follow us on LinkedIn & Twitter.
Other magazines that may be of interest - Manufacturing Magazine. Check out our free upcoming virtual event, Manufacturing LIVE, 6-7th December 2023.
*********************************************
BizClik is a global provider of B2B digital media platforms that cover 'Executive Communities' for CEO's, CFO's, CMO's, Sustainability Leaders, Procurement & Supply Chain Leaders, Technology & AI Leaders, Cyber Leaders, FinTech & InsurTech Leaders as well as covering industries such as Manufacturing, Mining, Energy, EV, Construction, Healthcare + Food & Drink.
BizClik, based in London, Dubai & New York offers services such as Content Creation, Advertising & Sponsorship Solutions, Webinars & Events.