PacBio's Neil Ward on genomics technologies & rare diseases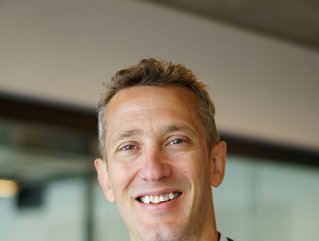 Neil Ward is the Vice President and General Manager for PacBio
Neil Ward from PacBio discusses the current state of rare disease diagnosis pathways, the Genomics England Research Summit & the role of new genomics tech
Neil Ward is the Vice President and General Manager for PacBio in EMEA. His role is to expand PacBio's EMEA footprint, developing the team and its research partnerships to capitalise on the immense potential for genomics.
He spoke exclusively with Healthcare Digital to discuss the latest in rare disease diagnosis pathways, genomics technologies and how this can support planetary health.
Hello Neil, so what led you to this industry?
"I guess you could say it's in the genes. My mother was a research scientist working at the National Institute for Medical Research and I think I inherited some of my scientific curiosity from her. I studied a Biochemistry degree but I wasn't a natural at wet lab work, and liked computers, so after my degree I chose to go on to study bioinformatics. I qualified in the late 1990s, as the first draft of the human genome project was coming to a close, and then moved into industry as a research bioinformatician. I was fortunate to be at the right place, at the right time, as the genomics industry was just emerging."
What is PacBio?
"PacBio develops the world's most advanced sequencing systems. We believe PacBio is the only company to offer both highly accurate, native short and native long-read sequencing technologies.
"Our long-read sequencing technology delivers a more complete view of genetic variation, helping scientists uncover complex regions of the genome that until now have been hidden. Our short read system provides extraordinary accuracy at unparalleled speed, supporting exome sequencing, single-cell RNA sequencing, and targeted panels to support inherited disease and oncology research."
Tell us about the Genomics England Research Summit.
"The research summit is an annual event held in London. It brings together experts to explore the latest innovations from Genomics England and its partners, including PacBio. This year, I discussed how long-read sequencing can help to unravel the genetic mysteries underlying undiagnosed rare diseases. Today, 1 in 17 people in the UK are affected by a rare disease. Yet, finding the underlying causes of these conditions is a significant challenge, with people left waiting an average of 4-5 years for an explanation.
"More explanations could be provided faster if current testing techniques are replaced with advanced technologies. The key takeaway from my talk was that if the UK wants to maintain its position as a science superpower it must invest in the latest sequencing methods."
Tell us about the rare disease diagnosis pathway.
"The current standard pathway for rare diseases varies across the UK. In England and Wales, short-read whole genome sequencing is the current standard of care. This involves breaking down DNA into fragments that are then aligned to a reference genome, to try and identify variants that are potentially causative of disease. However, as I presented at the summit, these tests fail to yield explanations in more than 50% of cases.
"Meanwhile, Scotland uses a 'process of elimination' technique called exome sequencing that looks for small genetic changes associated with specific rare diseases. Yet, these tests are limited to only 50m base pairs, out of 3bn in the human genome, so cannot detect some of the longer and more complex variations linked to rare diseases."
How are new genomics technologies helping to provide more accurate, in-depth data on the genome?
"In the past year, there has been a great deal of progress in both short- and long-read sequencing. Improvements in the sensitivity and specificity of short reads hold huge promise for liquid biopsies, which have wide applicability in areas including cancer, heart disease and immune disorders.
"Meanwhile, advances in long reads are particularly exciting for deepening understanding of the genome, including challenging variants in 'dark' regions. For example, our Revio® long-read system enables researchers to evaluate epigenomic change, such as methylation, as well as genetic variation in one experiment. Long reads are also more accessible, with the cost decreasing from over US$100m in 2001 to under US$1,000 today. The scale of samples has also increased, with a single machine now delivering more than 1,300 human genomes per year, with far fewer consumables."
How will this uncover underlying genetic causes of more challenging rare disease mysteries?
"Since more than 70% of rare diseases have genetic origins, deploying long reads at scale will allow scientists to better understand the causal mechanisms of rare disease. Long reads generate runs of DNA that span tens of thousands of base pairs, so they can detect the larger and more complex variants that short reads miss. Long reads also maintain molecular integrity to increase accuracy, since whole strands of DNA are sequenced in a single read rather than broken up and reassembled.
"Moreover, long reads enable researchers to phase or determine which variations occur together on the same maternal or paternal strand. This is useful for studying how rare diseases may be passed on through generations, or in the determination of compound heterozygous mutations when only the individual affected by the rare disease is available for sequencing."
Tell us about your partnerships.
"PacBio has several partnerships with global research organisations including Children's Mercy Kansas City and Boston Children's Hospital in the US, Earlham Institute and Wellcome Sanger in the UK and Bioscientia in Germany. We also partner with technology companies to continue making our machines more user-friendly and our underlying algorithms more accurate. For example, when building Revio, we partnered with Google."
What do the next 12 months hold for you and the company?
"We want to have a fleet of the most accurate sequencers in the world that can support research and drive improvements in both human and planetary health. Genomics research will become more integrated over the next decade, so offering technologies that can incorporate multiple 'omics data will be critical. Acquisitions are also a key part of our innovation strategy. Our latest acquisition of Apton Biosystems, announced last month, will allow us to design a high throughput short-read sequencer that is capable of sequencing billions of clusters of DNA on a single flow cell."
*********************************************
For more insights into Healthcare - check out the latest edition of Healthcare Digital and be sure to follow us on LinkedIn & Twitter.
Other magazines that may be of interest - Manufacturing Magazine. Check out our free upcoming virtual event, Manufacturing LIVE, 6th December 2023.
*********************************************
BizClik is a global provider of B2B digital media platforms that cover 'Executive Communities' for CEO's, CFO's, CMO's, Sustainability Leaders, Procurement & Supply Chain Leaders, Technology & AI Leaders, Cyber Leaders, FinTech & InsurTech Leaders as well as covering industries such as Manufacturing, Mining, Energy, EV, Construction, Healthcare + Food & Drink.
BizClik, based in London, Dubai & New York offers services such as Content Creation, Advertising & Sponsorship Solutions, Webinars & Events.