Review: Kenkoh reflexology flip flops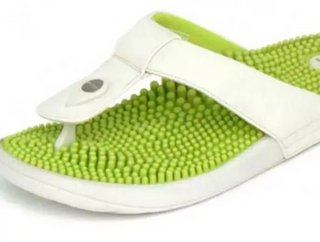 Kenkoh products are an unusual twist on traditional reflexology practices. The range of Kenkoh flip flops all feature 1000 rubber nodules which massage...
Kenkoh products are an unusual twist on traditional reflexology practices. The range of Kenkoh flip flops all feature 1000 rubber nodules which massage the soles of your feet and tap into their reflexology zones. To ensure they provide a comfortable walking experience, Kenkoh sandals also feature elastomer technology which air-cushions the soles of the feet.
Kenkoh claims its flip flops come with a range of health benefits; improving circulation, mood and giving you increased energy. They also reportedly help with back pain, joint pain, migraines and even diabetes. But how effective are shoes at gracing us with all these amazing health benefits? Healthcare Global donned a pair of Kenkoh's to find out...
Style
Kenkoh's are available in a range of style and colours and are suitable for both men and women with a range for both sexes. The traditional 'thong' style Kenkoh flip flops are perhaps the most visually appealing, although they are also available in a sandal style with just a simple bar across the front of the foot. Also available for the ladies is the 'Funky Flip Flops', championing a t-bar design.
In terms of colours, a choice of black or a dark brown are available for both men and women, with additional options of white with either pink or green. It must be admitted that the black are the most 'fashion forward' option for women, although ladies with a funkier outlook could pull off the white styles.
Generally, the looks of the flip flops and sandals are not particularly visually appealing while their off; the image of the rubber nodules is an unusual one. However, when they are on the feet they look no different whatsoever to regular flip flops and could be worn with any outfit without the wearing suffering incredulous stares from strangers.
Comfort
The elastomer technology that the Kenkoh's feature is brilliant at supporting your feet and cushioning your soles as you walk. You can almost bounce along while walking because they feel so springy and this is what makes them so comfortable to wear for long periods of time.
Like the look of them, the feeling of the nodules is unusual. They certainly massage your feet and instantly they soothe and calm stressed and tired soles. The nodules are designed to completely surround and fill every contour of the soles of the feet and so they are different in size and length. Pressure is put directly onto the arch of the foot which at first can feel odd and uncomfortable, even a bit painful. However, the longer you wear them the more you adjust to the sensation and it starts to feel pleasurable.
Looking at reviews from people that have purchased a pair of Kenkoh's, the general consensus seems to be that in regards to comfort they do take some getting used to. One user even advised to gradually increase the amount of time that you wear them for, adding a few minutes more wear every day. A common review theme was however, that once your feet are adjusted to the feeling of Kenkoh's, there is nothing better and no going back.
Effectiveness
The claims that surround Kenkoh's tell tales of heightened energy and pain reduction in the back, joints and relief from headaches. From reading consumer reviews there is lots of evidence to suggest that this is true. Numerous people commented that the flip flops and sandals made them feel more energetic and blissfully massaged the soles of their feet. Other users credited them with a number of therapeutic benefits and claim they massage every reflex point under your feet.
I don't think I persevered enough with my Kenkoh's to see if they helped to relieve bad backs or headaches, but I am certain as soon as I put them on I felt more energized. After my Kenkoh experience I'm now a firm believer that these flip flops and sandals are ideal as a quick and easy way to massage tired feet. The nodules gently put pressure all over the soles of the foot and all I know is, is that after an eight shift in a restaurant where I was continuously on my feet, 20 minutes of Kenkoh loving relieved all my aches and pains.  
Kenkoh's are availble from www.kenkoh.co.uk.